Skill level: Moderate
These Vegan Apple Pie Bars combine the best of two worlds - cookie bars & apple pie! A thick shortbread pie-like dough is topped with cinnamon sugar apples and a vegan streusel for a melt-in-your-mouth cookie bar!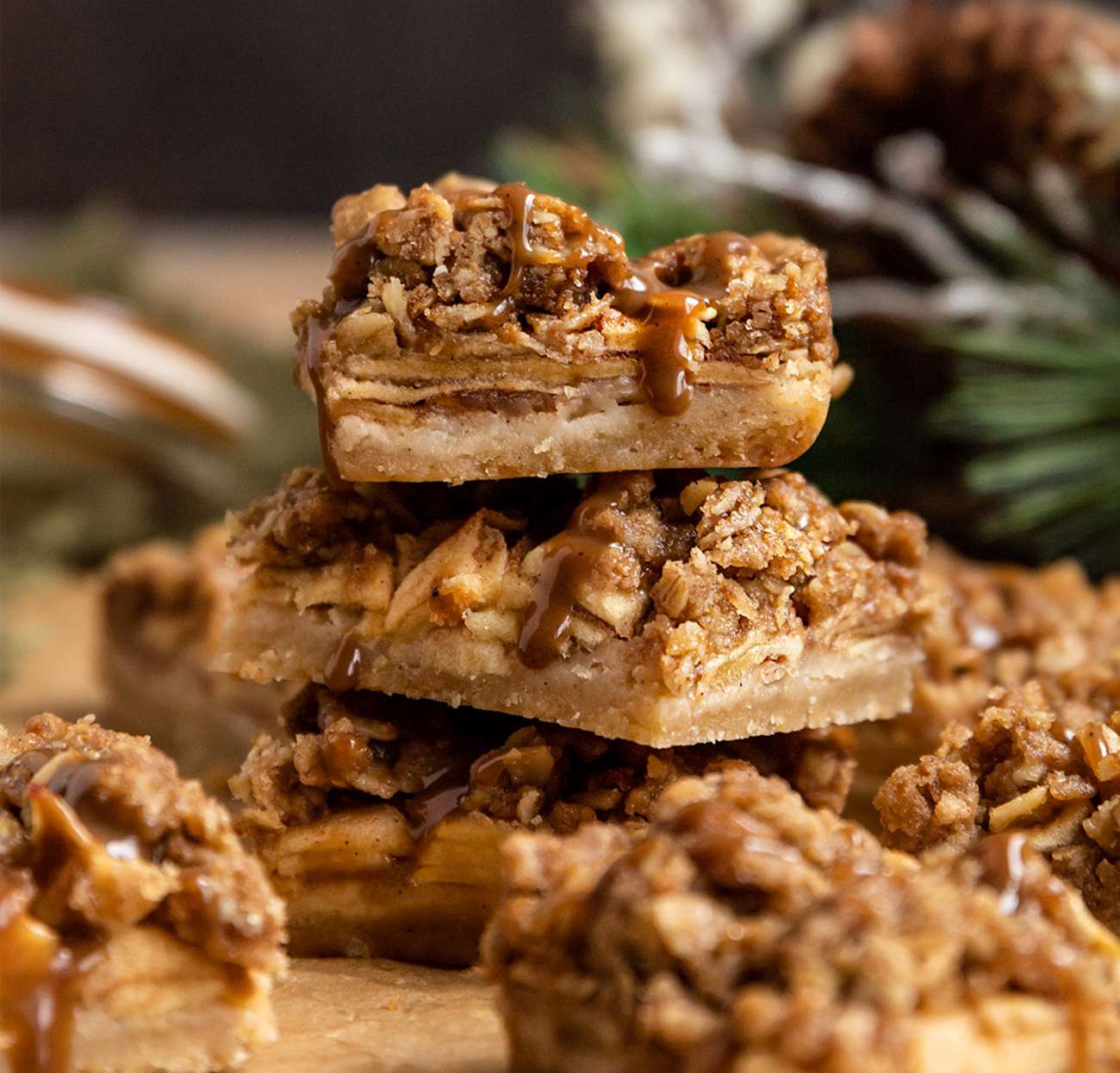 Ingredients
Vegan Shortbread Crust
½ cup vegan butter (room temperature)
2 tablespoons cane sugar
2 tablespoons brown sugar
1 teaspoon vanilla extract or vanilla bean paste
1 cup all-purpose flour
¼ teaspoon baking powder
⅛ teaspoon salt (omit if using salted butter)
Apple Filling
2 Autumn Glory Apples, peeled and thinly sliced
2 tablespoons sugar
1 tablespoon cornstarch
½ tablespoon lemon juice
½ teaspoon cinnamon
½ teaspoon nutmeg
Streusel Topping
½ cup rolled oats
¼ cup brown sugar
¼ cup all-purpose flour
½ teaspoon cinnamon
¼ cup vegan butter, cubed and cold
Directions
Shortbread Crust
Preheat the oven to 350ᵒF and line an 8x8 inch pan with parchment paper. Then, add the vegan butter, cane sugar, brown sugar, and vanilla to a mixing bowl. Whip together with an electric mixer until fluffy and creamed, about 2-3 minutes.
Add the flour, baking powder, and salt to the mixing bowl and mix everything together into a thick dough. Press the dough into the parchment-lined pan until it is spread out evenly. Then, add to the oven to par-bake for 15 minutes.
Make the Apple Pie Filling & Streusel
While the crust is baking, make the apple pie filling and streusel. Peel two apples and thinly slice them into ¼ inch slices. Then, add to a bowl and mix with the rest of the apple pie filling ingredients including the sugar, cornstarch, lemon juice, cinnamon, and nutmeg. Mix together until the apples are evenly coated and set aside.
Next, make the streusel. Add the rolled oats, brown sugar, flour, and cinnamon to a bowl. Then, add in the butter and use your fingers or a fork to cut the butter into the dry ingredients until a crumbly streusel forms. Set aside until the crust has finished baking
Layer & Bake
Remove the partially baked crust from the oven and top with the apple pie filling. Then, sprinkle the streusel on top.
Add the apple pie bars to the oven and bake for another 30-35 minutes.
Remove from the oven and let cool completely before slicing. For the best results, put the cooled bars in the fridge 1-2 hours before slicing.
Slice into 9 even slices and enjoy! Before serving, drizzle with caramel if desired.
Recipe created by Short Girl Tall Order for Superfresh Growers.