Yield: 8-9
Skill level: Moderate
Take your favorite childhood pastry... but add bourbon! This warm, perfectly spiced pastry is filled with your favorite apple (Autumn Glory) and topped with the perfect bourbon and cinnamon glaze. Make these extra simple by using store bought dough, or go all out with your favorite pie crust recipe!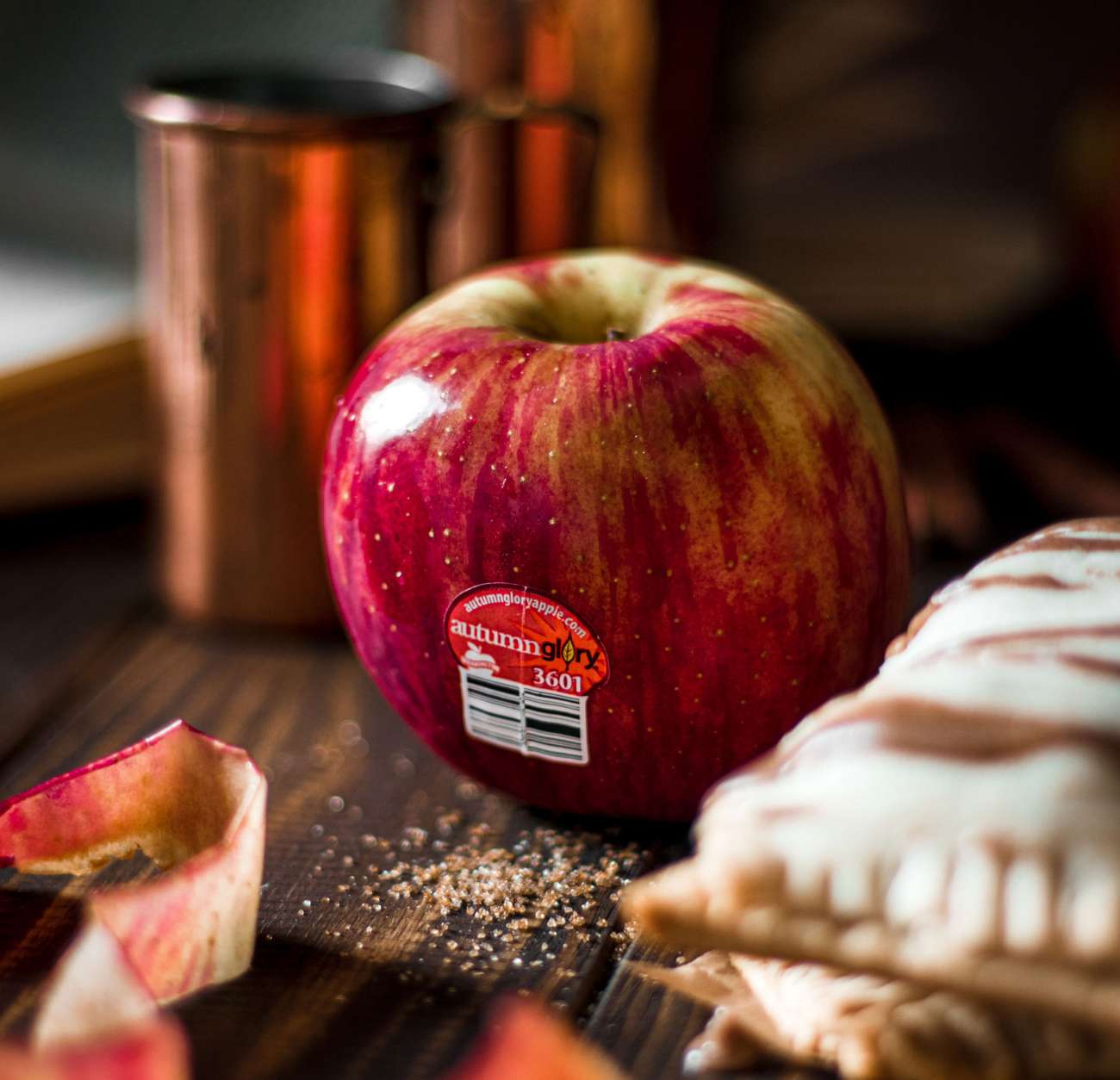 Ingredients
1 lb homemade or store-bought pie dough
Filling
3 Autumn Glory apples, peeled, cored and cubed
¼ cup brown sugar
2-4 tablespoons bourbon, or more to taste
2 tablespoons maple syrup
½ teaspoon cinnamon
Pinch of salt
1 teaspoon cornstarch
1 tablespoon water
1 tablespoon butter or vegan butter, melted
Cinnamon Bourbon Glaze
½ cup powdered sugar
1 ½ teaspoons unsweetened plant based milk
½ teaspoon bourbon
¼ teaspoon cinnamon
Directions
Add all glaze ingredients into a small bowl and mix until well combined. Set aside.
Heat a pan over medium-high heat and add apples, brown sugar, 2 tablespoons of bourbon, maple syrup, cinnamon and salt.
Cook for 15 minutes or until the apples are beginning to soften, stirring regularly.
Taste and add more bourbon if desired.
In a small bowl, make a slurry with the cornstarch and the water. Pour over the cooked apples and stir.
Transfer the apples into a bowl and refrigerate for 15 minutes.
Divide your pie dough in half and roll out the first half onto a floured surface.
Cut 8-9 rectangles of about 2.5 x 4" and place onto a parchment-lined baking sheet.
Divide the apple filling between these rectangles, leaving about 1/4" of space around the filling (pop tart bases).
Roll out the second half of pie dough and cut 8-9 rectangles again (pop tart tops).
Brush water onto the free space around your pop tart filling and cover each pop tart base with a filling-free rectangle.
Use a fork to seal the edges.
Brush pop tarts with melted butter and poke 6 holes in each pop tart using a toothpick.
Place in the fridge while you preheat your oven to 375ºF.
Once hot, bake pop tarts for 25 minutes or until golden brown around the edges.
Let cool completely and top with a drizzle of Cinnamon Bourbon Glaze.
Recipe created by Murielle Banackissa for Superfresh Growers.