Yield: 12
Skill level: Moderate
Vegan and optionally gluten free, these deliciously moist bran muffins are sprinkled with Autumn Glory apple chunks rather than raisins. The applesauce in the batter helps to increase moisture, density, and doubles up on the tasty apple flavor!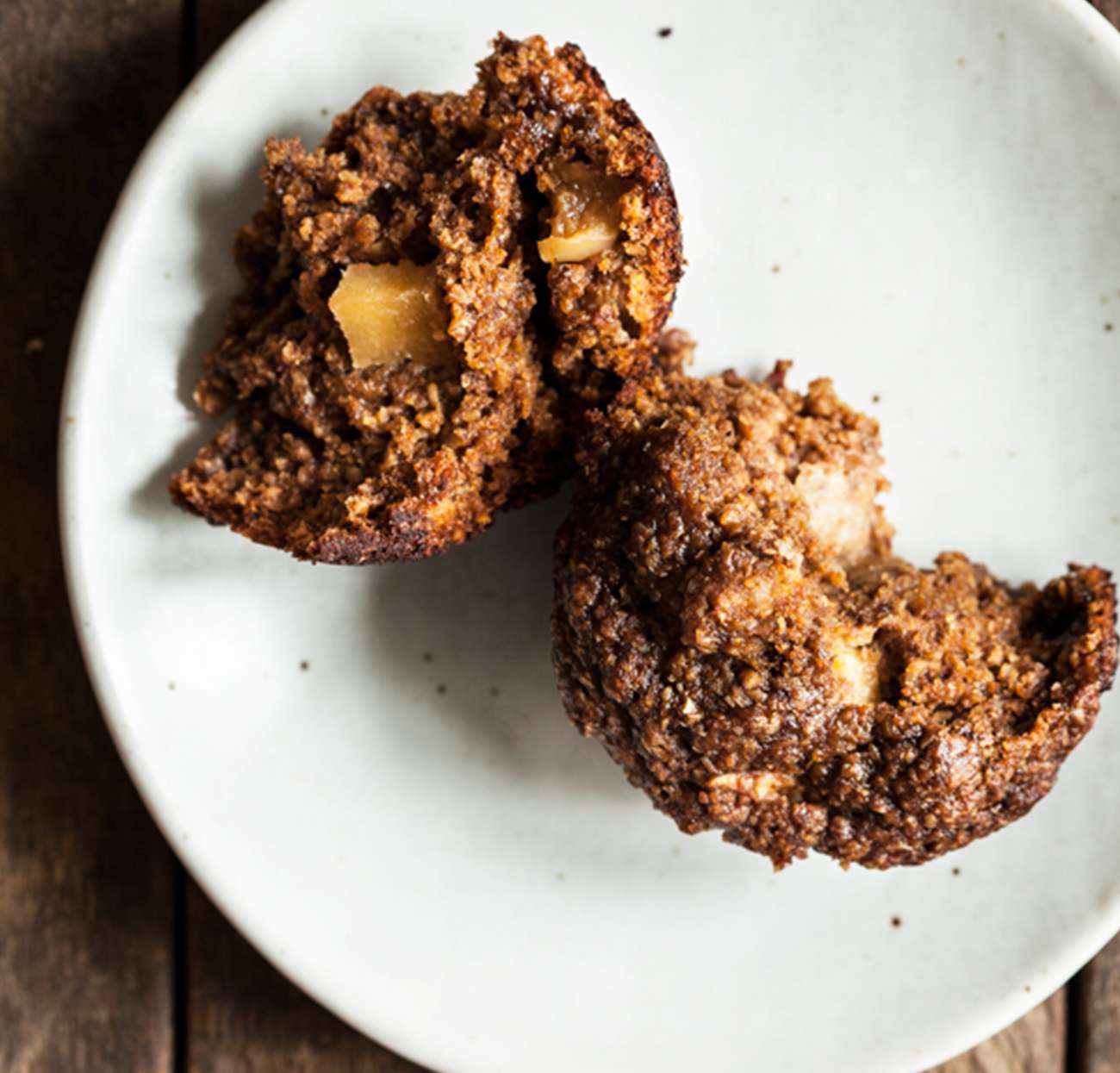 Ingredients
1½ cups light spelt or whole wheat pastry flour (or unbleached, all-purpose flour)*
1½ cups oat or wheat bran
⅓ cup packed brown sugar
1 teaspoon baking powder
½ teaspoon baking soda
1 teaspoon ground ginger
½ teaspoon ground cinnamon
¼ teaspoon cloves
¼ teaspoon salt
2 Autumn Glory apples, peeled and finely chopped
1 cup applesauce
1 flax egg**
⅓ cup vegetable oil (such as safflower or grapeseed)
¼ cup molasses
Directions
Preheat your oven to 350°F and lightly oil or line a muffin baking pan.
In a large mixing bowl, whisk together the flour, bran, sugar, baking powder, baking soda, ginger, cinnamon, cloves and salt. Fold in the apple pieces, making sure they all get nicely coated.
In a separate bowl, combine the applesauce, flax egg, oil, and molasses. Add the wet mixture to the dry ingredients and mix until everything is just combined. Divide the batter evenly into the prepared muffin pan.
Bake for 18-24 minutes, or until the edges of the muffin tops are just browning and a toothpick inserted into the muffins comes out mostly clean. Muffins can be stored in an airtight container in the fridge for up to 4 days or individually wrapped and frozen for up to 1 month.
Notes
*Gluten free, all purpose flour can be used in place of spelt.
**To prepare a flax egg, whisk together 1 tablespoon flax meal and 3 tablespoons warm water, then allow the mixture to thicken up for a few minutes.
Recipe created by The Full Helping for Domex Superfresh Growers®.