This homemade apple crisp has a sweet filling, crumbly topping, and is so simple to make. Autumn Glory is the perfect apple variety for this apple crisp because it adds ample sweetness and pairs with spiced flavors beautifully!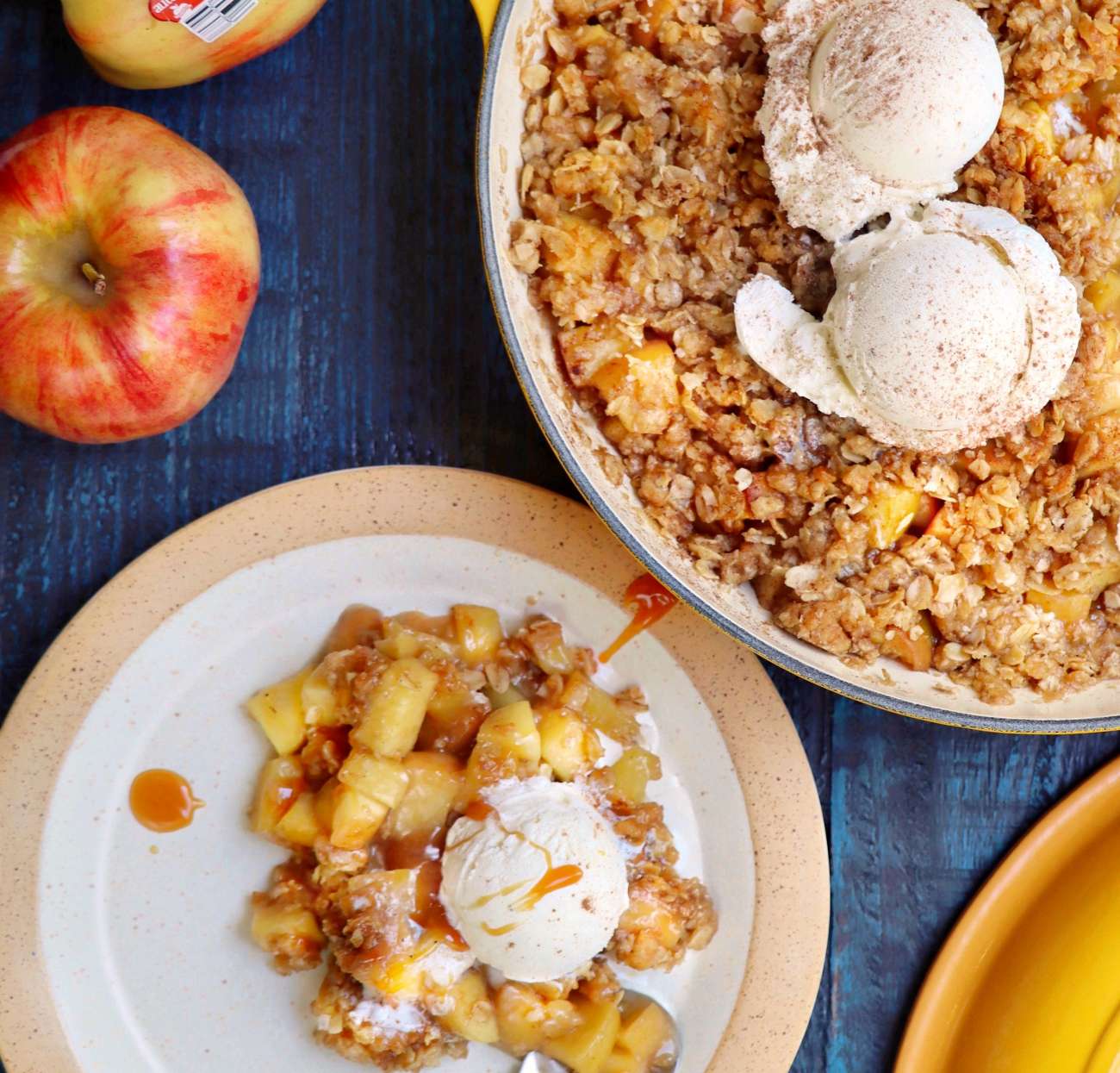 Ingredients
Filling
5- 6 Autumn Glory apples, diced
2 tablespoons flour
1 tablespoon lemon juice
¼ teaspoon ground nutmeg
2 teaspoons ground cinnamon
3 tablespoons butter
¼ cup honey
Topping
¾ cup (heaping) traditional oats
3 tablespoons flour
½ teaspoon ground cinnamon
⅔ cup light brown sugar, packed
6 tablespoons unsalted butter, cubed
+ Vanilla ice cream and caramel topping for serving
Directions
Preheat oven to 375°F.
In a mixing bowl, combine apples, flour, lemon juice, nutmeg, and cinnamon. Set aside.
In a small saucepan over medium-low heat, melt butter and honey, being careful to see that it does not burn.
Once melted and well-combined, add honey and butter mixture to the mixing bowl with the rest of the filling ingredients and mix well to combine. Set aside.
In a separate mixing bowl, combine all of your topping ingredients, mixing with your hands, and working the butter throughout. Keep mixing until your topping mixture starts to form a crumble-like consistency. Set aside.
Grease your braiser/baking dish along the bottom and partially up the sides. Then add apple mixture, spreading it out/flattening it until pretty even.
Spread topping mixture over top the apple mixture as evenly as possible.
Bake for 22-27 min. or until it starts to get golden brown and a bit bubbly.
When done, remove from oven, and serve warm with a scoop (or two!) of vanilla ice cream and a few drizzles of hot caramel topping, if desired.
Recipe created by Lunches + Littles for Superfresh Growers.