Yield: 3-4 servings
Skill level: Easy
For this recipe, we paired kohlrabi with deliciously sweet Autumn Glory apples and tossed it all in a lovely vinaigrette that is perfect for Spring!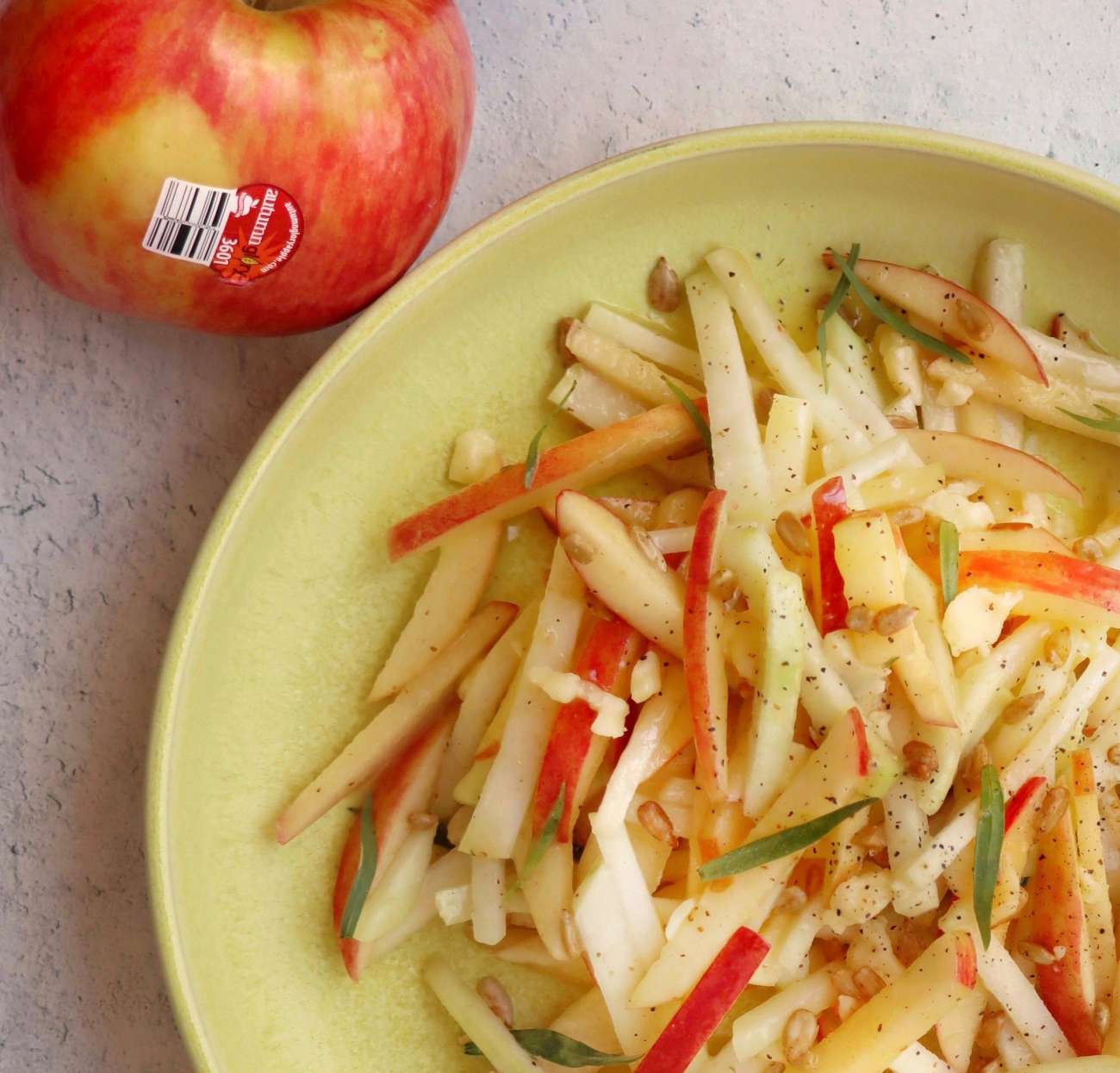 Ingredients
Salad
4 -5 Autumn Glory® apples
3- 4 kohlrabi bulbs (we used green here)
A few tablespoons roasted sunflower seeds
Crumbled goat cheese
Pepper
Fresh tarragon leaves for garnish
1 large lemon
Vinaigrette
¼ cup extra virgin olive oil
2 tablespoons honey
1 tablespoon white wine vinegar
1 tablespoon Dijon mustard
A few pinches of salt
Directions
Start off by prepping your produce. Core apples, then slice into small sticks as shown. For the kohlrabi, peel bulbs, then slice (avoiding and discarding the center). Stack slices then cut into evenly sized sticks. You want your kohlrabi to be thinner than your apple slices. You also want more apple sticks than kohlrabi sticks overall, so keep that in mind while you are cutting everything up. Depending on the size of your produce, you may need to use more or less of one or another.
Place cut up apple and kohlrabi sticks in a medium-sized bowl and squeeze the juice from half of your lemon into the bowl, tossing to coat (this will keep your apples from browning).
Whisk all vinaigrette ingredients in a small bowl and then taste. Adjust as needed, based on your desired sweetness. You can also add the remaining of your lemon juice into the vinaigrette, as desired.
Then, to the bowl with your apples/kohlrabi, add sunflower seeds and about half of your vinaigrette, again tossing to coat.
Plate your salad, topping with cheese, tarragon leaves, pepper and additional dressing as desired.
Enjoy!
Recipe created by Lunches + Littles for Superfresh Growers.