Yield: serves 4
Skill level: Moderate
A nutritious and hearty breakfast packed with all the delicious flavor of honeycrisp apples! Apple chunks in the batter AND in the sweet apple and maple topping. The whole wheat pancakes also have hints of cinnamon and nutmeg for the perfect pairing of sweet and spiced.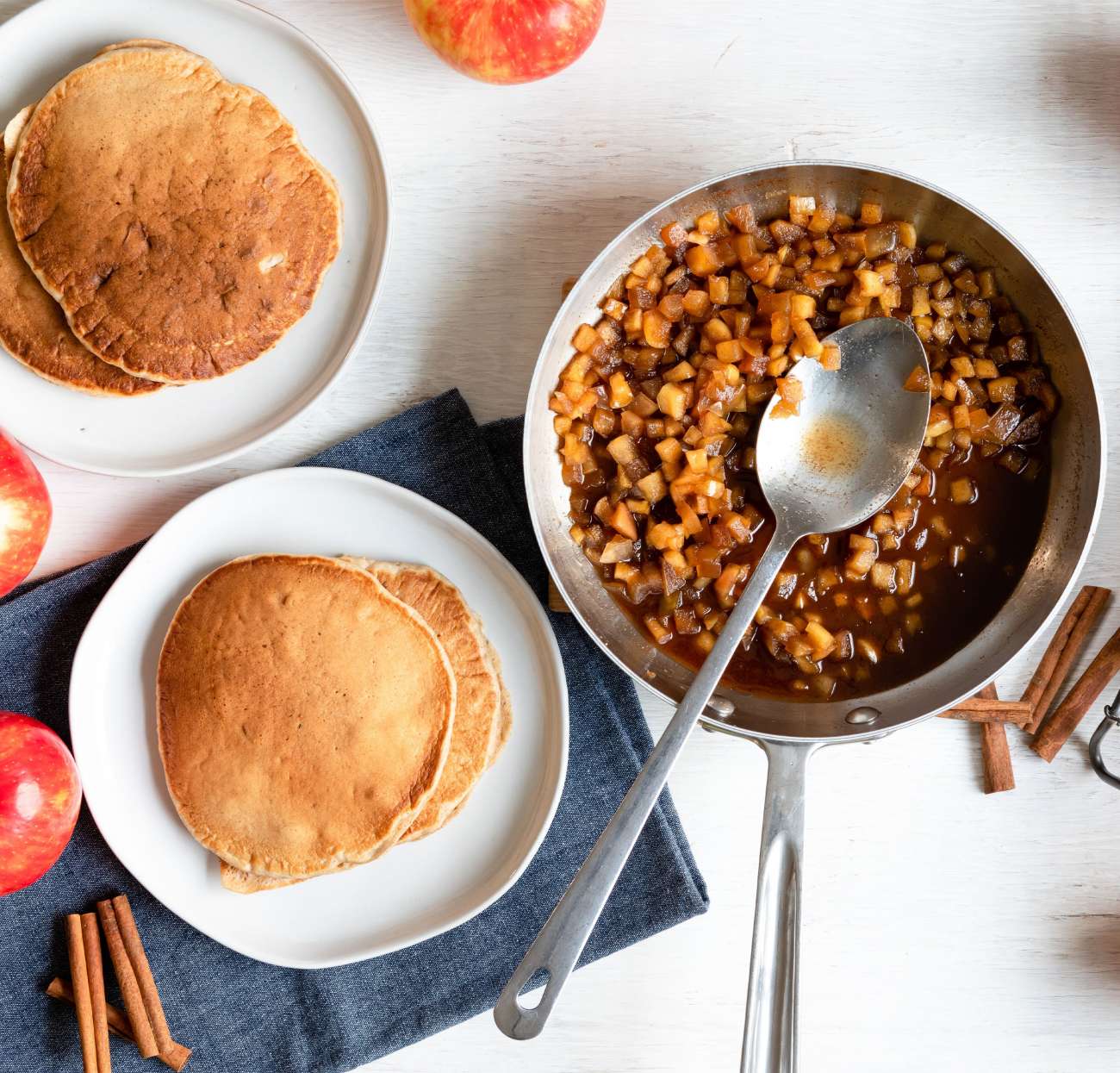 Ingredients
2 organic Honeycrisp apples
2 cups whole wheat flour
2 teaspoons baking powder
½ teaspoon baking soda
½ teaspoon table salt
½ teaspoon ground cinnamon
¼ teaspoon ground nutmeg
2 ½ cups low-fat milk or non-dairy alternative
2 tablespoons fresh lemon juice or apple cider vinegar
2 large eggs, lightly beaten
1 tablespoon plus 1 cup pure maple syrup, divided
1 tablespoon plus 2 teaspoons neutral-flavored oil, divided, plus more for cooking
1 teaspoon pure vanilla extract
Directions
Preheat a nonstick griddle to 350°F. Alternatively, use a nonstick skillet set over medium heat.
Peel apples, if desired, and remove cores. Cut apples into ¼-inch chunks and set aside.
In a large mixing bowl, whisk together whole wheat flour, baking powder and soda, salt, and spices. Add ⅓ of the chopped apples and toss to coat in flour.
In a large measuring cup, whisk together milk, lemon juice or vinegar, eggs, 1 tablespoon maple syrup, and 1 tablespoon oil.
Make a well in the center of the dry ingredients and add the liquid all at once. Use a spatula or spoon to fold the ingredients until just combined.
Lightly oil the griddle. Working in batches, if needed, use a ½ cup measuring cup or a ladle to pour the batter onto the preheated griddle or pan. Allow to cook for 2-3 minutes on the first side, then carefully flip over and cook for an additional 3-4 minutes, or until the center is set. Transfer to a serving platter and keep warm until ready to serve.
While pancakes are cooking, prepare the apple topping. In another large skillet, heat 2 teaspoons of oil over medium heat. Add the remaining cubed apple and allow to soften and become golden on each side, about 5-6 minutes. Pour the remaining 1 cup maple syrup and vanilla extract in with the apples and allow to simmer so the natural apple juices combine with the syrup.
To serve, place a stack of pancakes on a plate and top with some of the apple topping. Serve immediately.