Yield: 4 Servings
Skill level: Moderate
Hearty and filling, this is a great breakfast for the entire family! A Dutch Baby is a variation of a pancake; created in the oven. This recipe is the perfect complement to our Autumn Glory apples, enhancing their sweet, cinnamon, and caramel notes. Start off your morning with this unique, sweet, and tasty dish!
Click here for printable recipe!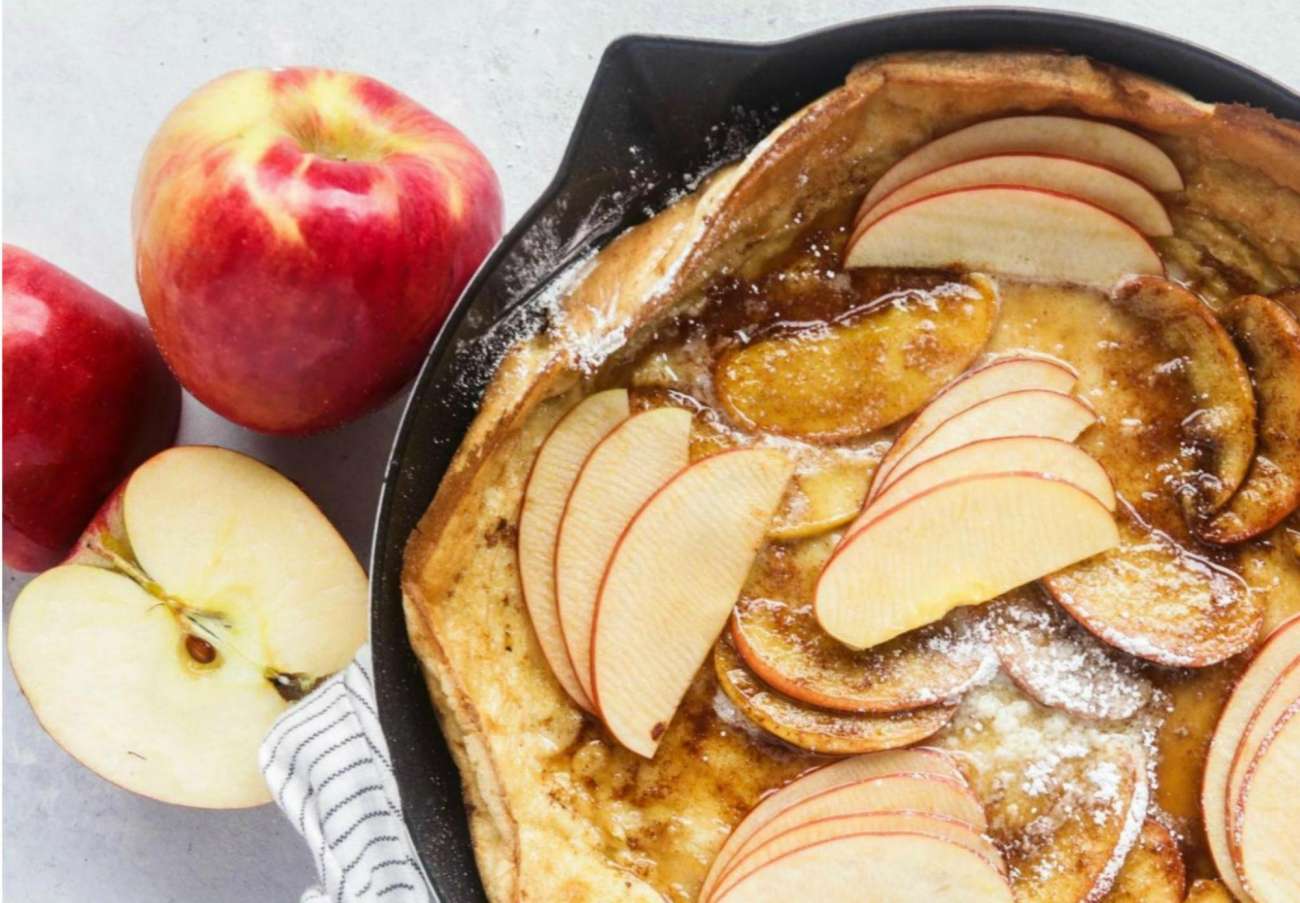 Ingredients
Spiced Dutch Baby
3 tablespoons unsalted butter, divided
3 large eggs
⅔ cup milk
⅔ cup all-purpose flour
1 tablespoon granulated sugar
½ tablespoon vanilla extract
½ teaspoon cinnamon
1 pinch salt
Powdered sugar, (optional), for serving
Maple syrup, (optional), for serving
Maple Cinnamon Apples
1 tablespoon unsalted butter
2 Autumn Glory® apples, cored and sliced
1 tablespoon pure maple syrup
1 tablespoon brown sugar
½ teaspoon cinnamon
1 pinch salt
Autumn Glory apple slices, (optional), for garnish
Directions
Preheat oven to 400˚F. Add 1 tablespoon of butter to a 10 inch cast iron skillet, once the oven has preheated place skillet in the oven for 10 minutes. Melt the remaining two tablespoons of butter and set aside.
Meanwhile, add eggs, milk, flour, sugar, vanilla, cinnamon, salt, and melted butter to a quart sized mason jar. Add the lid and seal tightly. Shake contents vigorously until well blended.
Once the pan has preheated remove it from the oven, pour batter in center, and place back in the oven to bake for about 20 minutes or until the center is fluffy and the edges are crisp.
While the Dutch Baby is cooking, make the Maple Cinnamon Apples. Add 1 tablespoon of butter to a large skillet and let melt over medium heat. Add the sliced apples, maple syrup, brown sugar, cinnamon and salt. Cook over medium heat for about 5 minutes, or until the apples have softened slightly. Remove from heat and set aside.
When the Dutch Baby is cooked, remove it from the oven and top with cooked apples, fresh apples, maple syrup, and powdered sugar (if using).
Recipe by The Feed Feed for Domex Superfresh Growers®