Yield: 6-8 Servings
Skill level: Moderate
These cinnamon pancakes with Autumn Glory® apples and Meyer Lemon Whipped Cream make a great breakfast for the whole family! Fluffy pancakes bursting with flavor as soon as you take a bite. Crisp Autumn Glory with caramel and cinnamon notes pair with lemon whip cream creating the perfect balance.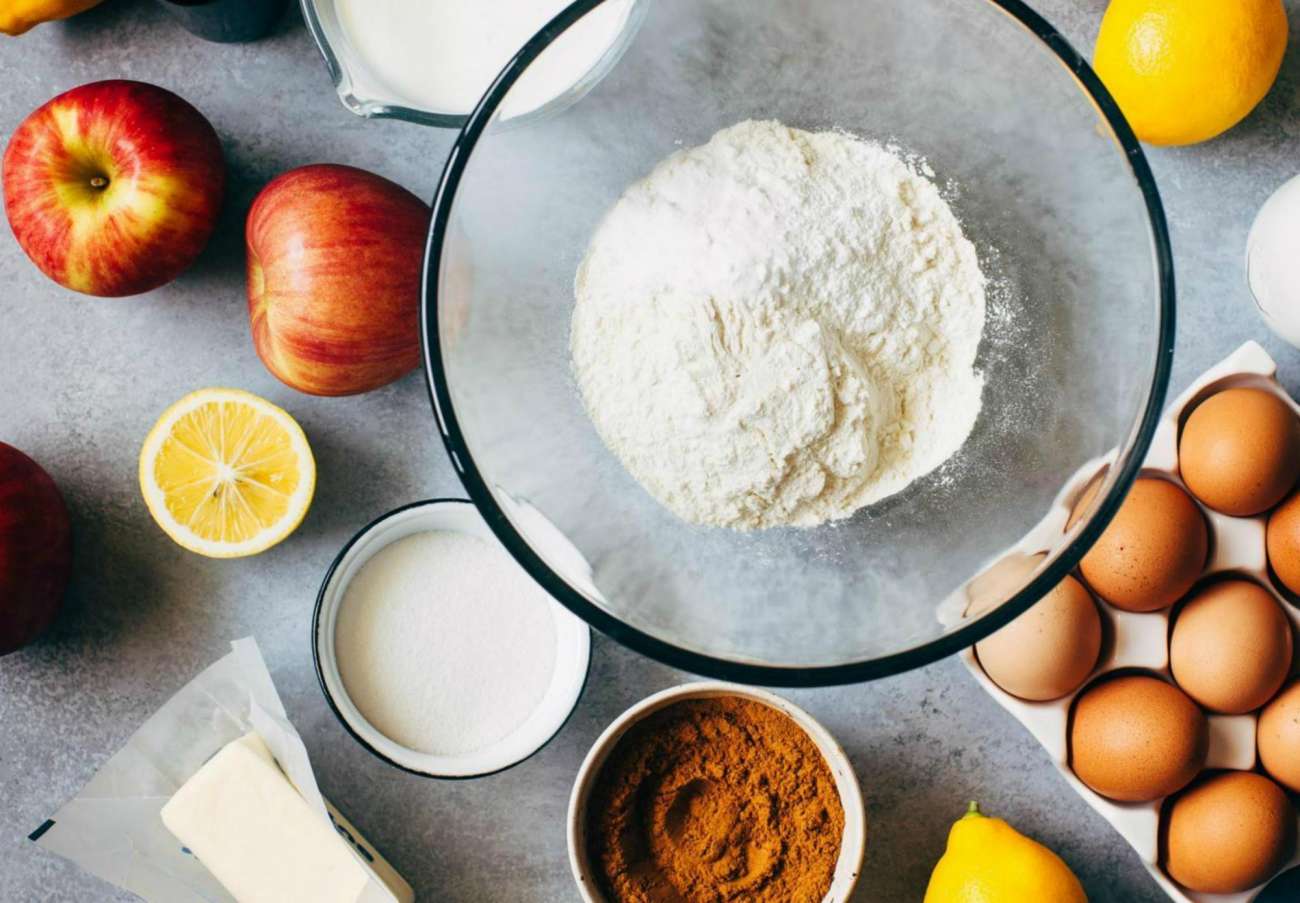 Ingredients
Pancakes
2 cups all-purpose flour
3 tablespoons sugar
1 ½ teaspoons baking powder
1 ½ teaspoons baking soda
1 teaspoon ground cinnamon
1 teaspoon fine grain sea salt
2 ½ cups well-shaken buttermilk
2 eggs
1 teaspoon good vanilla extract
4 tablespoons unsalted butter, melted and cooled (plus more for the skillet)
Chopped Autumn Glory apples, for serving
Honey or maple syrup, for serving
Whipped Cream
1 cup cold heavy cream
2 tablespoons sugar
1 tablespoon Meyer lemon zest (about 2 lemons), plus more for sprinkling
2 teaspoons Meyer lemon juice
Directions:
Add flour, sugar, baking powder, baking soda, cinnamon, and sea salt to a large bowl, whisking to combine.
In a medium bowl, whisk together buttermilk, eggs, and vanilla. Pour the wet ingredients into the dry ingredients, and mix until just combined (there may be a few lumps). Fold in the melted butter. If time allows, let the batter rest for 30 minutes.
While the batter is resting, preheat a cast-iron skillet over medium-high heat or an electric griddle to 375°F. Brush the skillet lightly with melted butter. Using a ladle, pour pools of batter on to hot skillet (3 pancakes on a 12-inch skillet or 6 on a rectangular electric skillet). Adjust the size of the pancakes based on taste. When the pancakes have bubbles on top and are slightly dry around the edges, about 1 to 2 minutes, flip over. Cook on the other side for an additional minute, until golden. Repeat with the remaining batter. Keep the finished pancakes on a baking sheet in the oven at 175°F covered with a clean kitchen towel.
While the pancakes are cooking, prepare the whipped cream. Add the cream, sugar, lemon zest, and lemon juice to the bowl of a stand mixer fitted with the whisk attachment. Whisk on high until soft peaks form.
To serve, fan out or stack up pancakes on a plate, then top with chopped Autumn Glory apples. Finish with a drizzle of honey (or maple syrup) and a dollop of Meyer lemon whipped cream dusted with some fresh lemon zest. Enjoy warm!
Note
Maple syrup is a great option; however, honey ties together the apple, cinnamon, and Meyer lemon flavors.
Recipe created by Kitchen Konfidence for Domex Superfresh Growers®.