Yield: 6-8 servings
Skill level: Easy
Hearty and filling, this is a great breakfast or brunch casserole, enough for the whole family! Our savory bread pudding is rich and creamy like a traditional sweet bread pudding, but with the heartiness of stuffing. Packed full of our organic Superfresh apples and pears, there has never been a better recipe for the harvest season!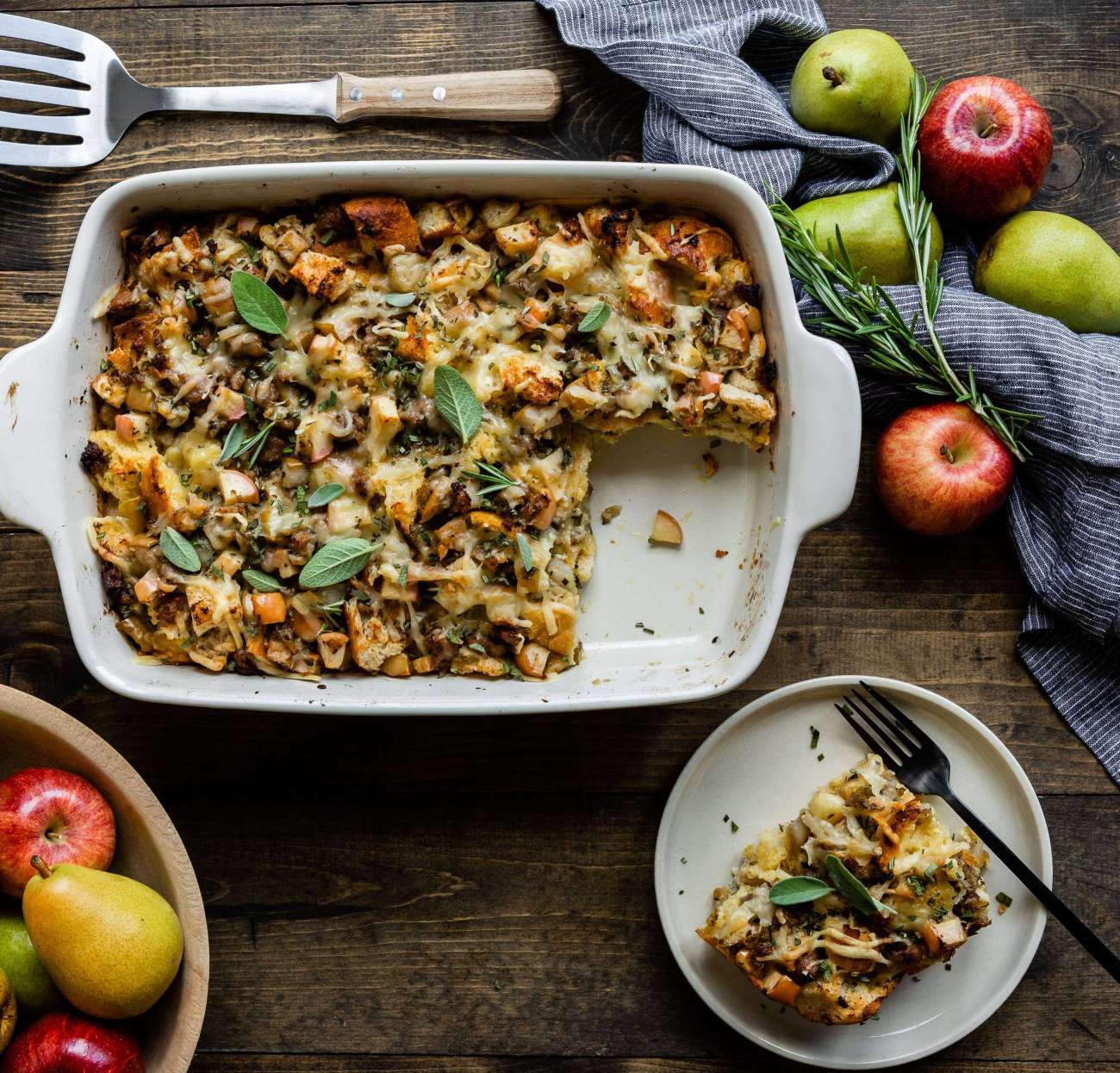 Ingredients
14-16 ounce loaf stale artisan bread
2 tablespoons butter, plus more for baking dish
1 yellow onion, diced
1 pound bulk breakfast sausage
2 organic Gala apples, cored and diced
2 organic Anjou pears, cored and diced
½ cup fresh herbs, finely minced (sage, thyme, rosemary)
1 ½ cups shredded Gruyere or Swiss cheese
1 tablespoon pure maple syrup
1 teaspoon dry mustard
¼ teaspoon salt
¼ teaspoon freshly ground black pepper
12 large whole eggs
1 cup whole milk
1 cup heavy cream
Directions
Preheat oven to 350° F. Cut bread into cubes. Spread bread cubes in an even layer on a rimmed baking sheet. Toast bread cubes for 5 minutes, stir and turn over bread, then toast for another 5-6 minutes or until bread cubes are crisp on the edges.
Butter a 9- by 13-inch casserole dish. Set aside.
In a large skillet, melt butter. Add diced onion and sauté for 3-5 minutes, or until onions start to soften. Add bulk sausage to pan and break up into pieces with a wooden spoon. Cook until sausage is no longer pink.
Add diced apples and pears and sauté until slightly tender, about 3-4 minutes. Add fresh herbs and cook for another minute or two. Remove from heat and let cool for a few minutes.
Place toasted bread cubes in a large bowl. Add sausage and fruit mixture. Toss to combine. Place half of the mixture in the casserole dish and sprinkle with 3/4 cup shredded cheese. Top with remaining half of the bread cube mixture and remaining 3/4 cup cheese. Set aside.
In the same bowl, stir together maple syrup, mustard powder, salt, and pepper until no lumps remain. Whisk in eggs, followed by milk and cream. Pour evenly over the bread cubes. Gently press down so every cube is submerged in the custard mixture. Cover with foil and refrigerate for 2-3 hours.
To bake: preheat oven to 350°F. Remove casserole dish from fridge and allow to sit at room temperature while oven is preheating. Place dish, still covered with foil, in the oven and bake for 45 minutes. Remove foil and bake for another 15-20 minutes, or until center is just set and no longer runny. Let stand before serving.