Yield: 8 Tacos
Skill level: Medium
As we toast to a New Year, we are adding apples to our 2018 resolutions. Apples are full of important and vital nutrients that are great way to start your day and your year off (read our New Year Resolution post for more details)!
We like adding apples in whenever we can… like these breakfast tacos which include diced organic Granny Smith apples! We partnered with superfood expert, Kelly Pfeiffer with Nosh and Nourish to come up with a breakfast dish the whole family will enjoy. She writes, "They are sautéed with purple sweet potato, diced sweet onion, and a bit of avocado oil. Then tossed with chili lime salt!"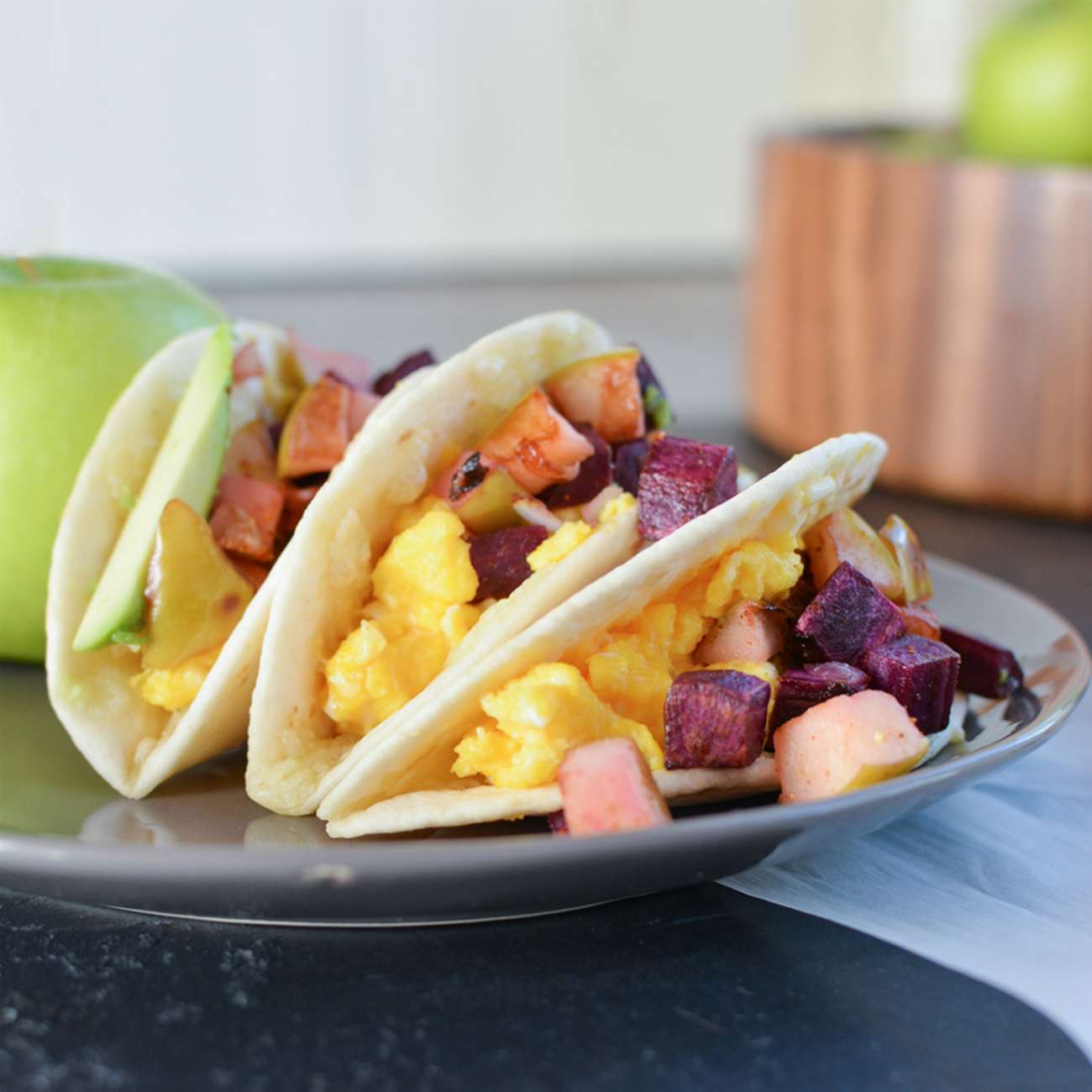 INGREDIENTS
8 small flour tortillas
1 cup shredded havarti cheese
1 tablespoon avocado oil or evoo
¼ cup sweet onion, diced
1 small sweet purple sweet potato, or sub regular orange sweet potato
1 Organic granny smith apple, diced
½ tablespoon chili lime salt
8 eggs
½ tablespoon avocado oil, for scrambling eggs
1 avocado, sliced
DIRECTIONS
Preheat the oven to 425°. Lay out tortillas on a cookie sheet in a single layer.
Sprinkle the Havarti evenly over all the tortillas. Bake for 6 minutes or until cheese is melted/bubbly. Remove from the oven.
In a large skillet over medium high heat, sauté the onion, sweet potato and diced apples in 1 tablespoon avocado oil, stirring frequently. Sauté for approximately 10 minutes, until the sweet potatoes are cooked/softened. Place the sautéed fruit and veggies in a bowl and sprinkle on the chili lime salt. Stir until evenly coated.
In the same skillet, over medium low heat, add the additional ½ tablespoon avocado oil and break open 8 eggs. Stir to break up the yolk so they become scrambled. Stir frequently for approximately 5 minutes or until the eggs are cooked through.
Assemble your tacos: eggs, apple sweet potato hash and a slice or two of avocado.
Optional add-ons: a dollop of Greek yogurt or bacon crumbles.