Yield: 6 chicken pieces
Skill level: Medium
Spice level: Low
Juicy citrus and apples mix together for this moist and full of flavor skillet chicken dish.
Chicken Ingredients
6 skin-on, bone-in chicken thighs
3 blood oranges, juiced
2 tablespoons olive oil, plus more for browning
1 tablespoon rosemary, chopped
1 tablespoon sage, chopped
1 tablespoon thyme, chopped
1 teaspoon Aleppo pepper
Salt & pepper
Apple & Orange Ingredients
2 organic Cameo apples
1 blood orange, juiced
Salt & pepper
2 blood oranges, sectioned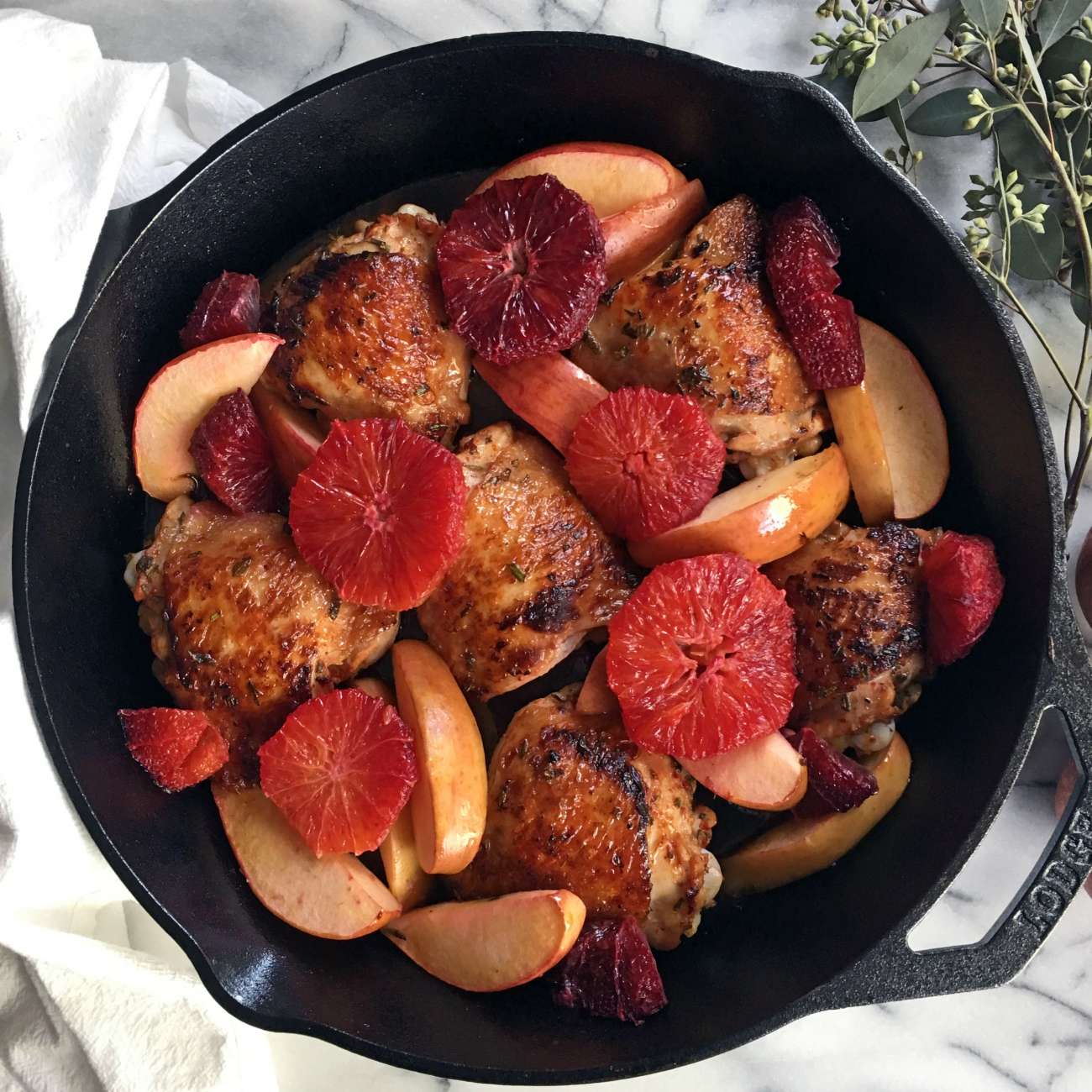 Directions
In a large bowl toss to coat the chicken thighs, blood orange juice, olive oil, rosemary, thyme, sage, Aleppo pepper, salt, and black pepper. Cover and refrigerate for a minimum of two hours
Preheat oven to 425°F. Cut the cameo apples into wedges and toss with blood orange juice, salt and pepper. Set aside
In a large oven-safe skillet, coat the bottom with olive oil and heat over medium-high heat. Once hot, place the chicken thighs skin side down in pan and do not move for 6-7 minutes, or until nicely browned. Turn heat off and turn your chicken skin side up.
Supreme (section) the blood oranges by cutting the orange down to its most tender and jewel-like segments. A sharp paring knife is suggested. Add apple wedges and blood orange slices to the pan and place directly into the oven. Bake for about 20 minutes, or until internal temperature is 165°F.Remove from oven and serve.
Recipe created by BazaarLazarr for Domex Superfresh Growers®.