Yield: 9 Servings
Skill level: Easy
This delicious coffee cake is rich, moist, and best of all, simple to make. The fresh Rainier cherry and almond streusel topping brings this breakfast pastry to a whole new level. Finish with a light dusting of powdered sugar and enjoy!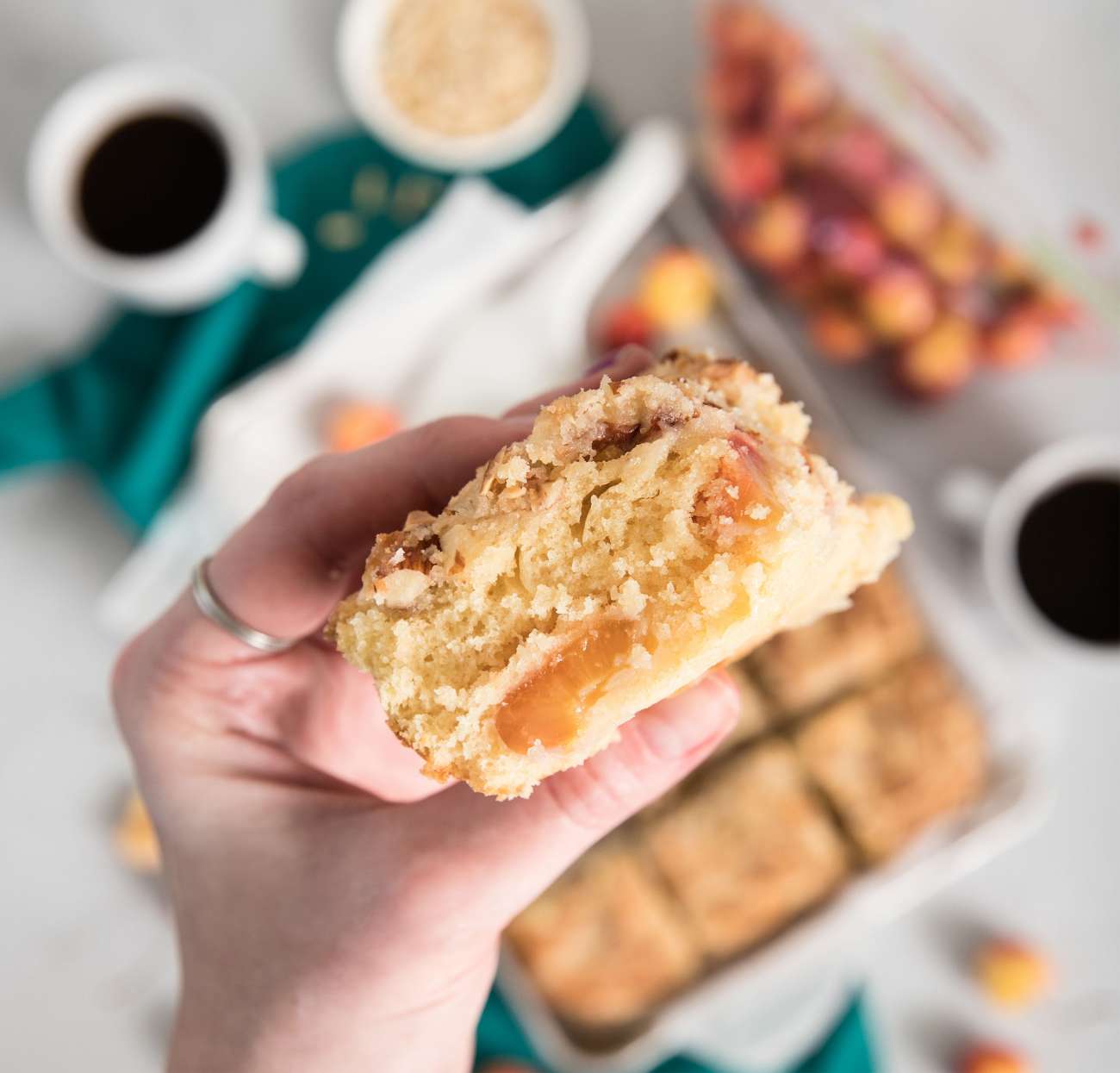 Ingredients
2¼ cups all-purpose flour, divided
1 cup sugar, divided
⅓ cup chopped almonds
5 tablespoons cold unsalted butter, cut into cubes
2 teaspoons baking powder
½ teaspoon fine sea salt
4 tablespoons unsalted butter, softened
1 teaspoon vanilla
1 large egg
⅔ cup milk
1¼ cups Superfresh Rainier cherries, stemmed, pitted, and halved 
Directions
Preheat oven to 350°F. Grease a 9" square baking dish.
In a medium bowl, combine ½ cup flour, ½ cup sugar, and almonds. Add cold butter, and work butter into flour with your fingers until the mixture is crumbly. Refrigerate until ready to use.
In a medium bowl, whisk together 1½ cups flour, baking powder, and salt.
In a large bowl or the bowl of a stand mixer fitted with the paddle attachment, beat softened butter and remaining ½ cup sugar until light and fluffy, 4-5 minutes. Scrape down sides of mixing bowl and beat in vanilla. Scrape down sides of mixing bowl, add egg, and beat just until incorporated. Add flour mixture in 3 parts alternating with milk in 2 parts just until smooth.
In a small bowl, toss cherries with remaining ¼ cup flour. Fold cherries into batter. Spread batter in prepared pan, sprinkle with streusel, and bake until a toothpick inserted into the center comes out clean, 25-30 minutes. Let cool in the pan for 20 minutes before slicing and serving.