Cookies for breakfast? Sign us up! Morning Glory apple chunk cookies are a delicious oat cookie, studded with chunks of Autumn Glory apples and shredded carrot, then topped with a yummy cream cheese glaze! A beautiful mix of spices and sweetness to truly bring the joy to the most important meal of the day.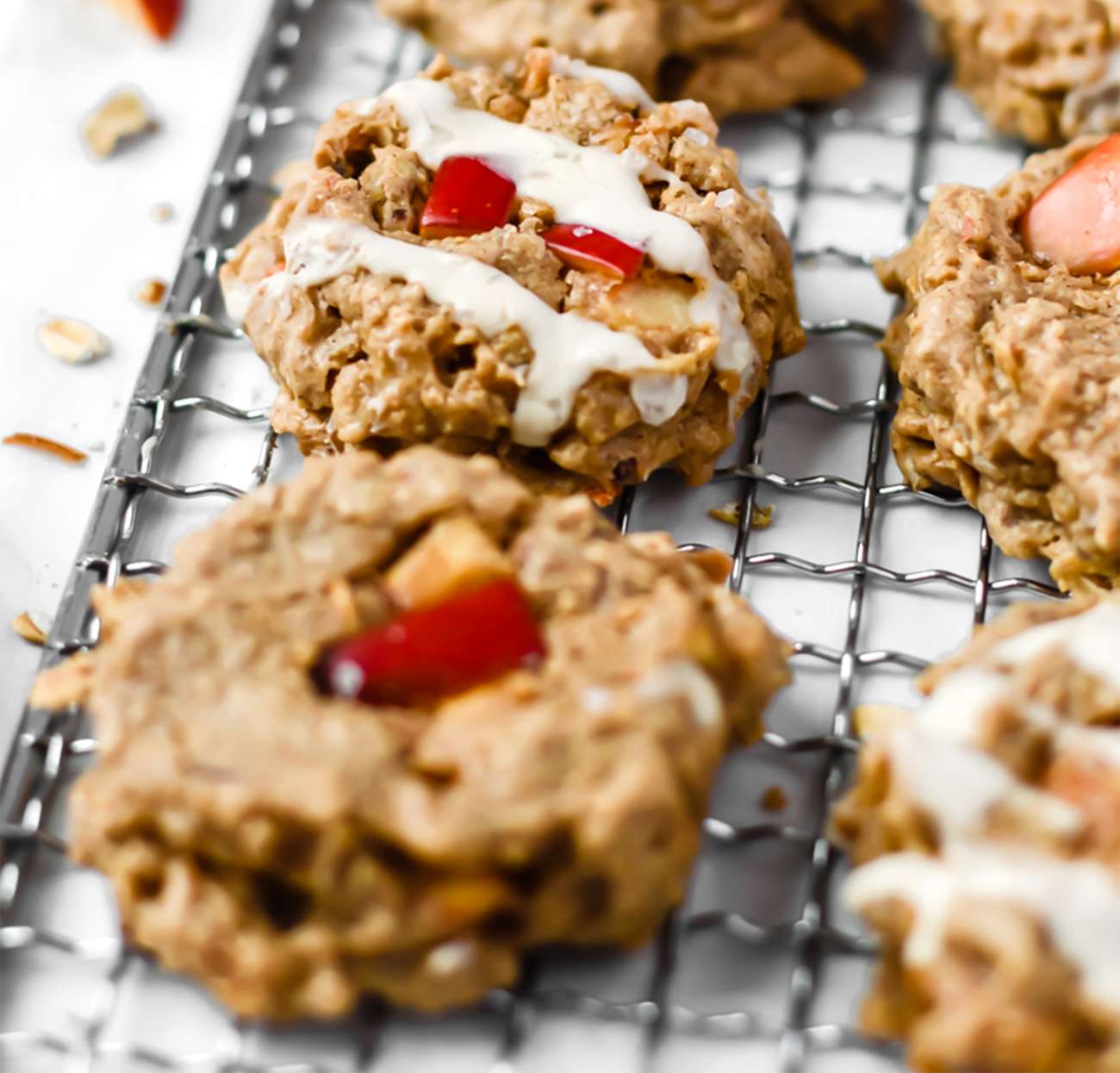 Ingredients:
Cookies
½ cup cashew butter
¼ cup melted coconut oil
½ cup coconut sugar
1 large egg
¾ cup sprouted rolled oats
½ cup oat flour
1 teaspoon cinnamon
¼ teaspoon nutmeg
Sea salt to taste
½ teaspoon baking soda
½ cup diced Autumn Glory apples
Handful of shredded carrots
Handful of chopped pecans or walnuts
Cream cheese glaze
¼ cup cream cheese (dairy free/almond based if needed)
1 tablespoon maple syrup
2 tablespoons cashew milk to thin
Directions:
Preheat oven to 350°F. Line a baking tray with parchment paper and set aside.
In a small bowl combine the coconut oil and cashew butter. Microwave for about 30 seconds and allow to cool. In a large bowl combine the oat flour, oats, baking soda and set aside.
Whisk together the coconut oil, cashew butter, coconut sugar, and egg until a thick mixture forms. Pour into the oats and mix until a cookie dough forms. Fold in the shredded carrots, apples and chopped nuts. Using a cookie scoop, scoop the dough onto a baking sheet (about 2 tablespoon sized balls) and repeat until no batter remains. Lightly press down cookies and bake for 15 minutes.
While the cookies cool, make the glaze by whisking together the cream cheese, cashew milk, and maple syrup. Store in the fridge until ready to use.
Allow cookies to cool on the baking tray for at least 15 minutes before cooling on a rack. Do not skip this step! Drizzle with glaze and enjoy.
Recipe created by The Nutritious Kitchen for Domex Superfresh Growers®.