Deliciously moist, caramel-covered, and perfect for your holiday gatherings, this caramel apple cake baked with Autumn Glory apples is a simply decadent dessert.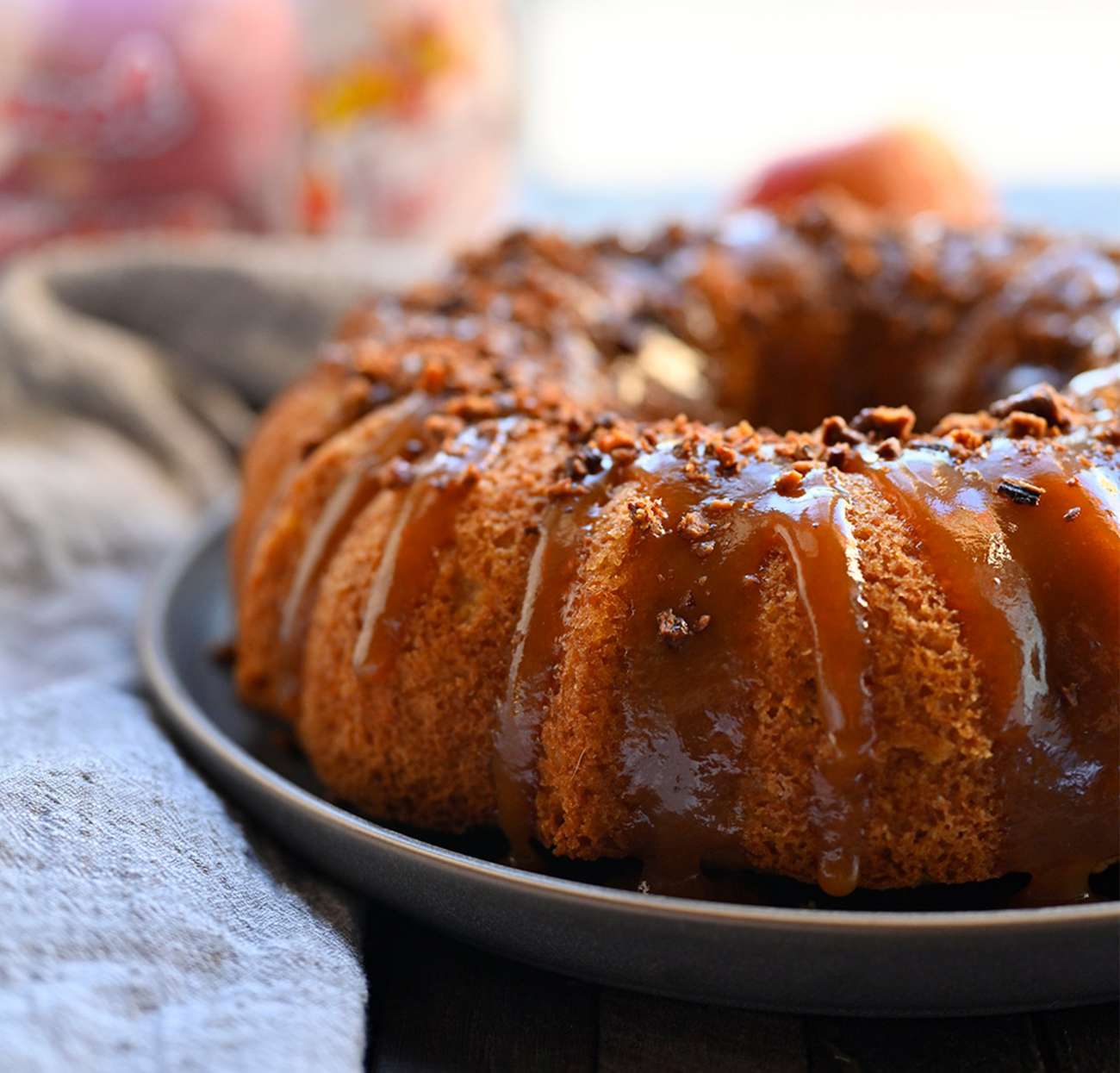 Ingredients:
Cake
2 cups all-purpose unbleached flour
2 teaspoons baking powder
½ teaspoon sea salt
2 Autumn Glory® apples, cored and diced
1 teaspoon vanilla extract
1 teaspoon cinnamon
½ cup unsweetened cashew milk (or sub milk of choice)
¾ cup olive oil
3 eggs
1 cup golden monkfruit (or sub coconut sugar or raw cane sugar)
Topping
caramel sauce
honey-roasted pecans, chopped
Directions:
Preheat the oven to 350°F
Get out 3 mixing bowls. In the largest mixing bowl, combine the dry ingredients: flour, baking powder, and sea salt. Stir and then set aside.
Boil the diced apples in about 1 cup of water on medium high heat for approximately 20 minutes. If all the water evaporates, add a little more into the pan. Once cooked/softened, use a potato masher to smash them (or use a knife to dice even more finely).
In a smaller mixing bowl, combine the cooked apples with the olive oil, vanilla, and cashew milk. Stir and then set aside.
In a third bowl, combine the eggs and granulated monkfruit. Using a hand mixer, mix on medium-high for 2 - 3 minutes. Then, pour the egg mixture into the apple mixture. Stir. Then, pour the wet mixture into the dry mixture and stir until just combined. Do not over-stir.
Pour the batter into a greased bundt pan, then bake for 45 minutes. Once the cake is finished, let it cool on the counter for 20 minutes. Then, flip it over onto a parchment lined cake plate. Drizzle the caramel over the cake. Then, sprinkle on the chopped pecans. Enjoy!
Recipe created by Nosh & Nourish for Domex Superfresh Growers®.