Yield: 12 muffins
Skill level: Moderate
Moist, fluffy and garnished with a delicious crunchy topping, these muffins have a rich maple flavor that complements wonderfully the slight tanginess and juiciness of the fresh blueberries.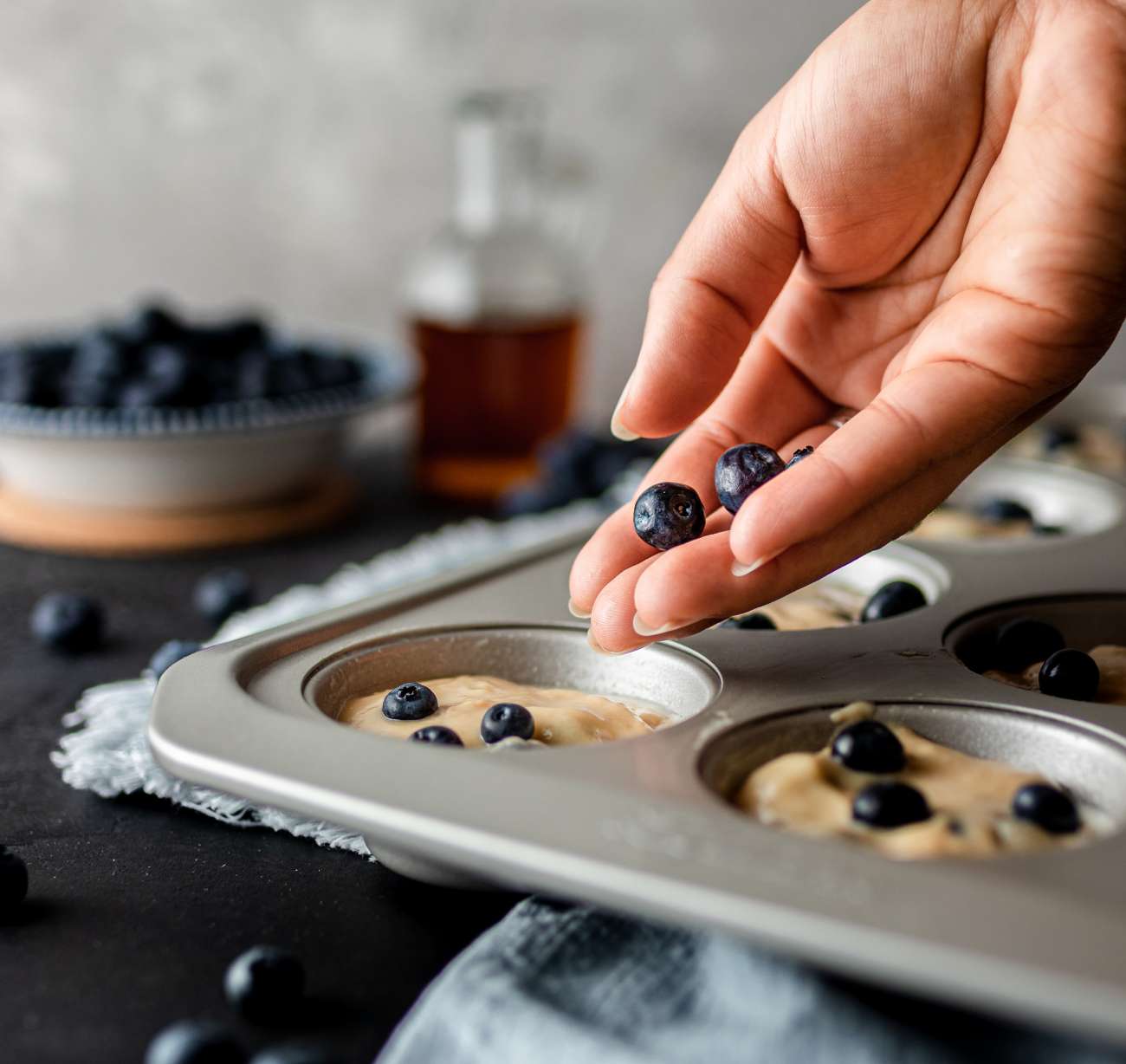 Ingredients
Streusel
¾ cup all-purpose flour
¼ cup + 2 tablespoons maple sugar
Pinch of salt
6 tablespoons cold unsalted vegan butter, cubed
Muffins
2 cups + 1 tbsp all purpose flour, divided
¾ cup maple sugar
1 ½ teaspoons baking powder
¼ teaspoon baking soda
¼ teaspoon salt
¾ cup unsweetened soy milk
¼ cup avocado oil
¼ cup maple syrup
1 teaspoon maple extract, optional
1 ¼ cup fresh blueberries, divided
Directions
Make the streusel:
Add the flour, maple sugar, and salt to a food processor or a mini food processor and pulse until incorporated.
Drop in cubed cold unsalted vegan butter and process until the mixture sticks together. Place in the refrigerator while you prepare the muffins.
Make the muffins & Assemble:
Preheat the oven to 350ºF and grease a muffin pan with cooking spray. Alternatively, you can brush the pan with a neutral oil of choice or use cupcake liners.
Mix together in a large bowl 2 cups of all-purpose flour, maple sugar, baking powder, baking soda, and salt.
Whisk in soy milk, avocado oil, maple syrup, and maple extract. Set aside.
In a separate bowl, add 1 cup of fresh blueberries along with the remaining 1 tablespoon of flour. Toss until the blueberries are coated in flour.
Fold the blueberries into the muffin batter using a rubber spatula.
Divide the mixture between the muffin cups.
Divide the remaining ¼ cup of blueberries (untossed in flour) between the muffin cups.
Top each muffin with the streusel, pinching it between your fingers to make it stick together.
Bake for 20-22 minutes or until slightly golden and a toothpick comes out clean when inserted. If you want the streusel to have extra color, feel free to increase the temperature of the oven to 500ºF and broil until golden.
Let cool in the muffin pan for 10 minutes then remove from the pan and let cool completely on a cooling rack.
Recipe created by Murielle Banackissa for Superfresh Growers.