Yield: 9-12 servings
Skill level: Moderate
These cherry pie bars are made of a rich, buttery pie crust topped with a maple-sweetened cherry filling and finally garnished with a layer of crunchy pie crust. As a true summer staple, the filling is made using fresh, Dark Sweet cherries from Superfresh Growers. Enjoy these bars on their own or with a generous scoop of ice cream.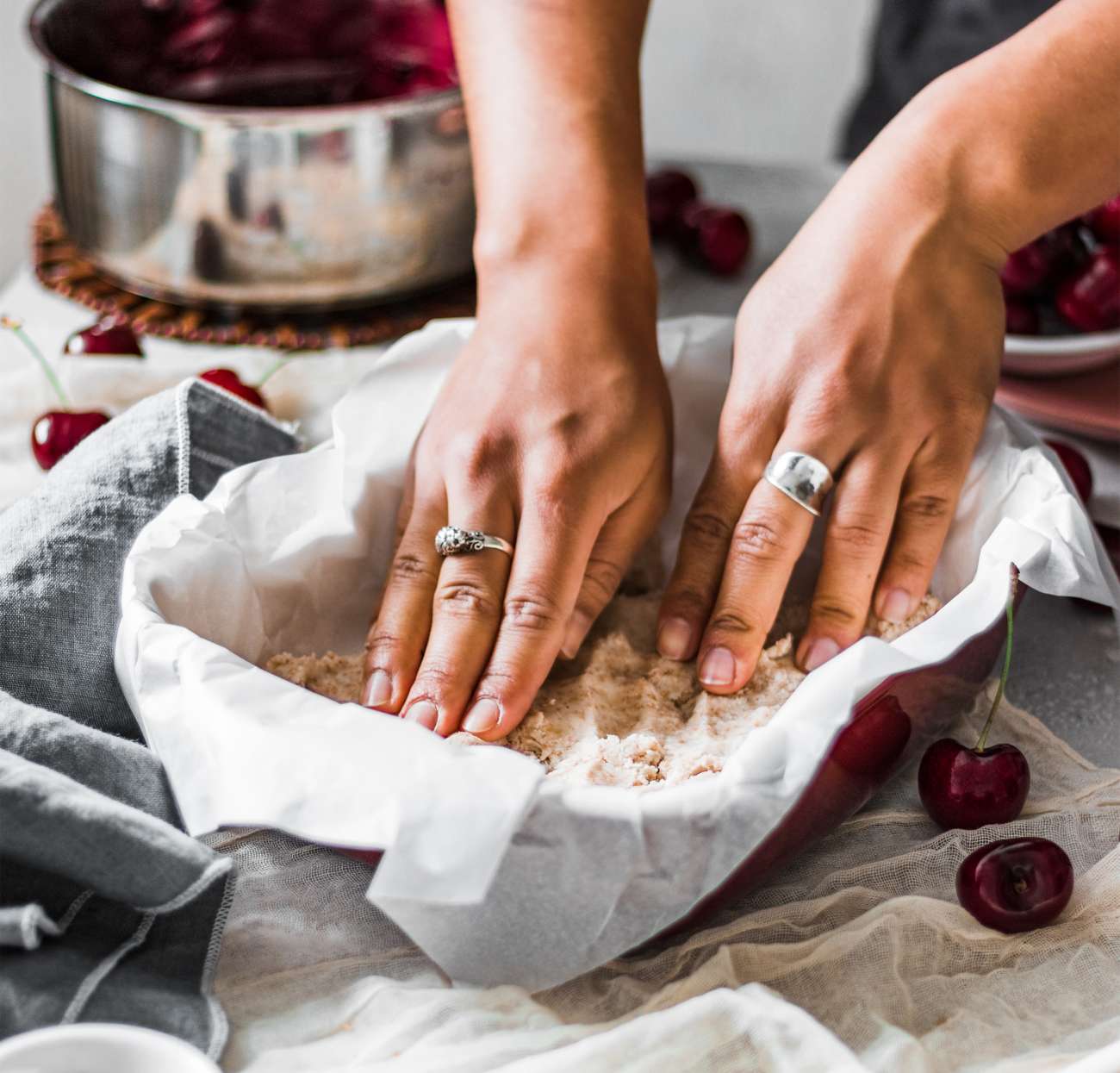 Ingredients
Crust & Topping
1 cup whole-wheat flour
1 cup all-purpose flour
2 tablespoons granulated sugar
6 tablespoons cold salted vegan butter, cut into ½-inch pieces
7 to 8 tablespoons ice water
Cherry Filling
3 cups pitted cherries, halved
4 tablespoons maple syrup
1 tablespoon water
2 teaspoons cornstarch
2 teaspoons vanilla extract
Additional toppings (optional)
Unsweetened soy milk
Turbinado sugar
Directions
In a large bowl, use a rubber spatula to mix together the flours and sugar.
Add the vegan butter and incorporate using a pastry cutter or a fork until the mixture forms a soft, sandy texture.
Add 7 tablespoons of the ice-cold water, one tablespoon at a time, mixing it with a rubber spatula to incorporate, until the dough is no longer dry and crumbly, and there are no white streaks of flour visible. If the dough is still pretty crumbly, add the remaining tablespoon of water.
Form the dough into a ball with your hands, wrap it in plastic wrap, and place in the refrigerator while you prepare the filling.
In a saucepan, combine the pitted cherries and maple syrup. Cover and bring to a boil over medium-high heat.
Reduce the heat to medium and cook for 5 minutes, covered, watching the mixture closely, making sure that the mixture does not boil over, and stirring from time to time.
After 5 minutes, remove the lid and continue cooking for 10 minutes, stirring from time to time.
In a small bowl, whisk together water, cornstarch, and vanilla extract.
Pour the cornstarch mixture into the saucepan with the cherries and continue cooking for 2 minutes or until the mixture has thickened.
Remove from the heat and let cool while you assemble the bars.
Heat the oven to 350ºF and line an 8x8-inch baking dish with parchment paper.
Cut out about ⅔ of the chilled dough and transfer it into the baking dish. Spread the dough over the entire surface of the baking dish using your fingers. Poke it with a fork two dozen times and bake for 15 minutes.
Remove the crust from the oven and increase the oven temperature to 375ºF.
Spread the cherry mixture evenly onto the crust.
Top the cherry mixture with the remainder of the dough, cut into small flattened pieces.
If desired, brush 1 tablespoon of milk onto the dough and sprinkle with turbinado sugar.
Bake for 40 minutes or until the topping is golden brown.
Let cool for at least one hour before cutting into squares. Keep in the refrigerator in an airtight container for up to 3 days.
Recipe created by Murielle Banackissa for Superfresh Growers.