Skill level: Moderate
Elevate your breakfast with these two delicious recipe! Combining the flavors of blueberry pancakes and cornbread muffins, it's a no-brainer! Our Superfresh blueberries create flavor bursting pockets in the pancakes AND an extra special touch to the blueberry butter for topping. This recipe will be a hit with the whole family!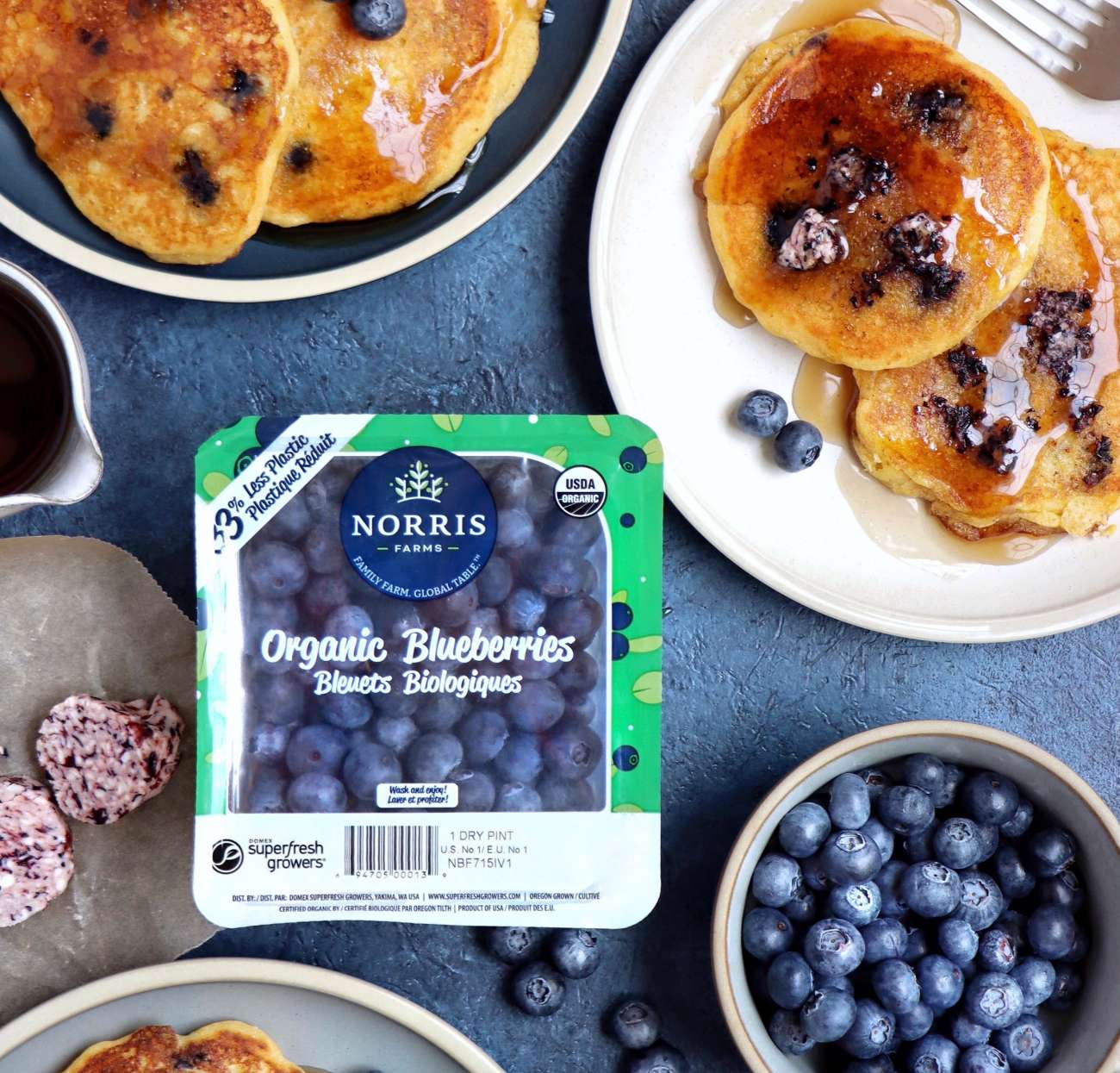 Ingredients
Blueberry butter
1 stick unsalted butter, slightly softened
¼ heaping cup blueberries
2 teaspoons berry preserves
Pinch of salt
Pancakes
1 cup cornmeal
1 cup all-purpose flour
½ cup whole wheat flour
1 ½ tablespoons sugar
2 tablespoons baking powder
½ teaspoon baking powder
½ teaspoon kosher salt
2 eggs
1 ¾ cups buttermilk,
4 tablespoons unsalted butter, melted
1 cup or more of blueberries
Directions
Blueberry butter
Place all blueberry butter ingredients in a food processor or blender and blend until combined.
Remove mixed butter and place it on a piece of parchment paper. Roll up your paper, molding the butter into a log.
Place in the refrigerator for several hours to harden up.
Pancakes
In a large mixing bowl, combine cornmeal, all-purpose flour, wheat flour, sugar, baking powder, baking soda, and salt.
In a separate bowl, combine buttermilk, eggs, and melted butter. Whisk to fully combine.
Pour wet ingredients into dry, along with ½ cup of the blueberries. Carefully fold together until just combined, being careful not to overwork the batter. Set aside for 5 min.
Meanwhile, heat a pan or griddle over medium heat and spray with a bit of cooking spray.
Add a few tablespoons of batter to the pan for each pancake, flattening to be as even as possible. You will also want to add some of your remaining blueberries directly into the batter on the griddle (about 3- 5 per pancake).
Cook pancakes until golden. This will take 2- 3 min. Then, flip and repeat. Once done on both sides, remove from heat and continue until you have used all batter.
Serve with blueberry butter, maple syrup, and additional fresh blueberries as desired.
Recipe created by Lunches and Littles for Superfresh Growers.