Skill level: Moderate
Create an absolute showstopper treat with this tart! The lemony jasmine shortcrust pastry is filled with tangy creme fraiche and topped with swirls of thinly sliced Autumn Glory apples to construct a flavorful piece of art.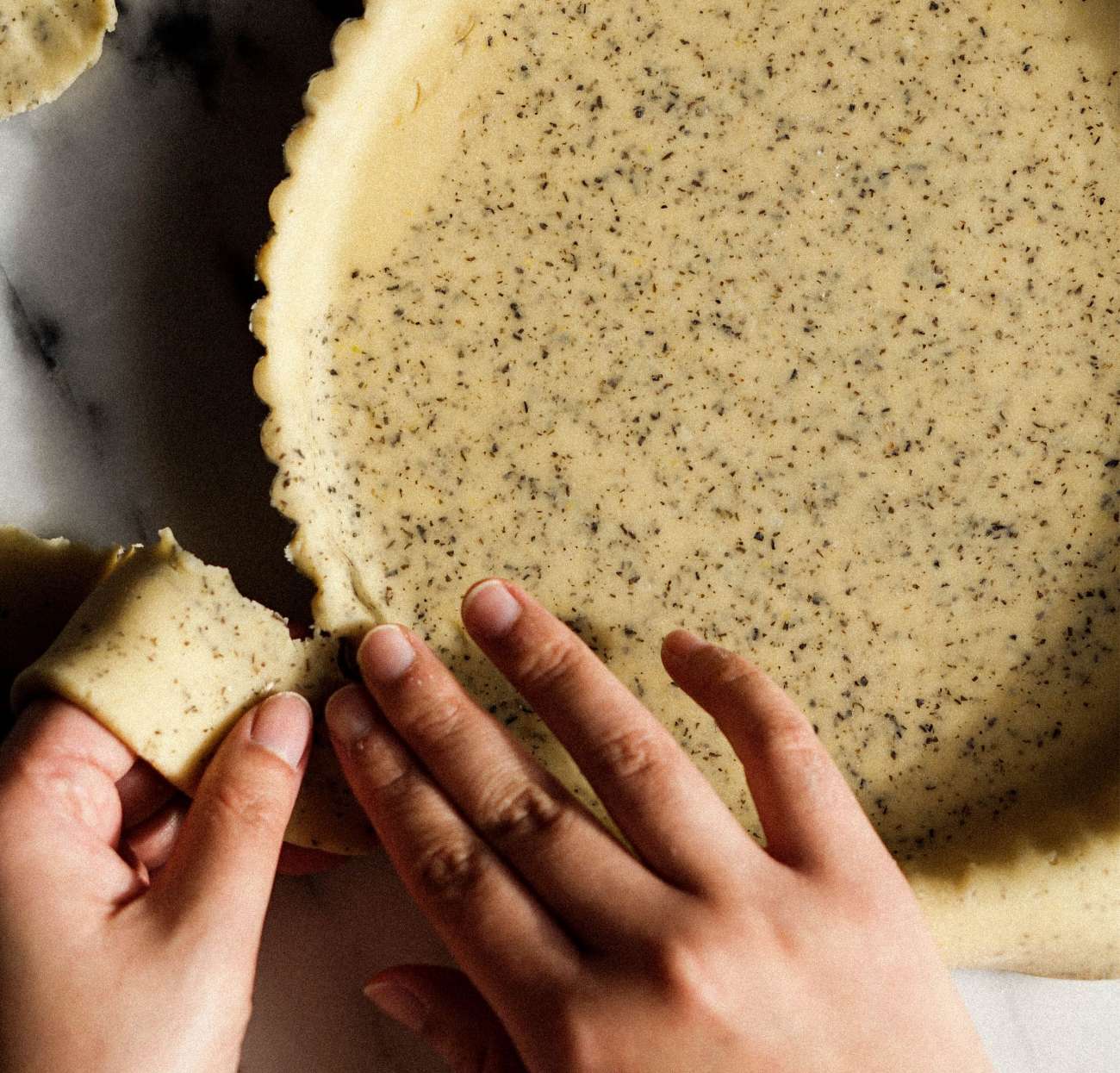 Ingredients
Jasmine crust pastry
1 stick unsalted butter, chilled and cubed
⅓ cup powdered sugar
1 ½ cups all-purpose flour, plus more for dusting
2 teaspoon jasmine tea leaves
1 teaspoon lemon zest
3 tablespoons water or milk
Filling
12oz creme fraiche
½ cup powdered sugar
2 autumn glory apples, thinly sliced
Juice of 1 lemon
Sliced almonds, for garnish
Directions
In the bowl of a food processor, combine cubed butter, powdered sugar, flour, tea leaves, and lemon zest. Pulse a few times to incorporate. Add water or milk and until to process until a cohesive dough forms, avoid over-processing. Alternatively, you can make the dough by hand in a large bowl with a pastry cutter and kneading my hand.
On a lightly floured surface, form the dough into a neat round. Roll out the dough into a 10" circle and carefully lift and place over a 9-inch tart pan with a removable bottom. Gently press the dough into the pan, pressing up against the sides. Trim off excess dough. Prick the surface of the pastry with a fork. Freeze the tart shell until solid, 30 minutes.
Preheat the oven to 375°F.
Place the tart pan on a rimmed baking sheet and press a sheet of foil over the pastry. Bake for 15 minutes, remove the foil and continue baking until lightly golden brown, another 12 to 18 minutes. Allow the pastry to full cool on a wire rack before assembling.
While the pastry is baking or cooling, mix to combine creme fraiche and powdered sugar in a medium bowl. In another bowl, combine apple slices with lemon juice to prevent browning.
Spread the sweetened creme fraiche over the pastry, filling up to the edges of the tart. Decorate the tart with apple slices, arranging overlapping slices into the creme fraiche. Roll up some of the slices to form rosettes or hearts.
Serve the tart immediately or cover and store in the fridge until ready to serve.
Recipe created by Eat Cho Food for Superfresh Growers.