Made using a 7 inch tart pan, this apple tart is the perfect size to share with your sweetheart. The sweet and spiced flavors of Autumn Glory apple make this recipe extra delicious to enjoy this Valentine's Day!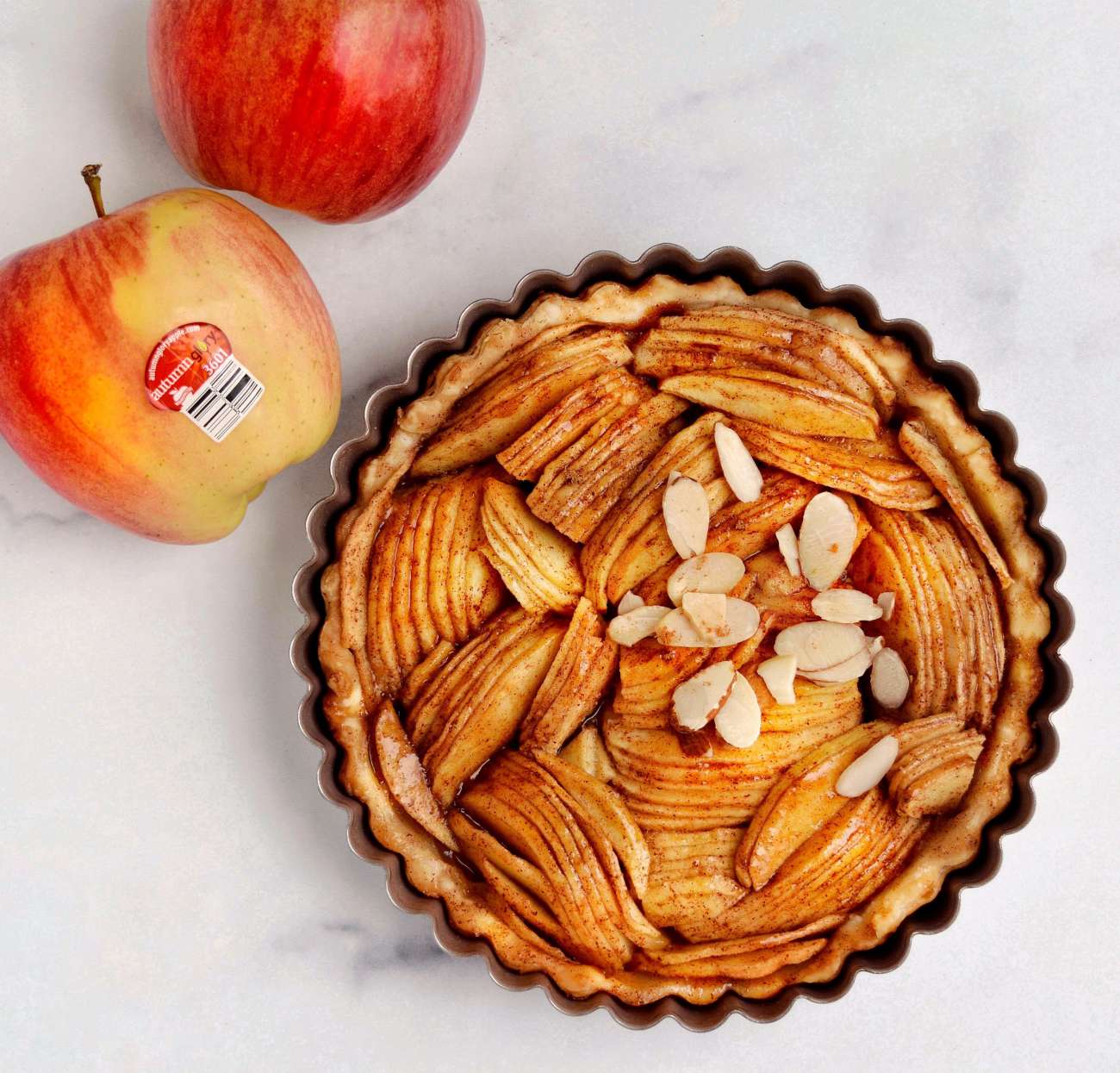 Ingredients
Crust
1 ½ cups all-purpose flour
⅓ cup powdered sugar
¼ teaspoon kosher salt
½ cup unsalted butter, cold
1 egg yolk
2 teaspoon heavy cream
½ teaspoon pure vanilla extract
Filling
4-5 Autumn Glory Apples, peeled and cored
¼ cup brown sugar, packed
½ a lemon, juiced
1 teaspoon ground cinnamon
1 teaspoon pure vanilla extract
¼ teaspoon salt
Directions

Crust
Combine flour, sugar, and salt in the bowl of a food processor or stand mixer.
Pulse/cut in the butter with a pastry blender.
Add in egg yolk, heavy cream and vanilla extract.
Process until the dough starts to gather itself and pulls away from the sides of the mixing bowl.
Wrap dough tightly in plastic wrap. Chill in the refrigerator for about 1 hour.
When time is up, remove dough from wrap and roll out 8 or so inches in diameter if using a 7 inch tart pan, or could roll out a bit thinner for a larger pan, as needed.
Drape dough over tart pan (preferably one with a removable bottom), and carefully press into pan. Trim away excess. Set aside.
Filling
Pre-heat your oven to 350°F.
Cut peeled/cored apples in half. Then thinly slice as shown. Set aside.
Combine brown sugar, lemon juice, cinnamon, vanilla, and salt.
Carefully take sections of apples, as shown, and coat in mixture.
Then, place in tart shell.
Continue doing this with different sections of the apples, until the entire tart pan is full, simply arranging them randomly as shown in sections, going different directions.
Sprinkle apples with granulated sugar and place small bits of the butter in various areas throughout apples.
Bake until crust is golden brown and apples are tender, approx. 50 min-1 hour.
Allow tart to slightly cool before slicing and serving.
Top with sliced almonds if desired. Could also serve with a scoop of vanilla ice cream. Yum!
Recipe created by Lunches and Littles for Superfresh Growers.