A simple recipe that is full of flavor; perfect for any day of the year! As a one pot meal, there is no need to fuss over this recipe. Organic Granny Smith apples have the perfect tart acidity that pairs so well with protein and the hint of sweet from caramelized onions. This flavor combo is a timeless favorite you will keep coming back to.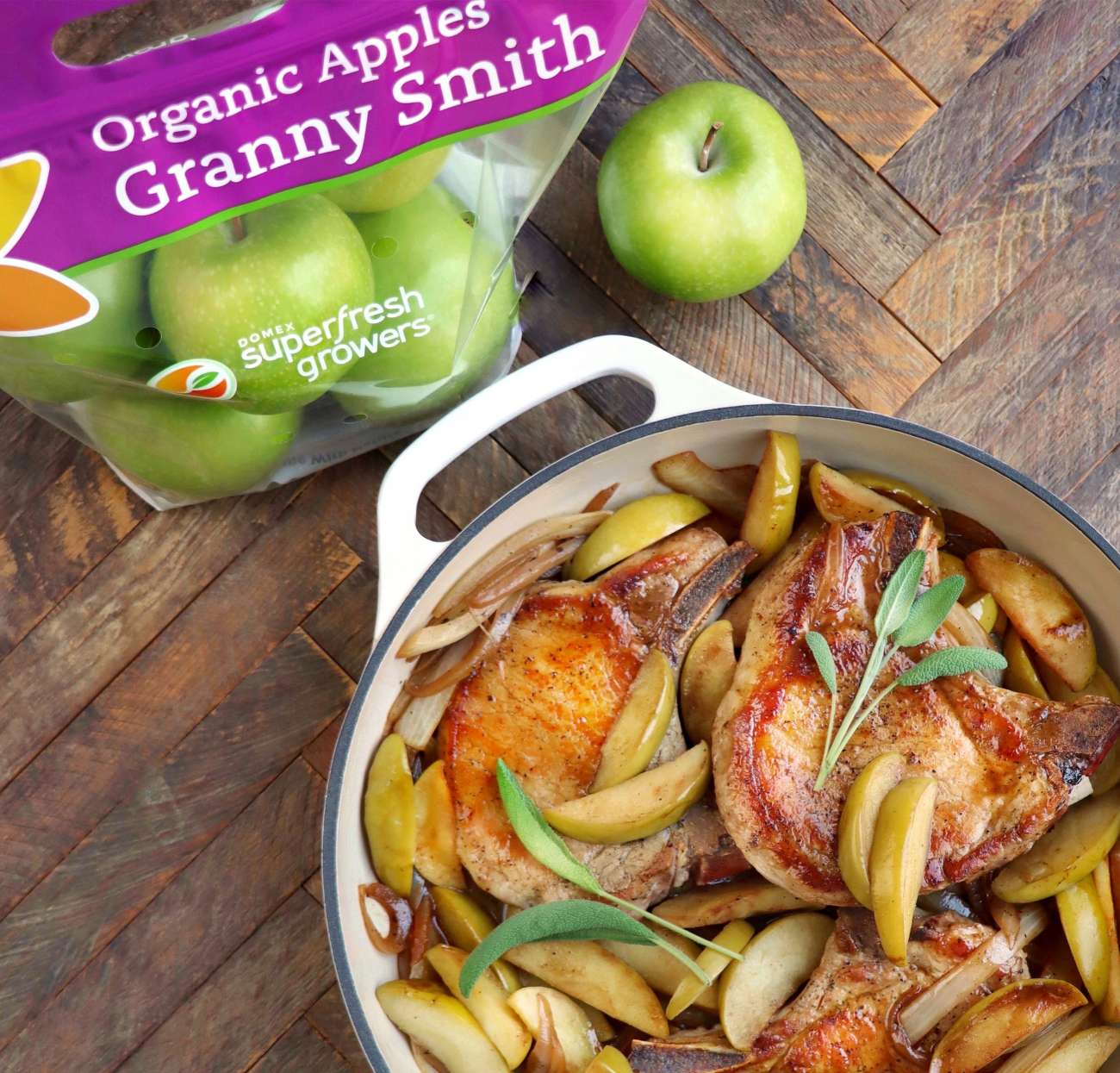 Ingredients
4 bone in pork chops, cut ½ to ¾ inch thick
Salt and pepper
Drizzle of olive oil
1 tablespoon olive oil
1 sweet onion
4 Granny Smith apples, cored and sliced
A few pinches of brown sugar (½ tablespoons or less)
1 ½ cups white wine (or beer)
Directions
Trim chops, and discard any fat, etc.
Generously rub salt and pepper on both sides of each pork chop, and set aside.
Heat a large cast iron skillet over medium-high heat with a bit of olive oil, until oil is hot.
Carefully lay pork chops (may have to work in 2 batches) down and leave alone/ do not touch for 2- 3 min, allowing them to sear until golden.
Flip as needed, allowing both sides to brown and cook.
Remove pork chops from skillet and cover to keep warm.
Place butter in pan, lowering heat to medium. Allow butter to melt. Then, add in your onion and sauté until they start to caramelize a bit.
Add apple slices, and brown sugar, sprinkled on top. Stir to combine with onions.
Add in wine (or beer if using) giving everything a good stir to combine, and turn heat up just slightly and cook mixture until it starts to thicken.
Once a bit thickened, return your cooked pork chops to the skillet.
Continue cooking everything until pork is completely cooked through and tender.
Serve pork chops, apples and onions over mashed potatoes and enjoy!
Recipe created by Lunches and Littles for Superfresh Growers.