The flavors of fall make their way into summer with this apple pie-inspired ice cream featuring delicious chunks of Autumn Glory apple and even bits of pie crust! It's fresh, creamy, perfectly sweet, lightly spiced, and so yummy!
Click here for printable recipe!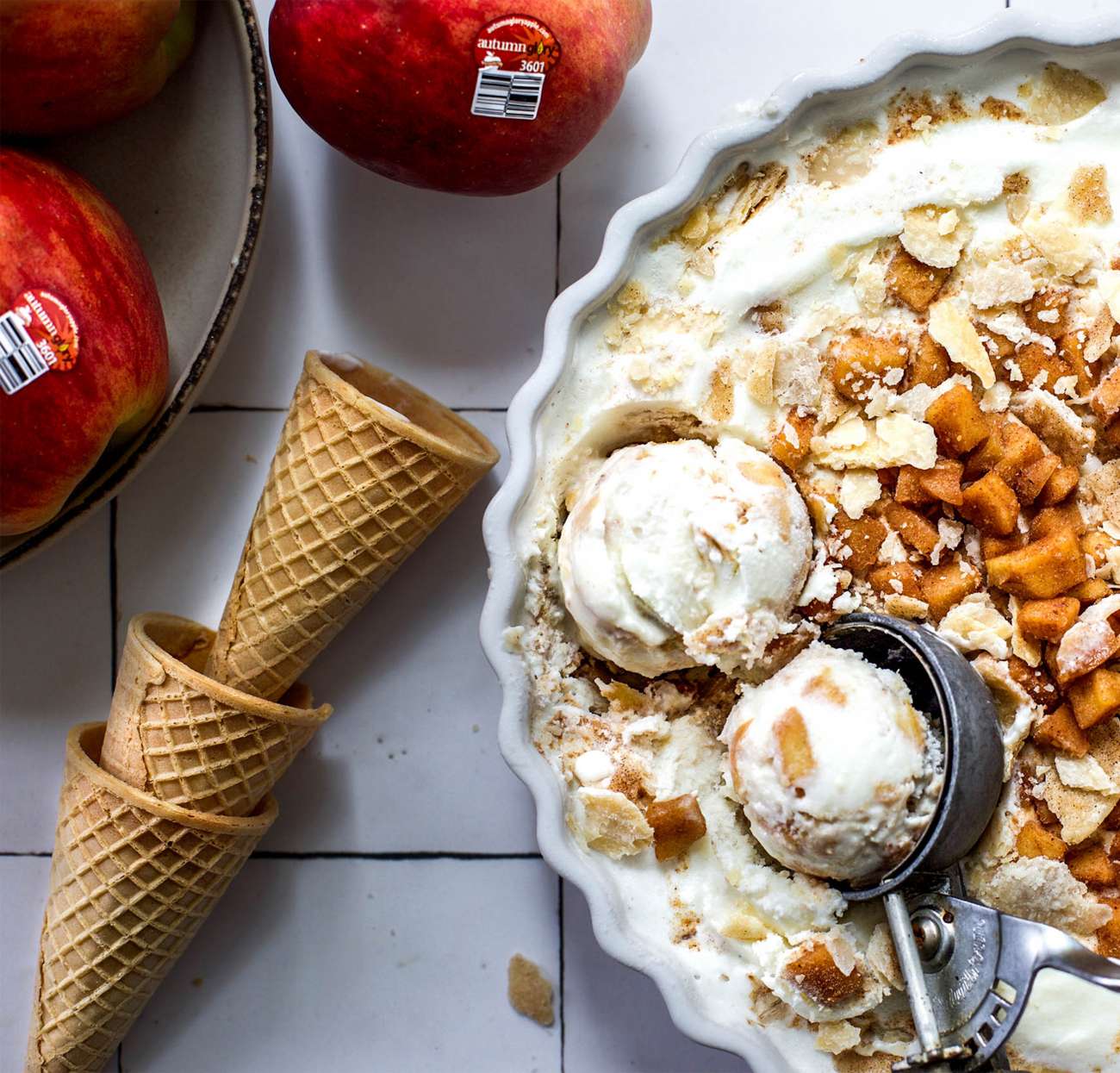 Ingredients
Apples
4 Autumn Glory apples, peeled and cubed
1 tablespoon butter
2 teaspoons brown sugar
1 teaspoon cinnamon
Ice Cream
2 cups whole milk
2 cups heavy whipping cream
1 cup sugar + 2 teaspoons
2 teaspoons vanilla
1 store-bought pie crust
1 teaspoon cinnamon
1 teaspoon melted butter
Directions
Heat a skillet over medium heat and add butter, apples, cinnamon, and brown sugar and cook until apples are tender, about 5-7 minutes. Let cool completely and refrigerate for at least an hour before using.
Preheat oven to 425°F and roll out pie crust. Brush with melted butter, and then sprinkle with 1 teaspoon cinnamon and 2 teaspoons sugar to fully coat pie crust. Bake until lightly browned and cool completely.
Heat milk and 1 cup of sugar in a saucepan over medium-low. Heat until sugar has dissolved. Add vanilla and stir to combine.
Add milk and sugar to heavy cream and stir to combine. Refrigerate for at least 4 hours.
Add chilled ice cream base to ice cream maker and churn according to maker's instructions until ice cream is soft-serve consistency.
Layer ice cream, cooked apples, and crushed up pie crust into 2-3 layers in a pie dish or a freezer-safe. Top with extra apples and pie crust on top.
Freeze overnight or at least 4 hours and before serving.
Recipe created by My Diary of Us for Superfresh Growers.