Skill level: Easy
We have a showstopping summer appetizer here featuring the ultimate crowd-pleaser, our Rainier cherries! Whipped ricotta and grilled cherries top a grilled crostini and then get garnished with a little honey and fresh basil to finish them off. This is the appetizer you'll be making all summer long, and it couldn't be any easier!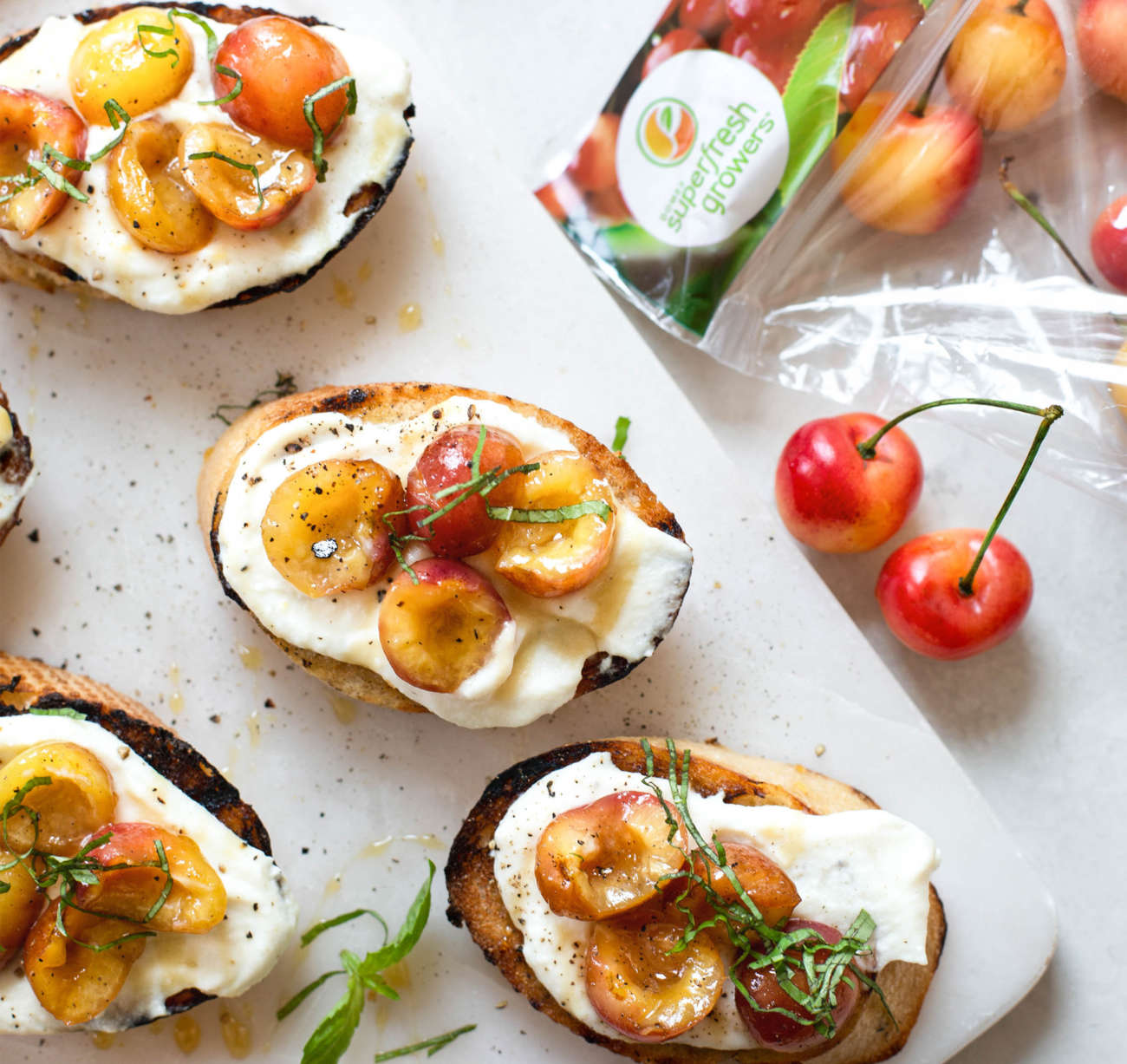 Ingredients
1 loaf French bread
2 cups pitted Rainier cherries
1 ½ cups ricotta cheese
1 teaspoon honey
Zest from one lemon
1 tablespoon fresh lemon juice
1 teaspoon salt
1 teaspoon black pepper
Basil for topping (torn or sliced thin)
1 tablespoon olive oil + more for brushing crostini
Directions
Preheat grill to medium heat
Add cherries to a bowl with 1 tablespoon olive oil and ½ teaspoon salt and ½ teaspoon pepper and toss to combine.
Slice the bread into ½-inch thick pieces and brush olive oil on both sides of the crostini.
Place cherries into a vegetable basket for a grill or place onto aluminum foil. Place cherries onto the grill and cook for 10 minutes until cherries begin to soften and char slightly.
While cherries cook, add crostinis to the grill and char for 2-3 minutes per side.
Meanwhile, whip ricotta by adding ricotta cheese, lemon zest, lemon juice, honey, and the rest of the salt and pepper to a stand mixer. Mix until creamy and smooth.
Remove cherries and bread from the grill and spread some of the whipped ricotta onto each crostini.
Add a spoonful of the grilled cherries on top of the ricotta and drizzle with extra honey and garnish with fresh basil.
Serve immediately.
Recipe created by My Diary of Us for Superfresh Growers.