Yield: 12 cupcakes
Skill level: Moderate
Rainier cherries offer a delicious sweetness and texture that make them a true summer staple! The crisp freshness is brought into these homemade cupcakes with purée in the cake itself as well as the frosting. Totally delicious!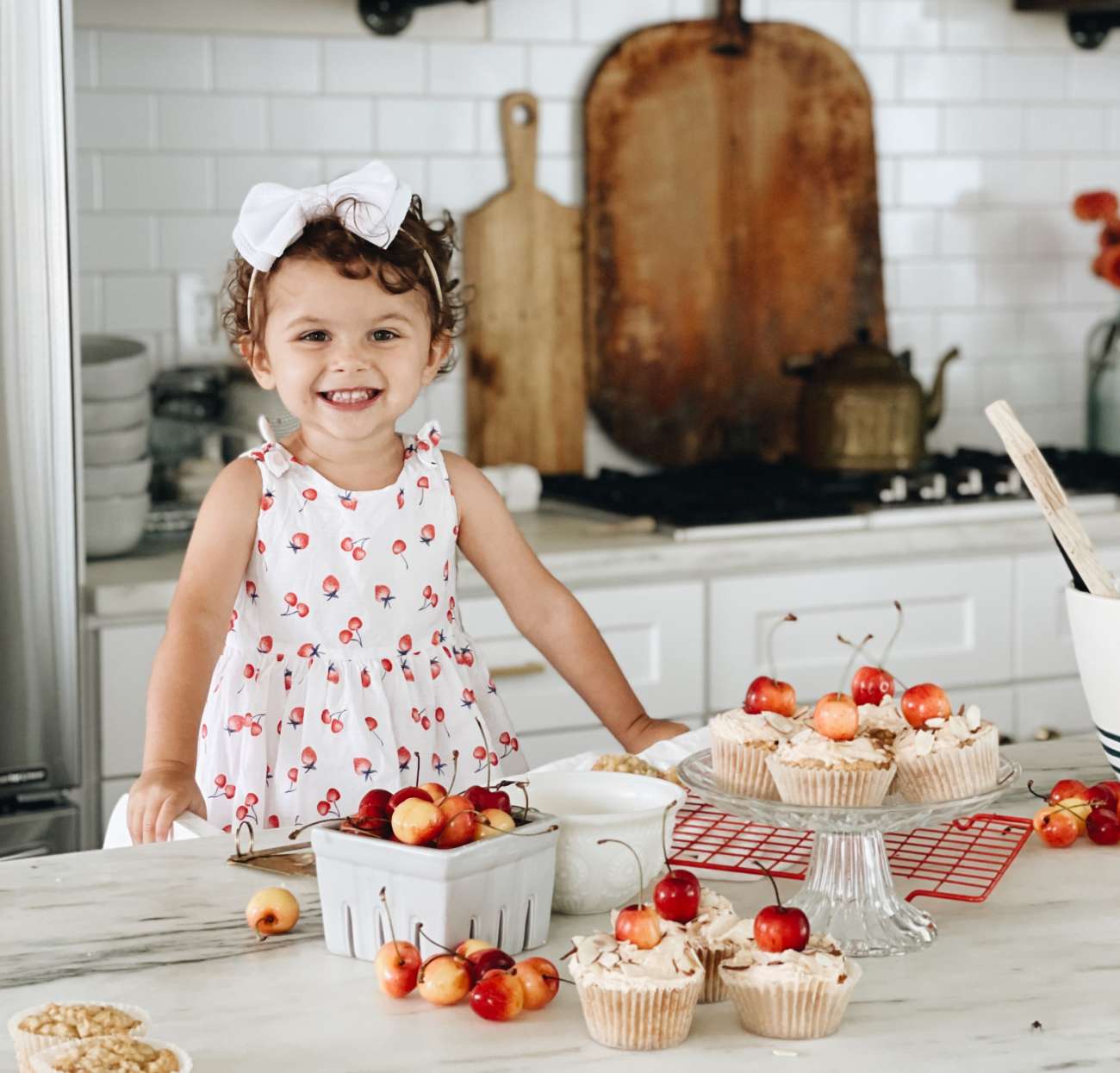 Ingredients
2 cups all-purpose flour
1 cup white granulated sugar
1 teaspoon baking soda
½ teaspoon salt
1 cup Rainier cherries, stems removed and pitted
1 teaspoon almond extract
2 teaspoons vanilla extract
½ cup oil
1 tablespoon apple cider vinegar
Frosting
¼ cup puréed Rainier cherries
4 cups powdered sugar
½ cup dairy free butter (must be cold)
½ teaspoon almost extract
1 teaspoon vanilla extract
Slivered almonds for topping
Directions
Cupcakes
Preheat oven to 350°F and line a cupcake tray with cupcake liners. Set aside.
Add pitted cherries to food processor and purée. Set aside.
Add all-purpose flour, sugar, baking soda, and salt to a bowl and mix together.
Add the cherry purée, almond extract, vanilla oil, apple cider vinegar, and mix into the batter. Do not overmix, it will seem a little thick and chunky which is okay.
Divide the batter evenly between the cupcake liners and bake for 20-25 minutes. Insert toothpick to test when done, it should come out clean.
Let the cupcakes cool in the tray for a few minutes before transferring to a wire rack to finish cooling. Allow cupcakes to cool completely before frosting.
Frosting
Place butter in a mixing bowl, make sure the butter is very cold.
Cream the butter until it just starts to break apart.
Add in half of the powdered sugar and beat again.
Add in cherry purée, almond and vanilla extract, and beat again.
Add in remaining powdered sugar and blend again until well combined.
Use to frost cupcakes right away or store in an air-tight container in the fridge.
After frosting cupcakes, sprinkle with slivered almonds and add a Rainier cherry on top.
Recipe created by Azure Farm for Superfresh Growers.