Skill level: Moderate
Who will you be cheering on this weekend? No matter who it is, these Autumn Glory braised pulled pork nachos will make everyone a winner!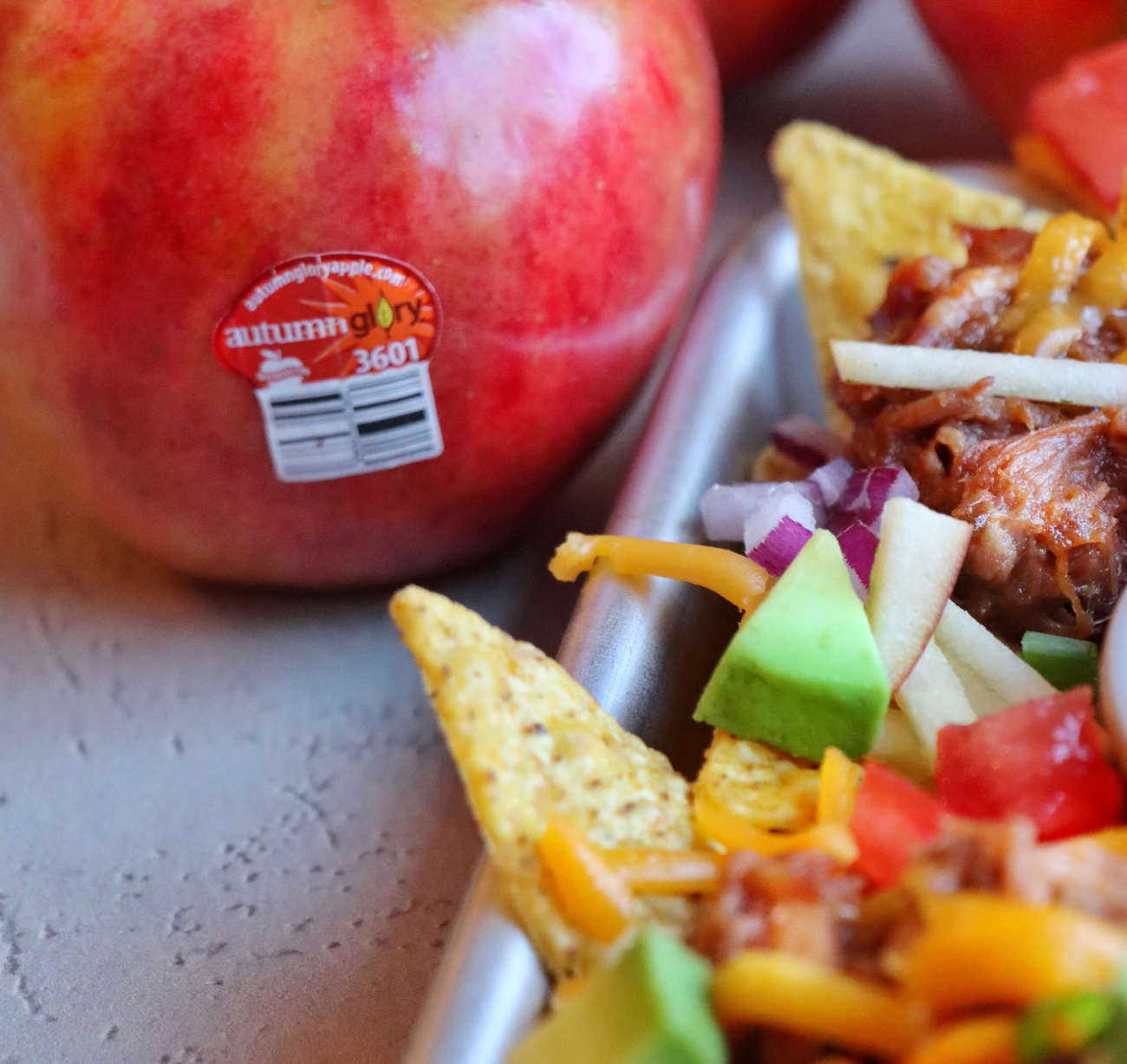 Ingredients
Pork shoulder (approx. 5- 5 and ½ lbs)
2-3 tablespoons pork rub
Drizzle of olive oil
4 Autumn Glory® apples, cored and cut into small pieces
1 yellow onion, finely diced
¼ cup brown sugar
½ cup Dijon mustard
¼ cup molasses
¼ cup Worcestershire sauce
½ cup apple cider vinegar
¾ cup apple juice
1 teaspoon sale
1 teaspoon pepper
1 teaspoon ground ginger
1 teaspoon garlic powder
1 teaspoon Chinese 5 spice
For assembly
Tortilla chips
1 Autumn Glory apple, cut into thin matchsticks
Purple onion, finely diced
Tomato, diced
Avocado, diced
Sharp cheddar cheese, grated
Scallions, chopped
Sour cream, salsa, and/or guac for serving
Directions
Rub pork shoulder generously with dry rub. Cover and refrigerate for at least 5 hours, preferably overnight.
Once ready to use: heat olive oil in a large skillet over medium-high heat. Brown pork on all sides. Transfer to a roasting pan (be sure it has a lid for later!)
Add apples and onion to pan. Set aside.
Mix together sugar, mustard, molasses, Worcestershire sauce and vinegar. Pour mixture over top roast, then cover with lid.
Roast at 310°F for approx. 4 hours. When done, the meat will be very tender/shreddable.
Once done, carefully remove all extra liquid (including cooked-down apples and onions) and transfer it to a pot.
Cook liquid over medium heat and reduce until thickened. Then, remove from heat and transfer sauce to a high-powered blender. Pulse/puree until smooth.
Shred pork, discarding any large pieces of fat, etc.
In a large bowl or pot combine shredded/trimmed pork with prepared sauce.
on a large tray or plate place a layer or two of tortilla chips. Then layer pork, apple matchsticks, onion, tomato, and avocado. Top with shredded cheese and scallions. Serve with dips as shown, and additional toppings as desired.