Skill level: Moderate
Wake up on the right side of the morning with these easy, gooey, and pillow soft apple cinnamon rolls made with Cosmic Crisp apples and drizzled with brown butter cream cheese icing. These homemade milk bread apple pie cinnamon rolls are really easy to make and can be prepared in advance!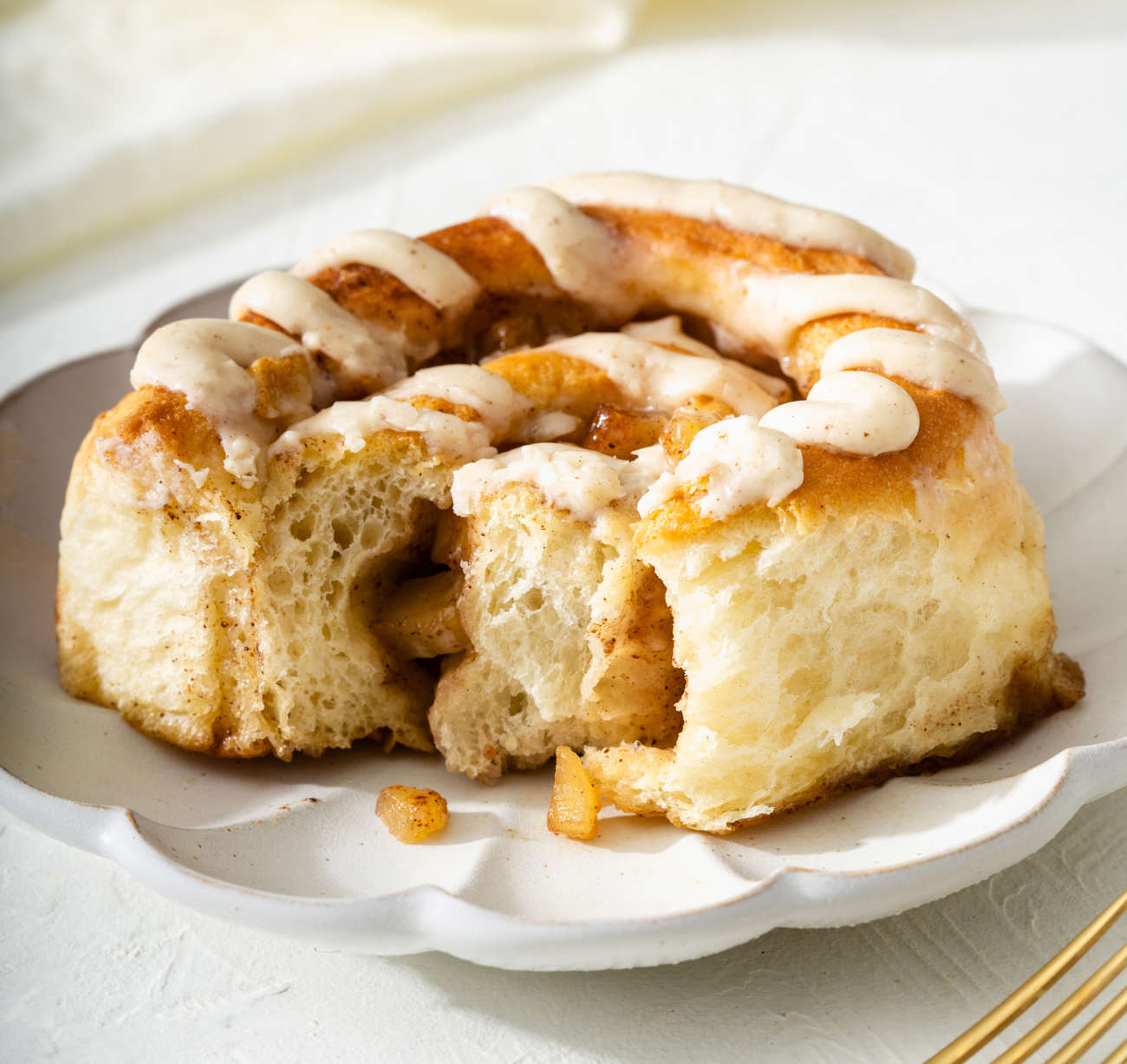 Ingredients
Tangzhong
¾ cup water
¼ cup bread flour
Yeast Mixture
1 cup warm milk (100-105°F)
2 teaspoon granulated sugar
1 tablespoon active dry yeast, or instant yeast
Dough
4 cups bread flour
⅓ cup granulated sugar
1 teaspoon salt
1 large egg at room temperature
4 tablespoon unsalted butter room temperature
Apple Pie Filling
5 Cosmic Crisp apples, peeled, cored and diced
¼ cup granulated sugar
1 teaspoon ground cinnamon
½ teaspoon nutmeg
¼ teaspoon cloves
2 tablespoon unsalted butter
1 tablespoon cornstarch
Brown Sugar Filling
⅔ cup dark brown sugar packed
1 tablespoon ground cinnamon
6 tablespoon unsalted butter room temperature
Cream Cheese Frosting
4 tablespoon unsalted butter
4 ½ tablespoon cream cheese room temperature
2 cups powdered sugar
2 tablespoon milk
¼ teaspoon salt
Directions
In a small saucepan, add the water and bread flour on medium heat and using a rubber spatula mix until there are no more lumps and the mixture has thickened, about 2 minutes. Reduce heat to low and continue mixing for an additional 1 minute. Remove from heat, and transfer to a small bowl and cover with plastic wrap. Make sure plastic wrap is touching tangzhong to prevent it from developing a film. Refrigerate until it has cooled to about room temperature.
Dough
Bloom the yeast. In a small bowl or large measuring cup, mix together warm milk, 2 teaspoons of sugar, and yeast. Mix and let it bloom for 5-10 minutes or until it is frothy. (Do this with either instant or active dry yeast to check if the yeast is still alive)
Make the dough. In the bowl of your KitchenAid with a dough attachment, mix together the bread flour, the remaining sugar, and salt. While the mixer is on low, add the yeast mixture, tangzhong, and egg. Continue mixing until the mixture transforms into a dough, about 2 minutes.
Add butter and knead. When the dough has just formed, add the softened room temperature butter and knead on low until combined, about 1 minute. Then increase the speed to medium-high and knead until smooth, 7-8 minutes. The dough should form into a smooth elastic ball and be slightly sticky. If it's too sticky (meaning it's sticking to the bottom of the mixer, add in 1-2 tablespoons of bread flour.)
1st Proof. Shape the dough as a ball and place in a lightly greased mixing bowl, cover with plastic wrap, and proof in a warm place for about 1-1 ½ hours or until doubled in size. This may more or less time depending on the humidity and temperature in your home.
Filling
Apple pie filling. In a large mixing bowl, mix together the apples, sugar, cinnamon, nutmeg, and cloves until evenly coated.
Cook the apple filling. In a large skillet over medium heat, melt the butter and add the apple mixture. Toss to coat and stir until apples are tender and released some of its juices about 3 minutes. Then add the cornstarch and mix to incorporate. Cook until the mixture has thickened. Set aside to cool.
Cinnamon sugar filling. In a small bowl, mix together brown sugar and cinnamon. Set aside.
Assembly
Roll out the proofed dough. After the dough has doubled, transfer the dough onto a well-floured surface and roll out the dough into a large rectangle, about ¼-inch thick.
Add the filling. Spread softened butter over the dough, leaving a ¼-inch margin along one width side of the dough to seal the dough. Next, sprinkle the cinnamon sugar and diced apples over the buttered dough leaving the ¼ margin at the end clean.
Roll the dough. Starting from the brown sugar coated width side, tightly roll the dough and ending with the unbuttered side and gently pinch the end to seal the edges of the dough as best you can.
Cut the dough. Cut into 1-inch sections with a serrated knife or floss.
2nd proof: Place the cut cinnamon rolls in a lined and greased baking pan (9-inch round or 9x13 pan) Cover with a kitchen towel and place the pan in a warm place for 30-45 minutes.
Preheat the oven to 350˚F or 176˚C. Remove kitchen towel and bake for 25 to 30 minutes or until slightly golden brown along the edges. Allow them to cool for 5-10 minutes before frosting.
Cream Cheese Icing
Brown the butter. Add the butter to a small saucepan over medium heat. Allow the butter to brown lightly until it is golden brown and smells toasted with some brown bits at the bottom of the pan, about 2-3 minutes. Remove from heat to cool for 5 minutes.
In a large mixing bowl, mix together the room temperature cream cheese, powdered sugar, milk, vanilla extract, and salt. Then add the browned butter and whisk until combined. If the icing is too thin, add a little more powdered sugar; if it's too thick, add more milk.
Drizzle icing over warm rolls using a piping bag or a spoon. Enjoy!