Move over plain cheesecake, this caramel apple cheesecake is coming for the top spot, and rightfully so. Made with Autumn Glory apples, which have a subtle sweetness with notes of caramel and cinnamon making it the perfect apple for this cheesecake. This cheesecake has a caramel apple mixture sitting on top of a graham cracker crust and then topped with a luscious cheesecake filling. To really take this cheesecake over the top, more Autumn Glory apples are layered on the top of the cheesecake along with a generous drizzle of caramel.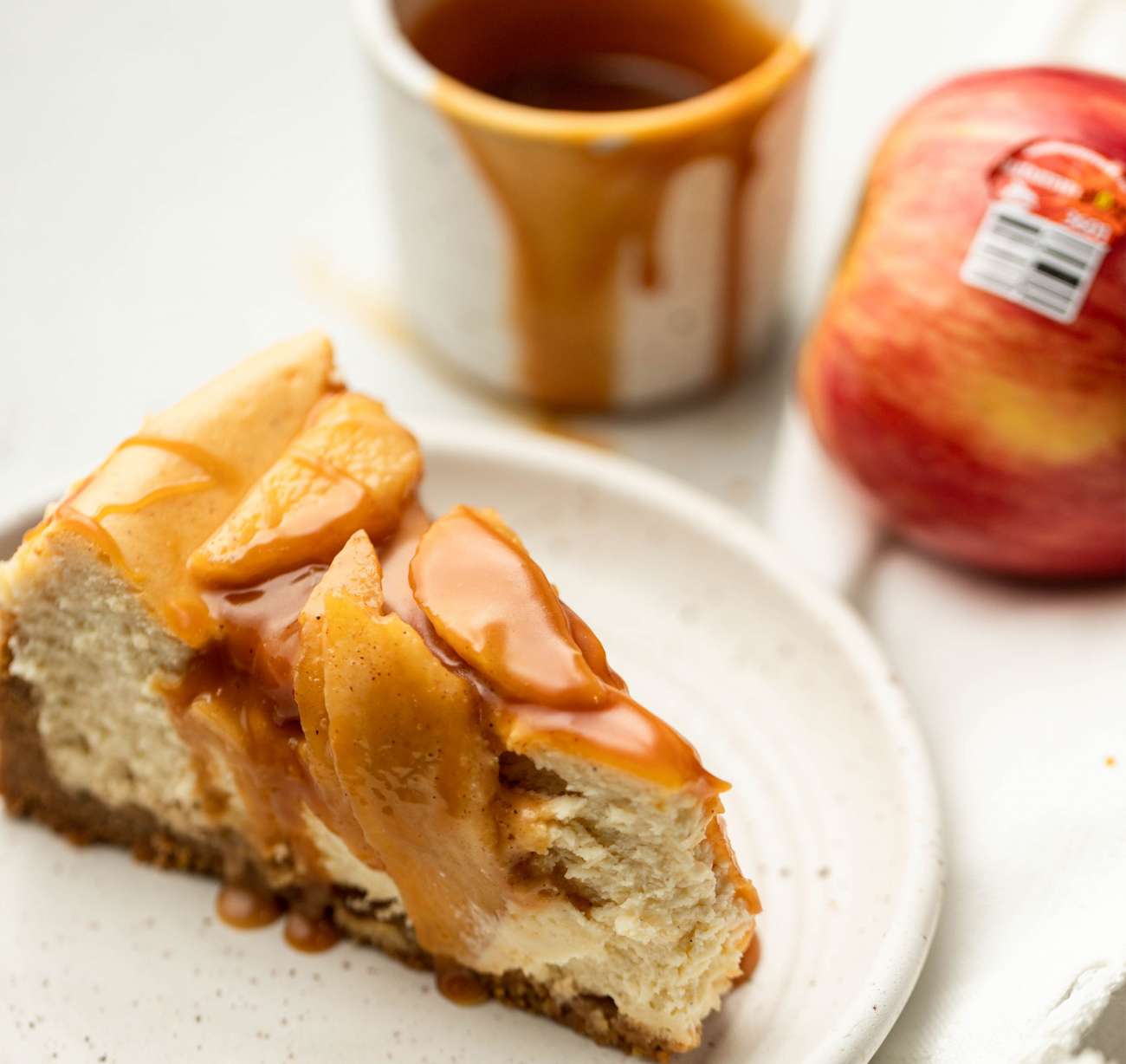 Ingredients
Cheesecake
32 ounces room-temperature full fat cream cheese
1 tablespoon vanilla extract
Apple Topping
2 Autumn Glory apples, peeled, cored and sliced
¼ teaspoon ground cinnamon
1 tablespoon caramel sauce
Caramel
6 teaspoon unsalted butter, softened
Crust
2 cup graham cracker crumbs
½ cup unsalted butter, melted
Caramel Diced Apples
1 Autumn Glory apple, peeled, cored and diced
Instructions
Preheat the oven to 325 degrees Fahrenheit. Grab a 9×13 casserole dish and fill halfway up with water, place on the bottom rack of the oven. This will create a steamy oven for the cheesecake and will help it cook evenly.
In a medium bowl combine the graham cracker crumbs, sugar, and melted butter together until well combined. Pour into a non-stick 9-inch springform pan. Press the crust evenly into the bottom and up the sides of the pan. Bake for 5-10 minutes then allow to cool.
While the crust is baking, make the caramel by bringing sugar to a boil in a heavy bottomed pot. Be sure to keep an eye on it as it can easily burn. Cook until the sugar has become a deep amber color. Remove from heat then add the diced butter. Whisk in until fully combined, then add in the heavy cream. Mix until fully combined, set aside and allow to cool.
Peel, core, and dice one apple. Evenly layer the apples onto the crust and drizzle with caramel sauce. Set aside. In a large bowl, mix cream cheese and sugar until smooth. Add in the eggs one at a time being careful not to overmix. Add in vanilla extract, salt, and cinnamon. Lastly, fold in the sour cream then mix until fully combined. Pour the batter into the spring form pan. Bake for 65-75 minutes or until sides are set and middle is slightly jiggly. Once the cheesecake is done, turn the oven off and allow the cheesecake to sit in the oven for an additional 45 minutes. Remove from the oven then allow to cool on the counter for an additional 30 minutes. Refrigerate until ready to serve, at least 3 hours.
Peel, core, and slice 2 apples. Place into a medium heavy bottomed pot with cinnamon and lemon juice, mix to combine. Cook until apples have softened, about 5 minutes. Add a tablespoon of caramel to the apples then mix.
When ready to serve, release the cheesecake from the springform ring. Drizzle caramel sauce over the top of the cheesecake then spoon caramel apples over the caramel. Drizzle the entire cheesecake with caramel sauce.
Enjoy!
Recipe created by Lenox Bakery for Superfresh Growers.