Yield: 9
Skill level: Moderate
Show mom you love her this Mother's Day with delicious homemade cinnamon rolls! Made with chunks of Autumn Glory apples and a whole lot of love, these will surely win mom's heart. The apples add that extra touch of homemade style goodness that you just can't get out of a can!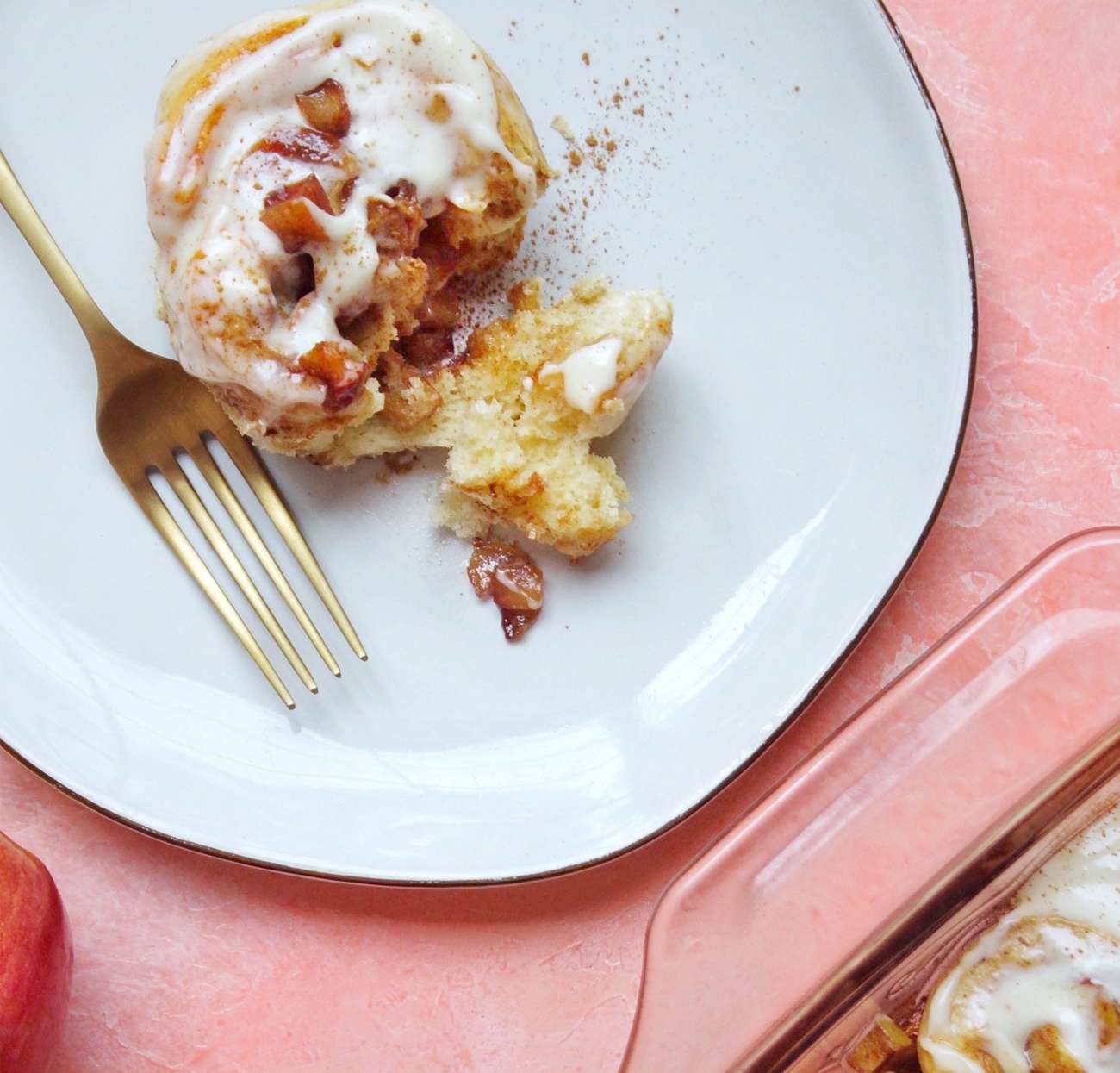 Ingredients
For the dough
½ cup whole milk
3 tablespoons butter, melted
¼ oz packet of active dry yeast
1 egg
2 ¼ cups all-purpose flour
½ teaspoon salt
¼ cup granulated sugar
For the filling
3 cups finely diced Autumn Glory apples
4 tablespoons butter
1 ½ teaspoons vanilla extract
3 teaspoons cinnamon
½ teaspoon nutmeg
½ cup light brown sugar
For the frosting
8 oz package of cream cheese, softened
4 tablespoons butter, softened
2 ½ cups powdered sugar
Directions
On the stove top, warm milk in a small saucepan over low heat. Do not allow the milk to get hot, just warmed.
Immediately remove from heat and combine with yeast in a medium-sized mixing bowl. Let sit for approximately 7 minutes until yeast is active and bubbly.
Add egg, butter, salt and sugar. Mix to combine.
Slowly add in flour, working with a spatula/your hands as necessary until you have a ball of dough formed. Alternatively, you could use a stand mixer and dough hook attachment for this and knead on low speed for several minutes.
Cover dough with cling wrap and allow to rise for at least 25 min. or until doubled in size.
While dough rises start making your filling. Dice apples, and place in a medium-sized pot over medium-heat. Add butter, vanilla, cinnamon, nutmeg and sugar to pot. Allow to cook for approximately 7 minutes stirring often until apples are well coated and cooked. Remove from heat and allow to cool.
After allowing dough to fully rise, transfer to a lightly floured surface and begin spreading out in a rectangular shape with a rolling pin. Get dough as close to a 10 x 20 rectangle as possible.
Transfer almost all the filling* to the center of your rolled out dough and spread out as evenly as possible (leaving a small cleared edge all around). *save a couple tablespoons of the filling for the post-baking sauce mixture.
Carefully roll dough into a log, pinching as you go to seal as much as possible.
Cut roll into 9 slices (each approximately 2 inches) and place rolls in a 9 x 9 dish, greased on bottom and up the sides.
Cover dish with cling wrap and let your rolls rise for another 25 minutes or so. During this time, pre-heat your oven to 400 degrees. Once time rolls have risen and oven is pre-heated, bake rolls for approximately 15 minutes. or until lightly browned. If you like a deeper browned roll, continue to cook for a couple extra minutes.
While cinnamon rolls bake, make frosting. In a medium-sized mixing bowl combine all frosting ingredients from above. Mix with a hand mixer on increasing speeds until smooth. Then refrigerate until ready to use.
Once cinnamon rolls are done and out of the oven, spoon a bit of the reserved mixture over top (if it gets too thick, simply thin with a splash of water). Then, frost rolls as shown and sprinkle with additional cinnamon, if desired.
Serve immediately!
Pro-tip: have your little ones help with the frosting! So easy and a great way for them to be a part!
Recipe created by Lunches and Littles for Superfresh Growers.