Yield: 1 loaf
Skill level: Moderate
Say hello to your new and delicious hearty breakfast, breakfast bread! It's nutrient-dense thanks to walnuts, flax seed, apple sauce, whole-grain flour and Autumn Glory® apples while just sweet enough to satisfy an afternoon sweet tooth.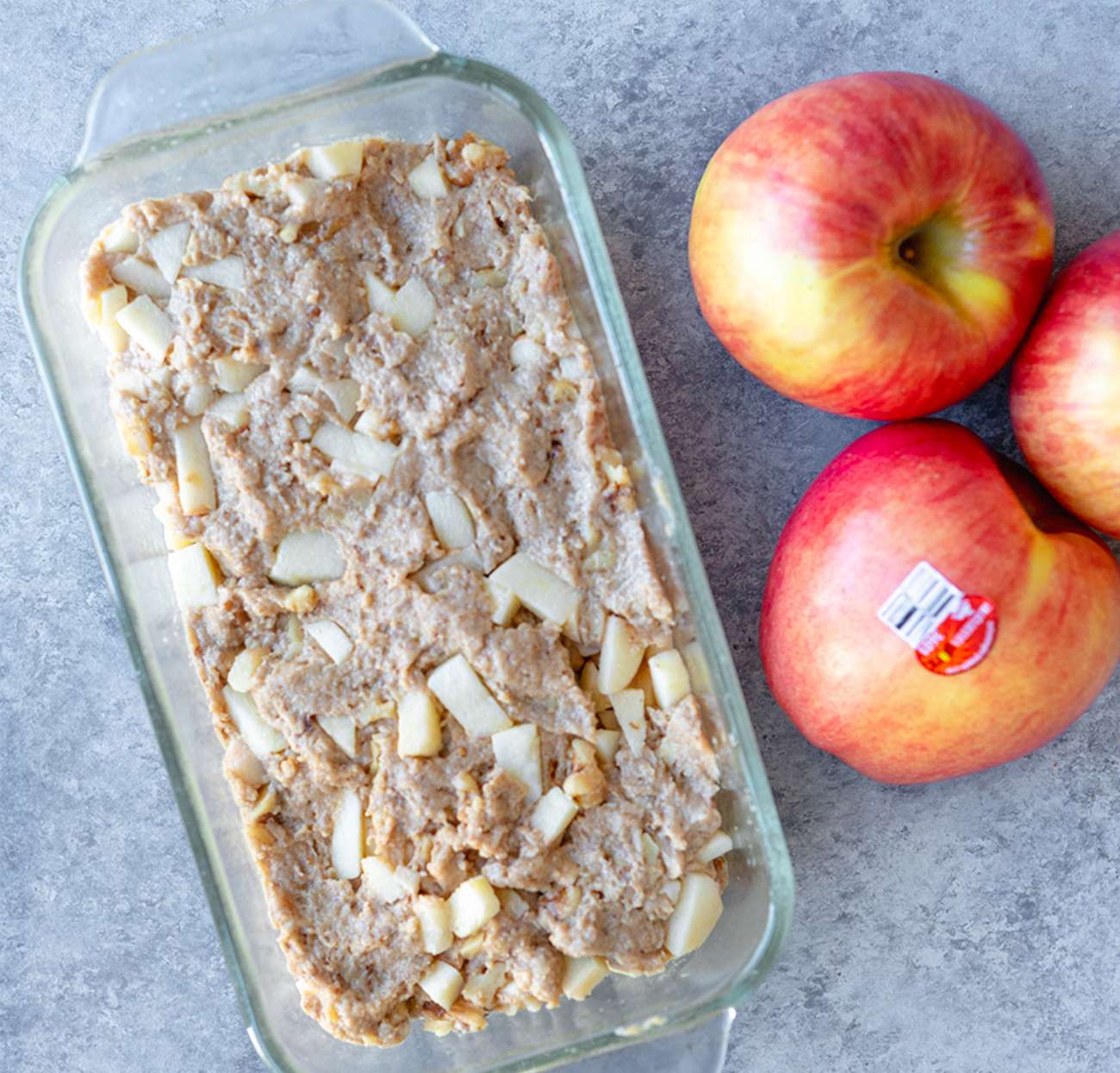 Ingredients
½ cup raw walnut halves
1 tablespoon ground flax seed
½ cup all-purpose flour
1 cup whole-wheat pastry flour
1 teaspoon baking soda
1 teaspoon pumpkin pie spice
¼ teaspoon salt
½ cup unsweetened applesauce
3 tablespoons canola or other neutral oil
2 tablespoons non-dairy milk of choice
⅓ cup brown sugar
1 teaspoon vanilla extract
2 cups Autumn Glory, peeled, cored and chopped
Directions
Preheat oven to 350ᵒ F. Lightly spray an 8 inch loaf pan and set aside.
Place the walnuts in a single layer on an ungreased baking sheet; place in the oven and cook until just toasted, about 7-8 minutes. Nuts can burn very quickly, so keep the oven light on and check every minute after 5 minutes. Remove, let cool slightly and roughly chop. Set aside.
In a medium bowl, add the ground flax seed along with 2 tablespoons water and mix together until combined. Set aside until just gelled, about 5 minutes.
While the flax seed mixture is coming together, place the flour, baking soda, pumpkin pie spice and salt in a separate large bowl. Whisk until well-mixed.
To the flax seed bowl, add in the applesauce, oil, non-dairy milk, brown sugar and vanilla extract. Whisk until well combined, then add the wet ingredients into the dry ingredients. Mix until just combined, the batter will be very thick - that's normal!
Add in the Autumn Glory apples and walnuts and mix together, either with a spoon, spatula, or your hands. You want to just mix the apples into the thick batter, taking care as much as possible not to overmix.
Place the batter into the prepared loaf pan, pressing the top down as much as possible. Lightly cover with foil and bake for 30 minutes. Remove the foil, then bake another 15 minutes, or until a toothpick inserted into the center comes out clean. Remove and let cool in the pan for 10 minutes, then gently remove and let cool on a wire rack until mostly cooled.
Slice and enjoy! Give it a try with a smear of almond butter and more sliced Autumn Glory apples on top!
Recipe created by Delish Knowledge for Domex Superfresh Growers®.