These apple crumble bars pair perfectly with a Sunday afternoon and a fuzzy blanket. They have a shortbread-like crust, an easy crumble on top, and a warm cinnamon apple filling all topped off with a dark chocolate drizzle. Autumn Glory apples are perfect for baking and provide ample sweetness for this recipe!
Click here for printable recipe!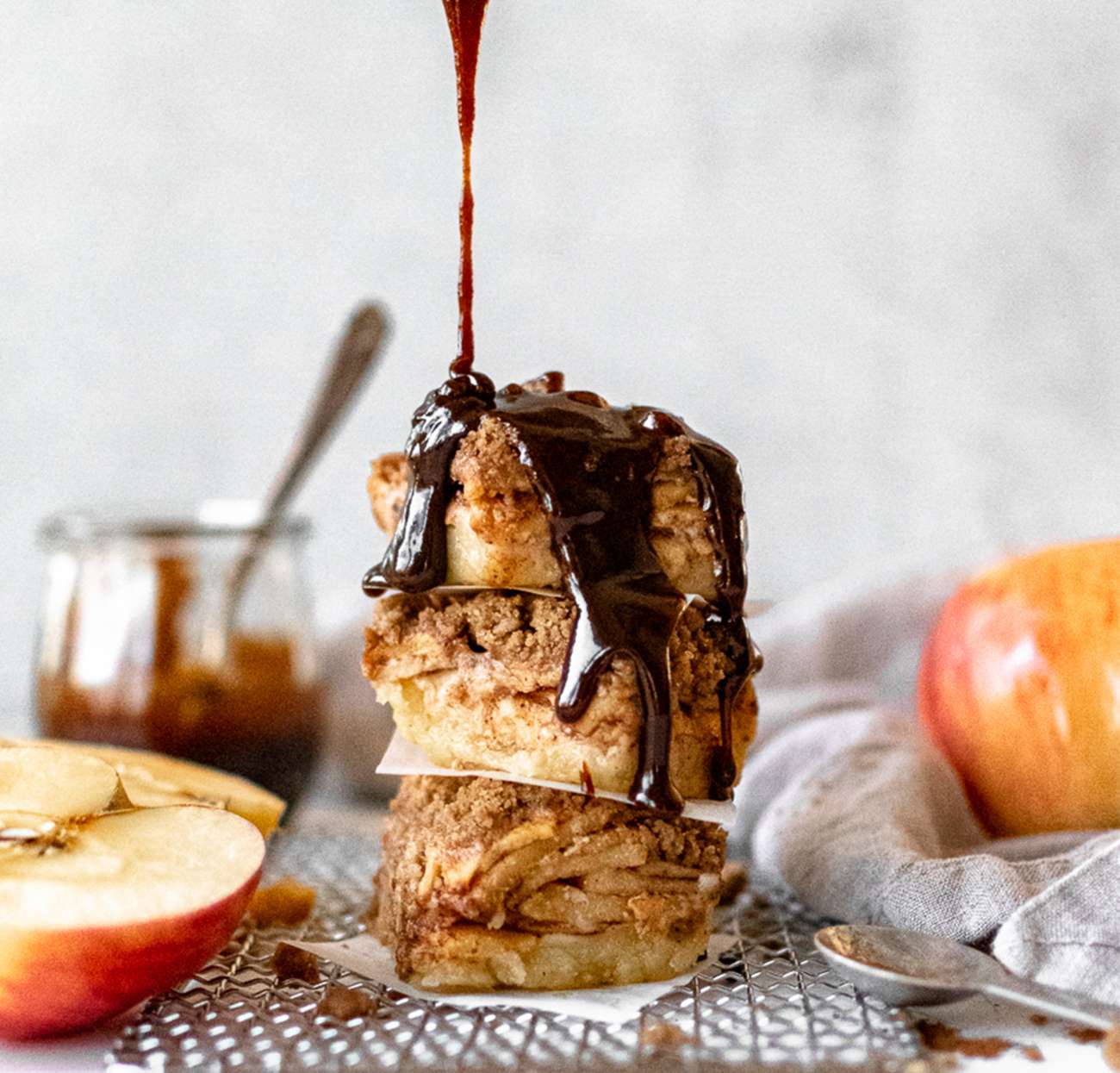 Ingredients
Crust
1 cup all-purpose flour
6 tablespoons cold unsalted butter
⅓ cup cane sugar
2 tablespoons cold water
Apple Filling
2 Autumn Glory apples
3 teaspoons cinnamon
2 tsp tapioca flour or corn starch
Crumble
½ cup all-purpose flour
¼ cup brown sugar
4 tablespoons room temperature unsalted butter
2 teaspoons cinnamon
+ ½ cup dark chocolate (for melting over top)
Directions
Preheat oven to 350ᵒF degrees and line an 8x8 baking pan with parchment paper. Set aside.
Begin by making the crust for the bars. Cut your cold butter into cubes, about ½ inch in size and then add them to a large mixing bowl.
In the same mixing bowl, add the remainder of your crust ingredients - flour, sugar and water. The best method here is to lightly smush the butter together with the other ingredients in the bowl until everything comes together.
Press the dough into an even layer in the bottom of your parchment-lined 8x8 pan and poke a few holes in the top with a fork. Bake for 30-35 minutes.
While the crust is baking, prepare the cinnamon apple filling. Peel both apples and slice to about ¼ inch thick. Add the sliced apples to a mixing bowl and toss with cinnamon and tapioca flour.
Remove the crust once it has finished baking, and let it cool completely.
While the crust is cooling, move on to prepare the crumble topping for your bars. Combine all-purpose flour, brown sugar and cinnamon in a bowl.
Cube the butter for your crumble ingredients and add to the bowl with the dry ingredients.
Mix together with either a fork or your hands until clumps or "crumbles" form.
Once the crust has cooled, add your cinnamon apples to the pan over top the crust. Then, sprinkle the crumble evenly over the cinnamon apples.
Place your bars back in the oven to bake for an additional 30 minutes at 350 degrees.
Finally, remove the bars from the oven, let them cool completely.
Drizzle with melted dark chocolate.
Slice into bars and enjoy!
Recipe created by Simply Unbeetable for Superfresh Growers.