Yield: 4 glasses
Skill level: Easy
This refreshing apple cider sangria is full of flavor thanks to a mix of fresh Cosmic Crisp® apples, oranges, & pomegranate paired with smoky bourbon, white wine, & sweet maple syrup. It is truly the best Fall sangria with apple cider & makes a perfect Thanksgiving Sangria too!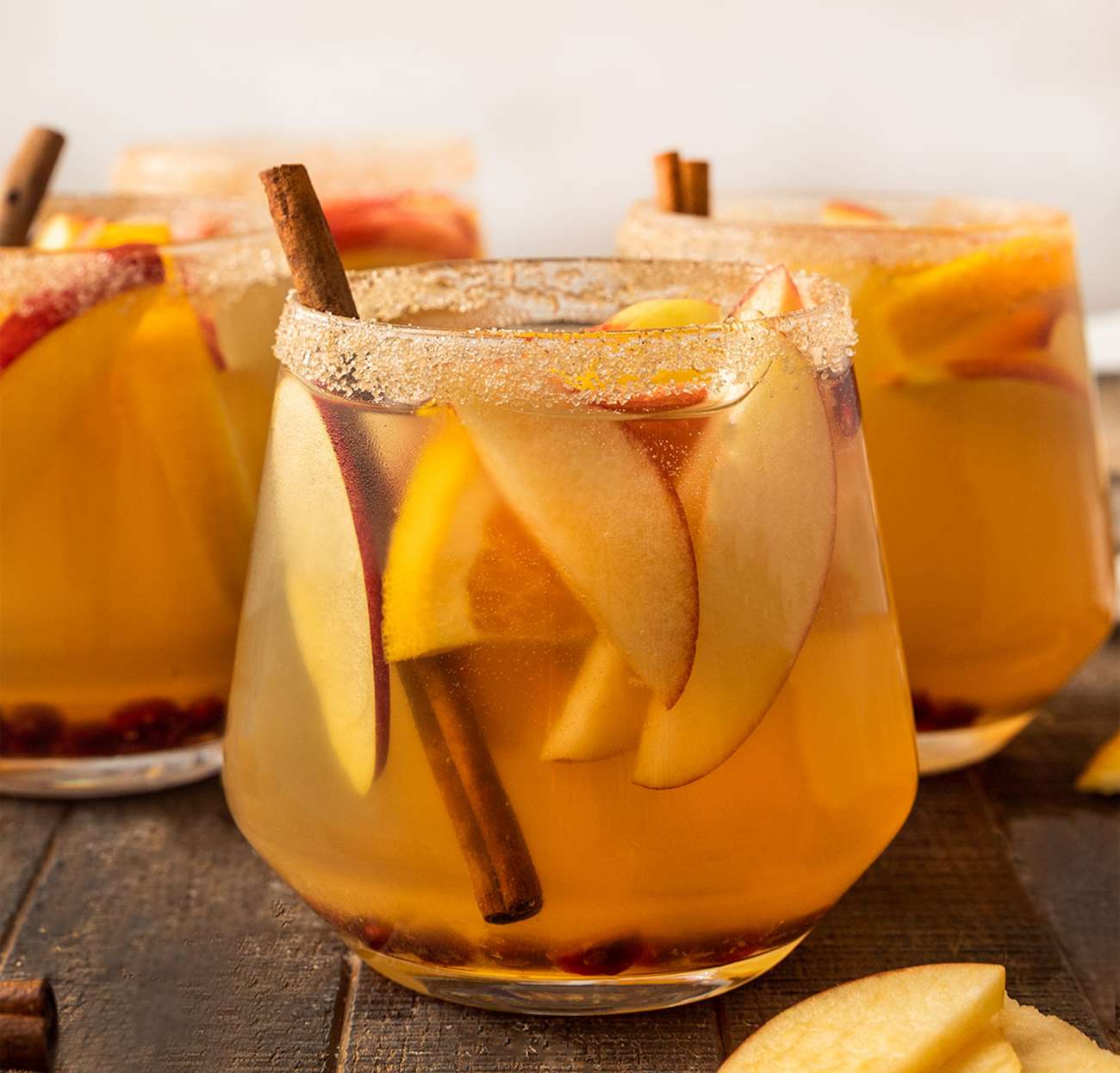 Ingredients
Sangria
2 cups apple cider
375 ml white wine (½ bottle white wine)
1.5 ounces bourbon
2 tablespoons maple syrup
½ cup pomegranate seeds
1 Cosmic Crisp apple, sliced
4 orange slices
1 cinnamon stick (extra as a cocktail garnish)
1 cup sparkling water (¼ cup per cocktail)
ice cubes (for serving cocktail)
Cinnamon sugar rim
Directions
Add the apple cider, white wine, bourbon, and maple syrup to a large pitcher and whisk together to combine.
Then, add the pomegranate, apple slices, orange slices, and cinnamon stick to the pitcher. Stir together until well mixed.
Cover the pitcher with a lid or plastic wrap and let soak in the fridge for 1-3 hours or up to 24 hours. This step infuses the fruit and adds a lot of flavor to the cocktail, so don't skip it.
Right before serving add the cinnamon sugar rim to each cocktail glass.
First, add the sugar and cinnamon to a shallow bowl and mix them together. Then, take the orange wedge and run it along the rim of each cocktail glass to moisten. Dunk the cocktail glass rim into the bowl of cinnamon sugar and swirl it around until coated. Set aside for at least 2 minutes so the rim has time to harden.
Add ice to each cocktail glass and take the sangria mix out of the fridge. Then, pour it into each cocktail glass. If some of the fruit gets stuck in the pitcher, just scoop it into each glass.
Top each cocktail off with ¼ cup of sparkling water, then stir to combine. Garnish with a cinnamon stick or dried orange slices & serve!
Recipe created by Short Girl Tall Order for Superfresh Growers.