Skill level: Easy
These apple and potato latkes (or fritters... whichever you prefer) can be cooked in a stovetop skillet OR in the air fryer! Cosmic Crisp apples are perfect for cooking which is why they make a delicious addition to a classic recipe. Served with honey mustard for a dippable snack!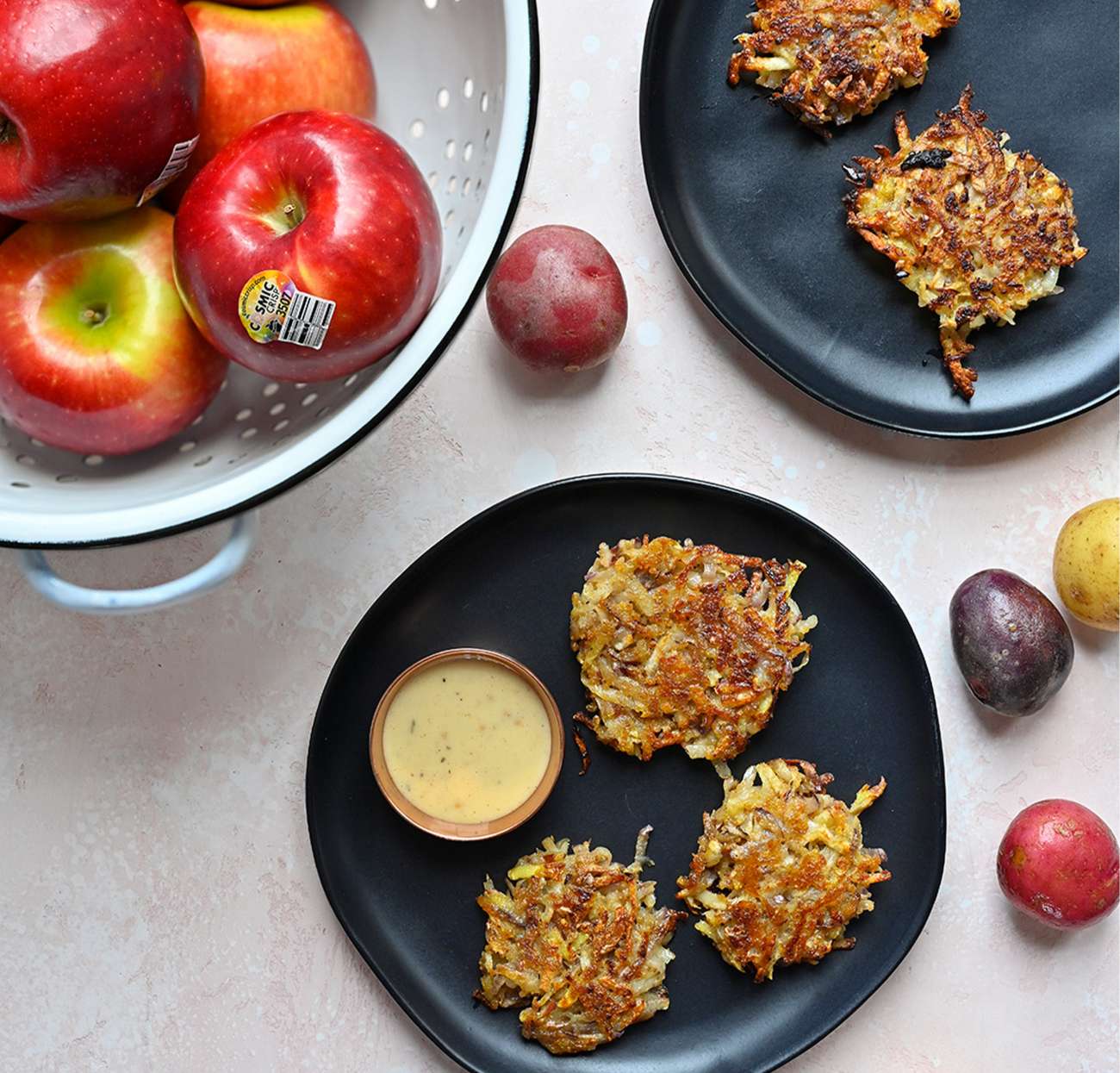 Ingredients
1 Cosmic Crisp apple, grated and juice squeezed out
1 lb 8oz medley potatoes (4 cups grated)
1 egg or flax egg (mix 1 tablespoon flax + 3 Tbsp warm water and refrigerate for 15 min before using)
¼ cup breadcrumbs
½ teaspoon sea salt
1 teaspoon lemon pepper
1 teaspoon garlic powder
1 tablespoon honey mustard (plus more for serving)
Olive oil for cooking
Directions
Stovetop
Grate your apple (core removed), then squeeze out excess juice with paper towels or cheesecloth.
In a medium mixing bowl, combine the grated apple, grated potatoes, egg, breadcrumbs, spices, and 1 tablespoon of the honey mustard.
Preheat a frying pan on the stovetop, then form patties with your hand, approximately 2.5 - 3 inches wide (and flattened). Fry a few at a time for a 3-4 minutes on each side, until they're golden brown. Set the finished ones aside. Between batches, add in more oil if necessary. Makes ~ 18-20.
Air fryer
(this method uses no oil, only a bit of cooking spray!
Add extra ¼ cup breadcrumbs (for a total of ½ cup)
Add extra 1 tablespoon vegan honey mustard (for a total of 2 tablespoons)
Roll the mixture into balls instead of patties, because you can fit more into the air fryer!
Cook at 360 degrees for 15 minutes, each batch.
Recipe created by Nosh and Nourish for Superfresh Growers.