Yield: 10
Skill level: Moderate
These roasted cherry and pineapple popsicles are the most refreshing treat for a sunny day. Roasting Dark Sweet cherries before blending them enhances their delicious flavor to compliment the pineapple and build the perfect layered treat. Real fruit, and slight extra sweetness added with some maple syrup makes these a guilt free craving to beat the heat!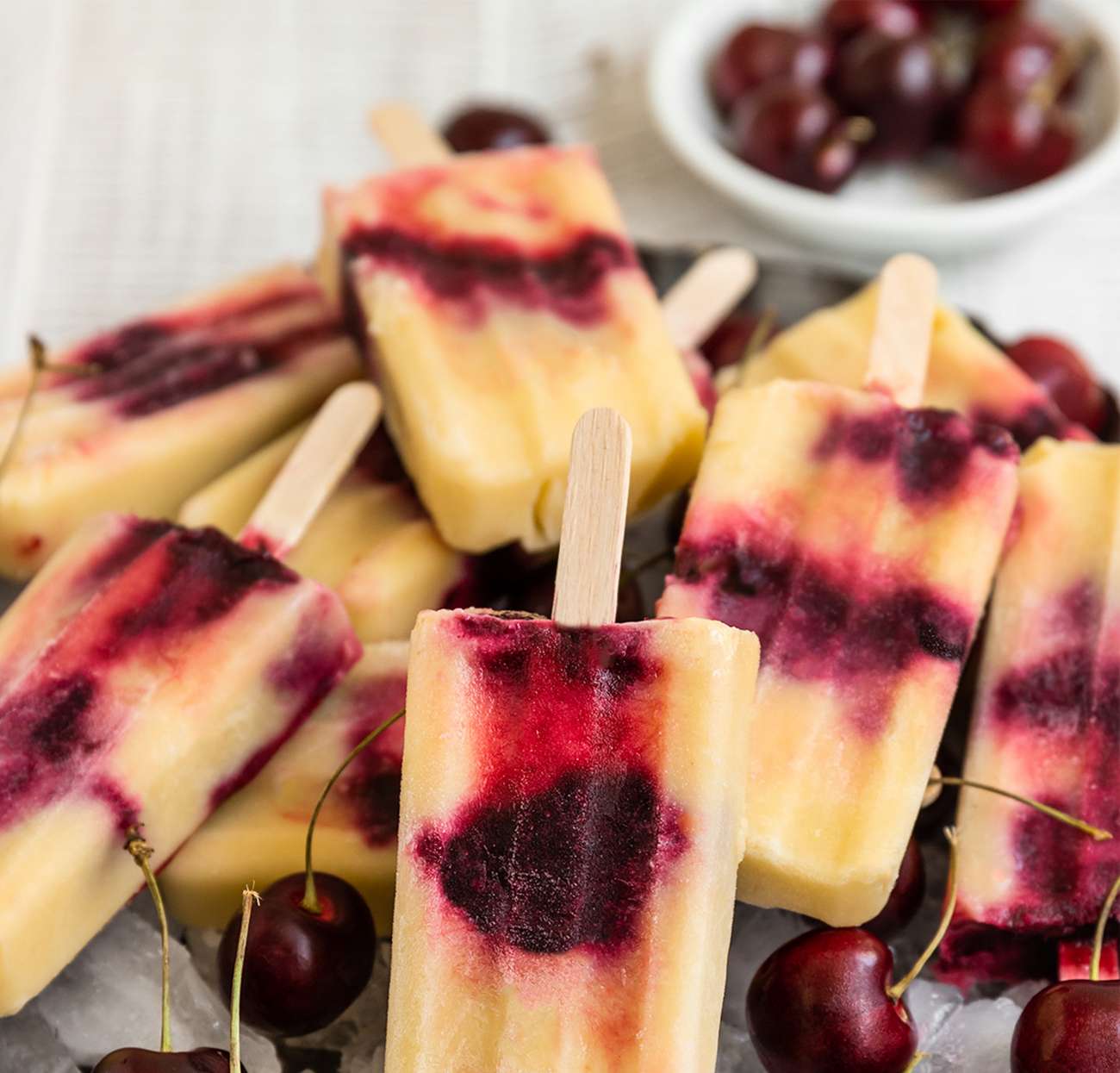 Ingredients
Roasted Cherries Layer
3 cups cherries, pitted and halved
¼ cup maple syrup
1 tablespoon vanilla extract
Pineapple Popsicle layer
3 cups chopped pineapple
¾ cup plant-based or regular yogurt, unsweetened
3 tablespoons maple syrup
Instructions
Preheat the oven to 350ºF and add a sheet of parchment paper to a baking tray.
Pit the cherries and cut them in half. Add the cherries to the parchment lined baking tray and pour on the maple syrup and vanilla. Use your hands or a spoon to mix all the ingredients together until the cherries are evenly coated. Bake for 20-25 minutes.
While the cherries are roasting, make the pineapple layer. Add the pineapple, yogurt, and maple syrup to a blender and blend until smooth.
Add about 1 tablespoon of the pineapple filling to each popsicle mold. Place mold in freezer for 15-20 minutes while the cherries finish roasting and cooling.
Once the roasted cherries have cooled a bit, pour them into a blender making sure to scoop in any syrup left on the parchment paper. Blend the cherries until smooth.
Take the popsicle mold out of the freezer and add 1 tablespoon of the blended roasted cherry filling to each mold. Then, top with the remaining pineapple and cherry filling until each mold is full.
Place the lid onto the popsicle mold and add in wooden popsicle sticks. Then, place the popsicle mold in the freezer for 6-24 hours until the popsicles are frozen.
Remove the mold from the freezer and quickly run the bottoms of the mold under lukewarm water to help with popsicle removal. Once the popsicles have been removed enjoy immediately as they will melt fast. Enjoy!
Recipe created by Short Girl Tall Order for Superfresh Growers.