Yield: 6-8, based on cup size
Skill level: Easy
These easy no-bake cheesecakes are a real treat. They are as delicious as they are beautiful!
Ingredients
For cherry sauce layer:
1 lb Superfresh cherries, pitted & halved
2 tbsp sugar
1 tbsp cornstarch
1 tbsp water
1 tsp pure vanilla extract
For cheesecake layer:
8 oz of cream cheese, softened
1/4 cup white sugar
2 cups heavy whipping cream
For crust layer:
9 large graham cracker rectangles (1 small pack)
3 tbsp unsalted butter, melted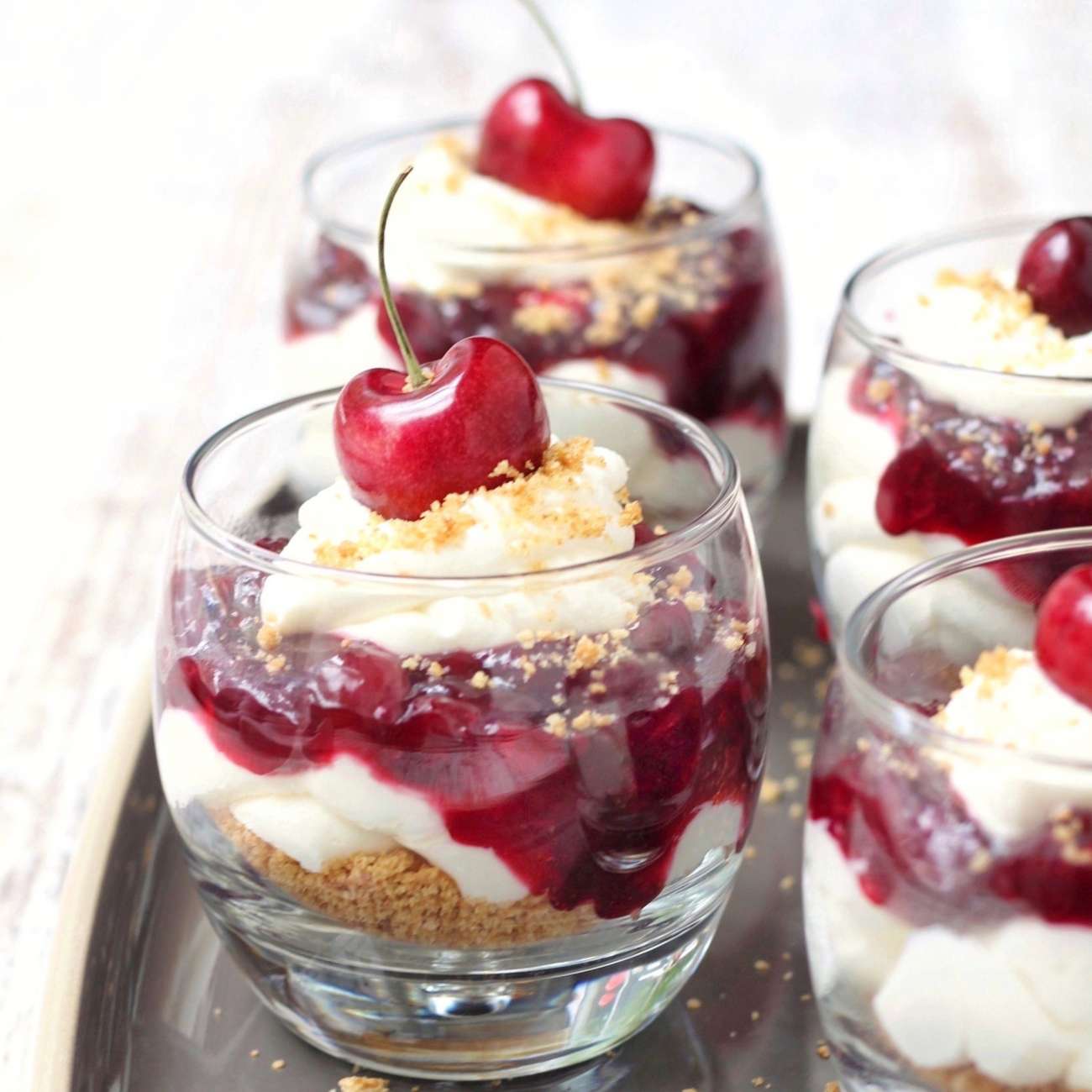 Directions
For cherry sauce layer: To make your cherry sauce, measure out and place pitted cherries in a medium-sized bowl. Sprinkle sugar over top of cherries and stir to coat. Set out for a couple of minutes, then transfer to a small pot and heat over medium-low heat. Once the cherries start to heat up and break down a little, add in cornstarch and water mixture (combine beforehand then add in) and vanilla. Continue to heat, using the back of a mixing spoon to further break up until cooked several minutes and thickened. Set aside.
For cheesecake layer: In a stand mixer (alternatively you can use a hand mixer) combine cream cheese, sugar and whipping cream. Beat mixture until mixed well, scraping down the sides of your bowl as needed. Transfer mixture into a piping bag (or a ziploc bag, that you cut the corner tip off of). Set aside.
For crust layer: In a food processor, blend graham crackers until they become crumbs. Transfer to a small bowl and add melted butter. Stir to combine. Set aside.
Now assemble your parfaits! Layer crust, cheesecake filling and cherry sauce. Then, if desired, pipe a little more filling on top and top with a full cherry and additional graham cracker crumbs as shown.*
*Feel free to make different layers in your parfaits- using more or less filling, or adding additional layers as desired. Make them your own, and enjoy! Yummm.
Serving size varies based on the serving cup you you. These are great in small party cups (like ones you can find at a party store), short drinking glasses, or even wine glasses!