Yield: 2
Skill level: Moderate
These black forest overnight oats may seem fancy and intimidating but are actually so simple! The key to this delicious treat is to use the sweetest and juiciest Dark Sweet cherries from Superfresh Growers! This nutritious breakfast combines the heartiness of overnight oats with the vitamins and antioxidants received from fresh cherries without sacrificing flavor. There's no better way to start your day than by waking up to this already made in your fridge!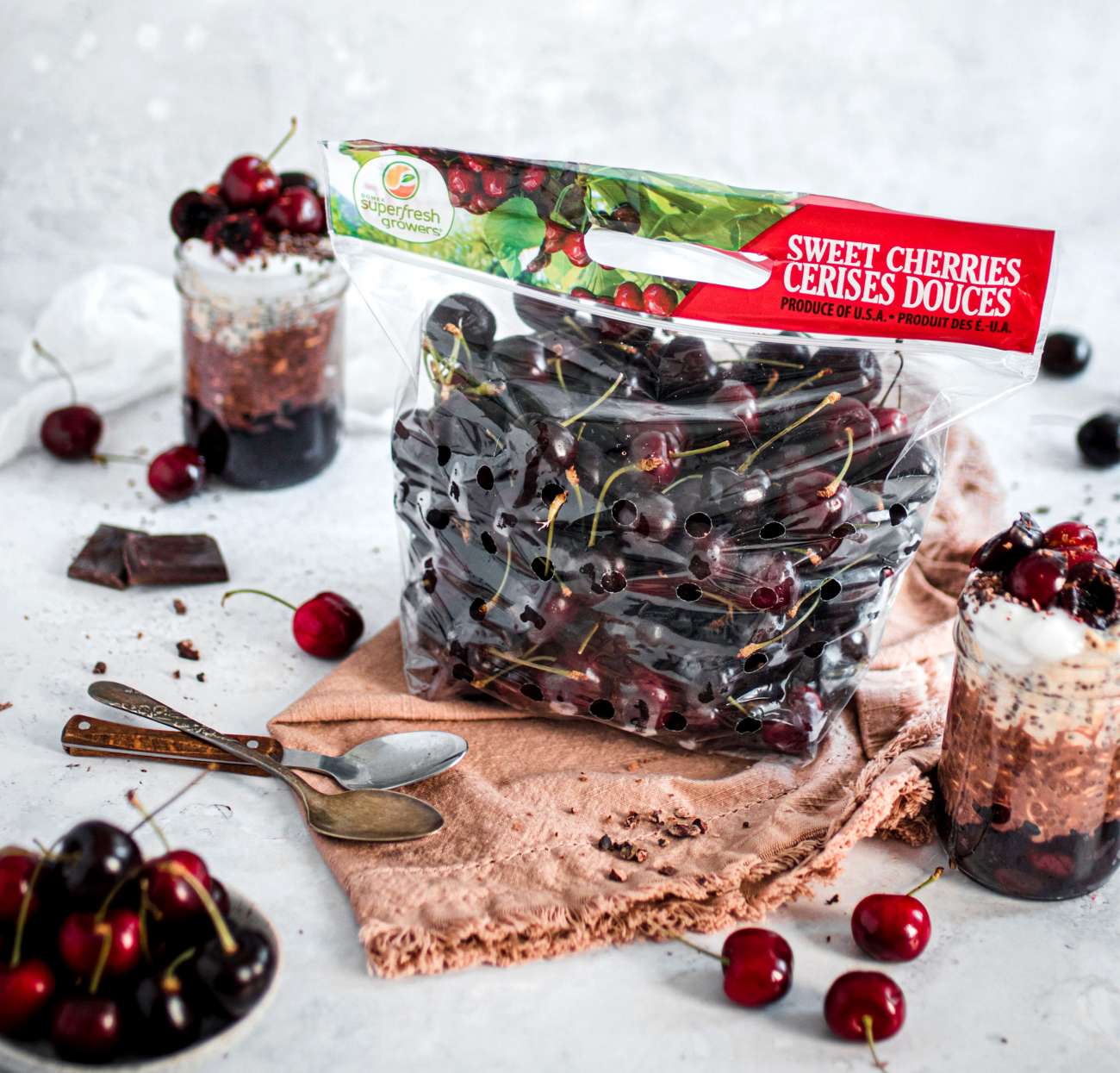 Ingredients
Cherry compote
1 ½ cup pitted Dark Sweet cherries
½ tablespoon maple syrup
Overnight Oats
1 cup old fashioned oats
1 ½ cup unsweetened plant based milk
1-2 tablespoons maple syrup
2 tablespoons chia seeds
¼ teaspoon almond extract (or ½ teaspoon vanilla extract)
½ teaspoon vanilla extract
1 tablespoon cacao powder
Garnishes
Dark Sweet cherries
Vegan yogurt
Cacao nibs
Shaved chocolate
Directions
Cherry compote
Add cherries and maple syrup to a small pot and cook on medium high for 6-8 minutes, stirring regularly. If the mixture begins to boil, decrease the heat.
Let cool, transfer to a container or mason jar and refrigerate.
Overnight oats
Divide oats, milk, maple syrup, and chia seeds between 2 containers.
To one container, add almond extract. Close lid and shake.
To the other container, add vanilla extract and cacao powder. Close lid and shake.
Transfer both containers to the fridge and refrigerate overnight.
The next day, divide cherry compote between 2 serving jars. Top with chocolate oats then regular oats.
Garnish with cherries, vegan yogurt, cacao nibs and shaved chocolate.
Enjoy!
Recipe created by Murielle Banackissa for Superfresh Growers.