Yield: 2 dozen cupcakes
Skill level: Moderate
A mashup of several fall favorites in one - spiced cupcakes filled and topped with apple pie filling, salted caramel frosting, and an extra drizzle of caramel. This recipe relies on using store-bought cake mix. See recipe notes for suggestions and tips. Great for a fall-themed party, birthday, or any occasion, like a Tuesday.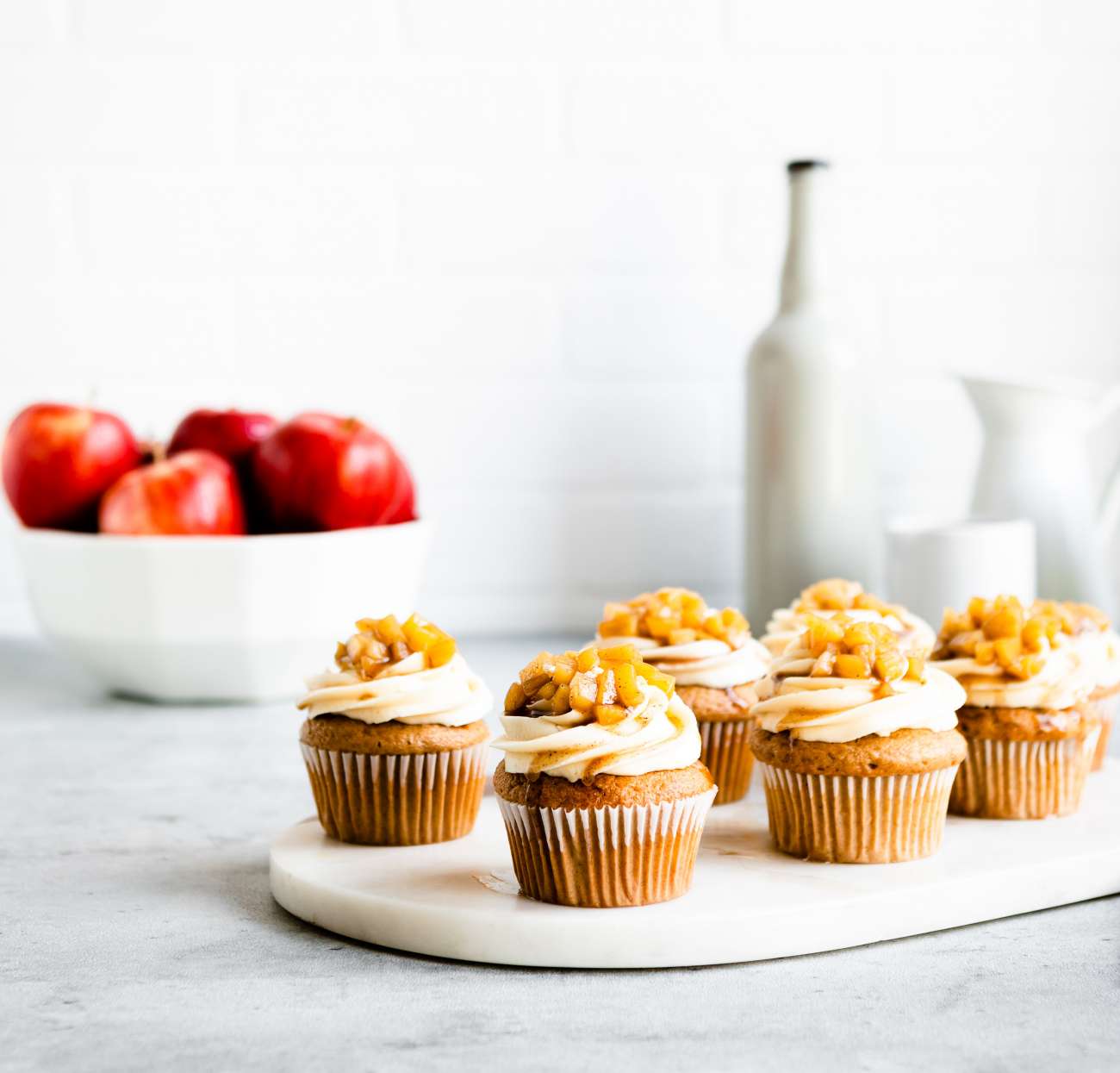 Ingredients
Two dozen pre-baked and cooled spice cupcakes*
One 16.6 ounce jar thick caramel sauce, divided*
Apple pie compote
4 organic Gala apples, peeled, cored and cut into ¼-inch dice
1 cup unfiltered apple juice or cider, divided
2 tablespoons brown sugar, packed
2 teaspoons cornstarch
1 teaspoon pure vanilla extract
1 teaspoon ground cinnamon
½ teaspoon ground nutmeg
Pinch sea salt
Salted caramel frosting
8 ounces (2 sticks) salted butter at room temperature
2 tablespoons cream cheese at room temperature
¼ cup thick caramel sauce
4-5 cups confectioner's (powdered) sugar, sifted
1-2 tablespoons milk or water
Directions
Begin by preparing the apple pie compote. Place diced apples, ½ cup apple juice or cider, and brown sugar in small skillet or saucepan. Bring to a simmer over medium heat, stirring occasionally, until apples are soft, about 15 minutes.
In a small bowl, stir together remaining ½ cup apple juice with cornstarch, vanilla, spices, and pinch sea salt. While stirring, pour the mixture into the pan with the apples. Raise heat and allow the mixture to come to a rolling boil, stirring constantly, for 1 minute, or until thickened. Remove from heat and transfer to a bowl. Cover and allow to cool for 10-15 minutes before placing in fridge to cool completely. The mixture will setup and thicken further.
Prepare Salted Caramel Frosting: using an electric stand or hand mixer, beat butter and cream cheese until creamy and light in color. With mixer running on low speed, add the caramel sauce a little at a time. Add half of the powdered sugar and continue beating. Add a little milk or water and beat again, repeat with remaining powdered sugar and liquid. After the last addition, beat until light and fluffy. Cover and store in a cool spot or refrigerate until ready to assemble cupcakes.
To assemble cupcakes: use a melon baller or apple corer to remove a small piece of the center of each cupcake. Fill each hole with a heaping teaspoon of filling and top with the piece of cupcake. Gently press down.
Fit a piping bag with a large piping tip. Fill the bag with some of the salted caramel frosting. (Work in batches depending on the size and volume of the piping bag.) Pipe a large rosette onto each cupcake leaving a slight well in the center for the apple pie filling. Spoon more of the apple filling into the center of the rosette. Stir the ½ cup caramel sauce to loosen it up a bit. If it's too thick to drizzle, warm slightly in a microwave or small sauce pan. Drizzle the caramel over each compote-topped cupcake. Chill until ready to serve.
Recipe notes:
-If not using a spice cake mix, use your favorite vanilla, yellow, or white cupcake recipe or cake mix and add 1 teaspoon ground cinnamon, ½ teaspoon ground nutmeg, ½ teaspoon ground ginger, and ¼ teaspoon ground cloves.
-Substitute the store-bought caramel sauce with your favorite homemade caramel sauce. Omit the milk or water from the frosting recipe if the caramel sauce is of a thinner consistency.