Who said the grill is just for meat!? We're kicking off summer with a summer twist on a fall classic, grilled apple cobbler! When it's simply too hot to turn the oven on, cook up this skillet dessert in your backyard and enjoy the sweet cinnamon deliciousness!

Click here for a printable recipe!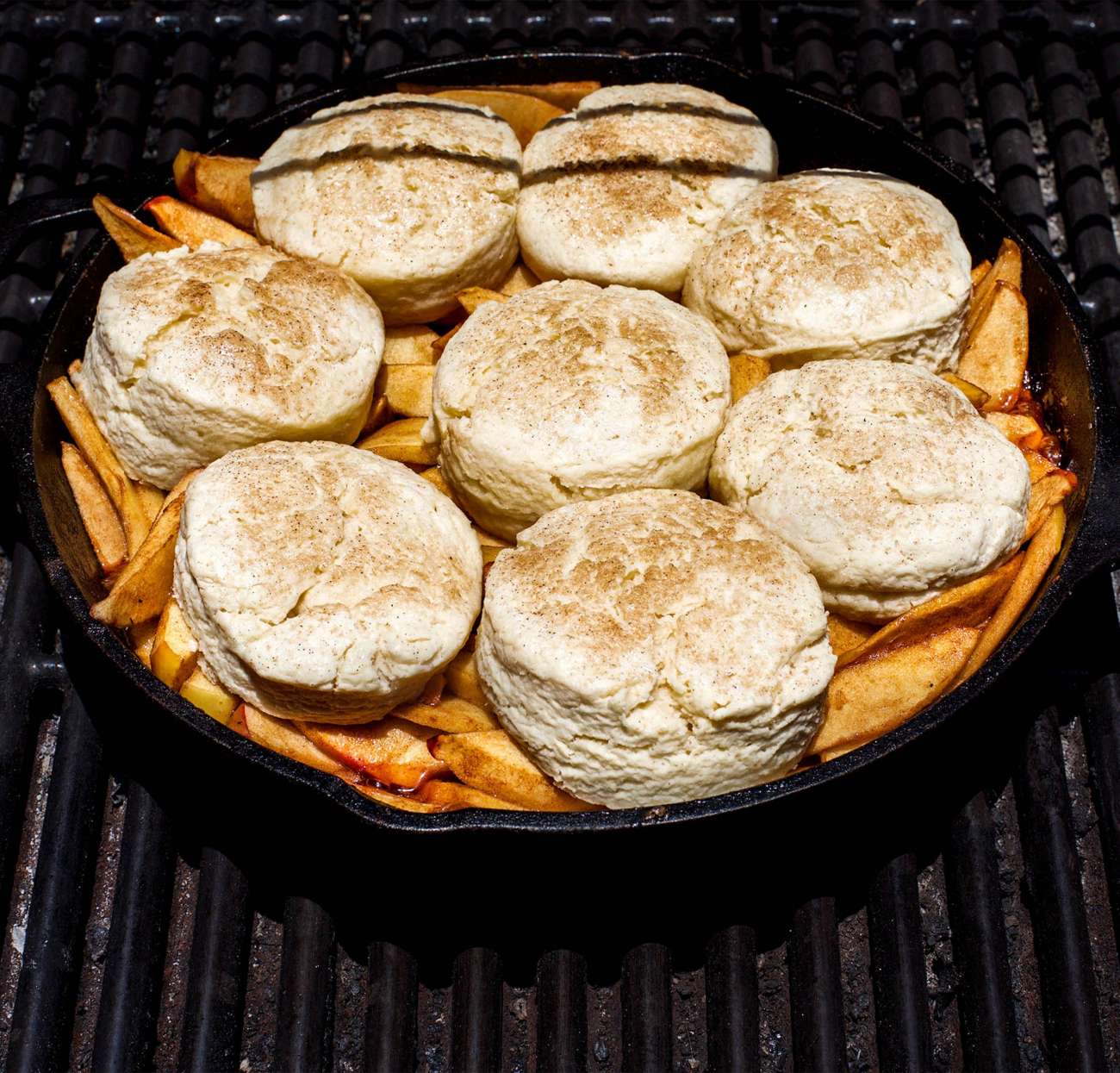 Ingredients
Apple Filling
7 Autumn Glory apples, peeled and sliced
1 teaspoon cinnamon
½ cup sugar
1 teaspoon fresh lemon juice
1 teaspoon cornstarch
1 teaspoon vanilla
Shortcake
2 cups self-rising flour
2 tablespoons sugar
1 cup heavy cream plus 1-2 tablespoons if needed
1 teaspoon vanilla
2 teaspoons cinnamon sugar (1 teaspoon cinnamon, 1 teaspoon sugar mixed together)
Vanilla Ice Cream or Whipped Cream for Topping
Directions
Preheat grill to 425°F (alternatively can bake in the oven).
Combine apples, cinnamon, sugar, lemon juice, cornstarch, and vanilla in a cast iron skillet and toss to combine.
Place skillet on the grill and close the lid, stirring a few times until apples begin to soften. Move to indirect heat at this time so apples don't burn.
While apples begin to cook mix together flour, sugar, 1 cup heavy cream, and vanilla in a bowl and stir with a wooden spoon until mixture just comes together, add an additional tablespoon of heavy cream if needed for moisture.
Turn dough out onto a floured surface and form into a smooth disc and pat until dough is about ¼-½ inch thick. Reform dough and repeat until you have 8 shortcakes.
Place shortcakes on top of the apples and brush with the remaining heavy cream and then sprinkle with cinnamon sugar.
Close grill lid and bake for 35-40 minutes until shortcakes are cooked through on indirect heat.
Serve with homemade ice cream or whipped cream.
Recipe created by My Diary of Us for Superfresh Growers.