Skill level: Moderate
Not only is the meat from these short rib tacos slow cooked with Autumn Glory apples, but they are also topped with an Autumn Glory apple slaw! Talk about double the YUM! Top with all of your favorite sides and give these flavor packed tacos a try today!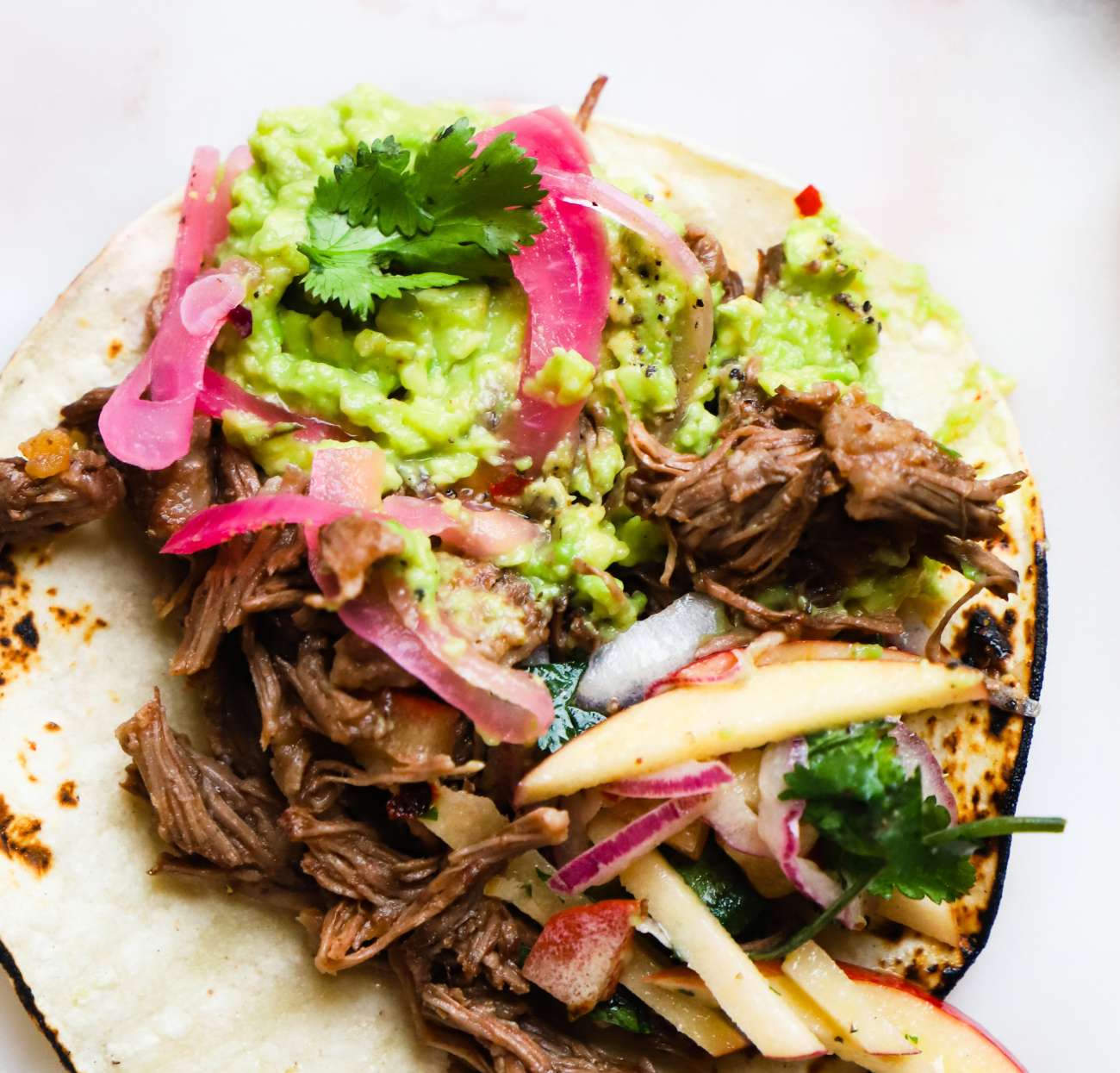 Ingredients:
Tacos
2 pounds short ribs
2 white onions
4 garlic cloves
2 cans, 14.5 fl oz diced tomatoes
2 Autumn Glory® apples
1 cup red wine
1½ teaspoons brown sugar
1 tablespoon apples cider vinegar
½ cup water
Tortillas
Favorite taco toppings
Apple Slaw
2 Autumn Glory Apples, thinly sliced
½ thinly sliced red onion
1 tablespoon olive oil
1 tablespoon mayonnaise
½ lemon
salt and pepper
Directions:
Begin by chopping your onions, apples and garlic. In a deep pot, char and cook your short ribs until all sides are a dark brown. Remove. In the same pot, add your onions, apple and garlic. Sweat out for 2-3 minutes on medium-high heat.
Add back in your short ribs and mix well. Next, add in your diced tomatoes, red wine, brown sugar, water and apple cider vinegar. Let this simmer on the stove on medium-low heat for about 2-3 hours until the short ribs are super tender.
While that's simmering, make your slaw by thinly slicing your apples and red onion. Place in a bowl with olive oil, mayo, lemon juice, and salt and pepper.
Once the short rib is tender, remove from the braising liquid and shred. Serve with your slaw on tortillas and your favorite taco toppings.
Recipe created by Lindsey Eats LA for Domex Superfresh Growers®.