Yield: Serves 6
Skill level: Moderate
What better way to bring to color to your table than with this beautiful and tasty veggie dish! Layers of orange and purple sweet potatoes, chioggia beets, and of course, Autumn Glory apples. Drizzled with a sweet maple glaze, chopped pecans, and a touch of sea salt to bring a delicious balance of flavor!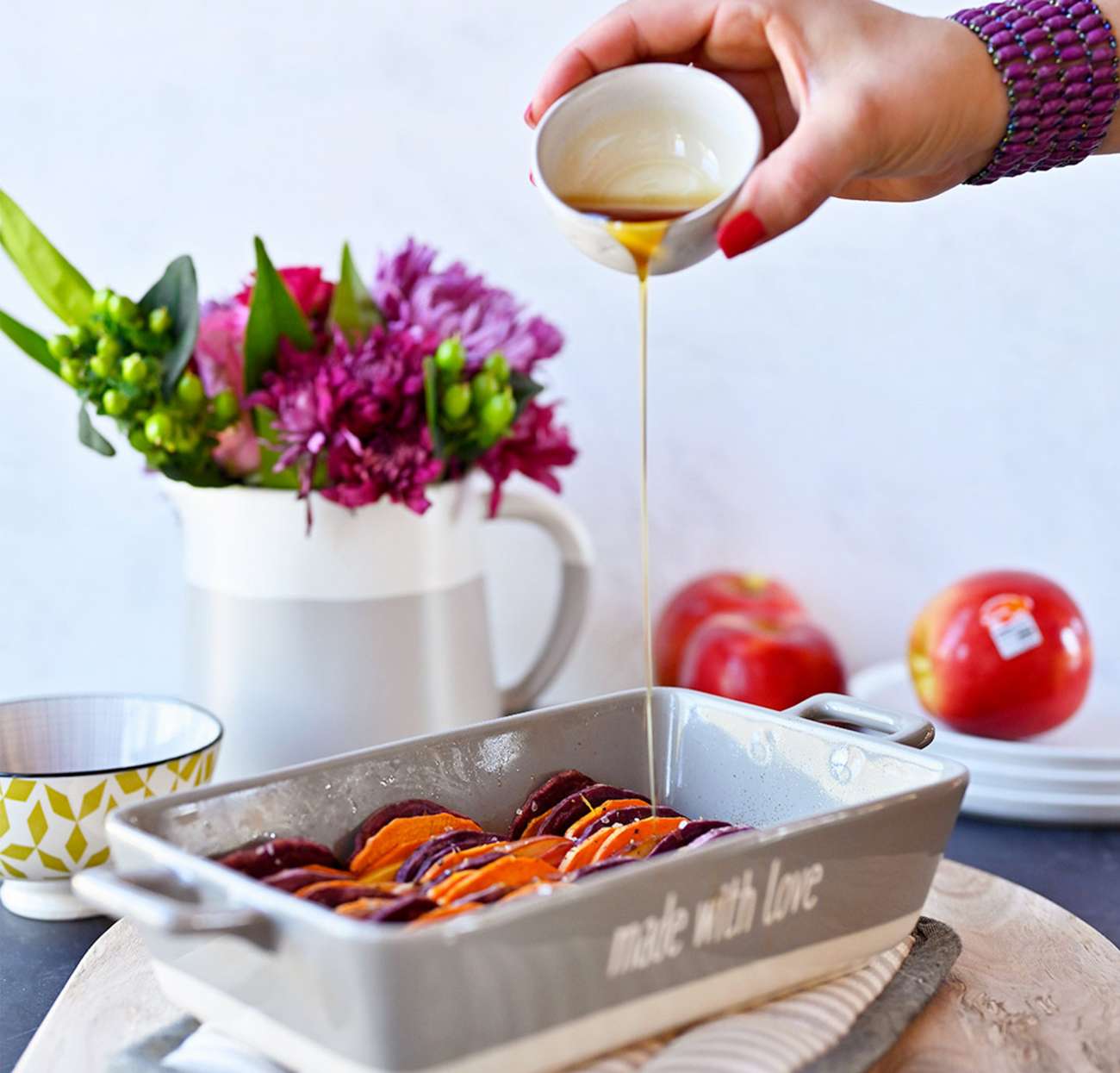 Ingredients
2 Autumn Glory® apples, sliced thin
1 orange sweet potato, peeled, thinly sliced, then cut in half
1 purple sweet potato, peeled, thinly sliced, then cut in half
1 chioggia beet, peeled, thinly sliced, then cut in half
2 tablespoons olive oil
1 teaspoon coarse sea salt
2 tablespoons dark amber maple syrup
¼ can chopped pecans
Instructions
Preheat oven to 425°F.
Use a mandolin to prepare all of the apples and veggies. Try to keep everything a similar thickness so they cook more evenly in the oven. Additionally, when you cut the sweet potatoes and beets "in half", try to match the height of the apple slices. You want everything to be as uniform as possible.
Once everything is sliced, add a thin layer of olive oil and stir to coat evenly.
Use non-stick spray to prepare a small casserole dish.
Arrange the apples and veggies in layers with the edges facing up. Alternate: apple, orange sweet potato, purple sweet potato, beet, then repeat until the dish is full. You might have a few extra slices of things depending on the size of your baking dish. You can save these for later, or pan fry... whatever you'd like!
Sprinkle on sea salt.
Bake for 40 minutes until golden brown.
Remove from oven and drizzle maple syrup and sprinkle on the chopped nuts.
Serve immediately.
Recipe created by Nosh and Nourish for Domex Superfresh Growers®.