Yield: 24 cookies
Smooth & creamy homemade apple butter gets sandwiched between vegan shortbread cookies for the best Valentine's Day cookie for your sweetheart! If you've never had linzer cookies before, this is truly the best way to make them.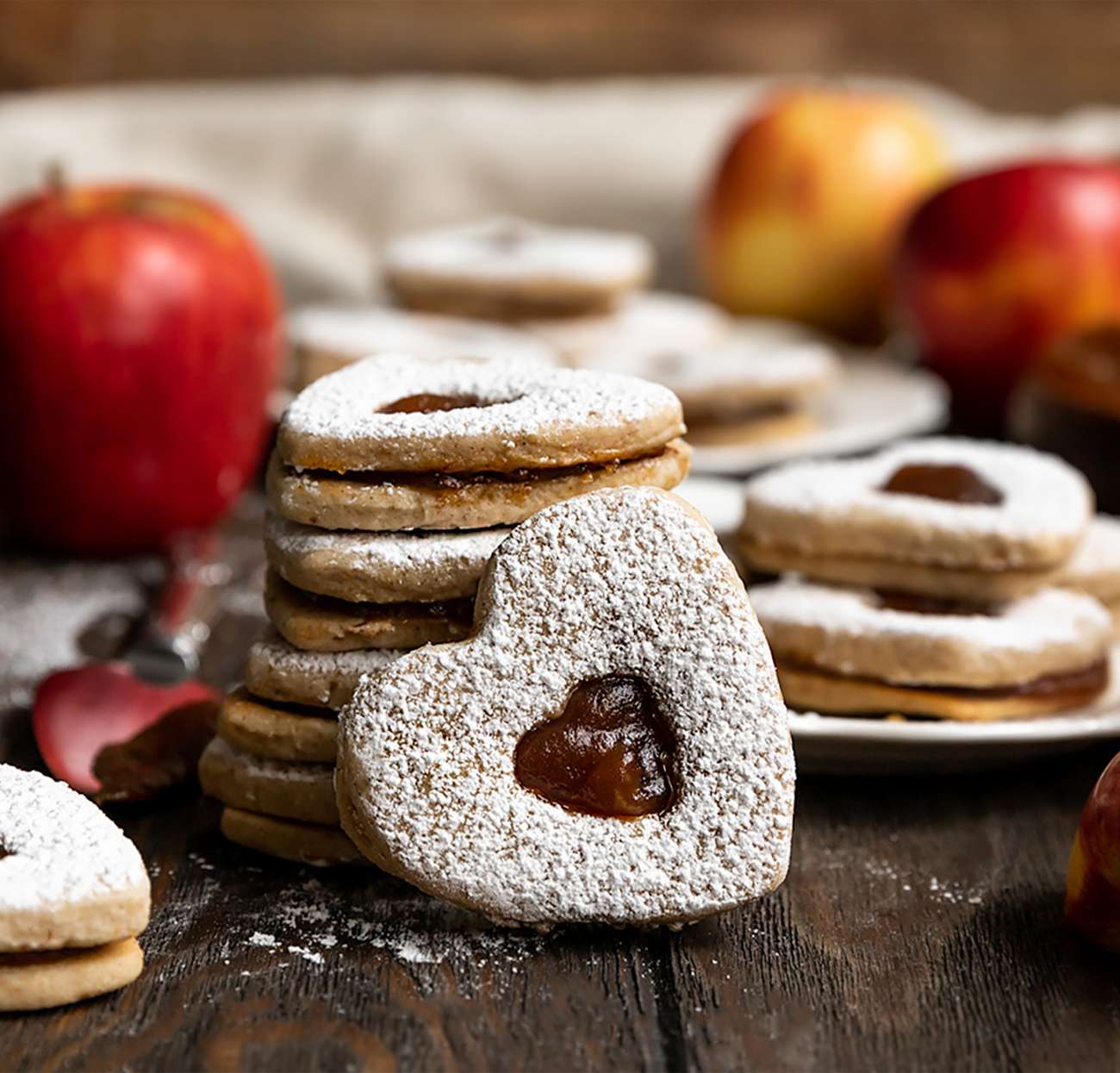 Ingredients
Apple Butter
3 large Autumn Glory apples
1 ¾ cups apple juice
2 Tbsp apple cider vinegar
½ cup brown sugar
1 teaspoon ground cinnamon
¼ teaspoon nutmeg
dash of salt
Linzer Cookies
½ cup vegan butter
1 cup organic powdered sugar
2 flax egg (mix 2 tablespoons ground flaxseed with 6 tablespoons water and let sit 5 minutes)
2 teaspoon vanilla bean paste/extract
2 ½ cups pastry/cake flour
½ cup finely ground almond flour
¼ teaspoon salt
1 teaspoon ground cinnamon
Topping
Directions
Core and chop the apples into large pieces. Then, add the apples, apple juice, and apple cider vinegar to a large pot or Dutch oven. Bring the mixture to a boil, then reduce the heat to a simmer, cover, and cook for 30 minutes or until the apples have softened.
Add in the brown sugar, cinnamon, nutmeg, and a dash of salt. Then, use an immersion blender or pour into a standing blender and blend together until smooth.
Pour the blended apple butter back into the pot and cook uncovered over medium heat another 20-30 minutes. Make sure to stir every 5-10 minutes so the apple butter does not burn. Apple butter will be ready when it is thick and can no longer be easily drizzled from a spoon.
Allow apple butter to cool while you make the cookies.
Add the butter and powdered sugar to a mixing bowl and cream together for about 2 minutes until light and fluffy.
Once creamed, add in the flax eggs and vanilla and mix together. Then, add in the sifted dry ingredients and mix until a thick dough is formed.
Form the dough into a large ball and place in the fridge for 10-15 minutes to help the dough firm up. While the dough is in the fridge, preheat the oven to 350°F.
Remove the dough from the fridge. Then, roll the dough between 2 pieces of parchment paper until about 1/2" thick in height. Make sure not to roll the dough out too thin or it will be hard to cut out shapes.
Next, use your Linzer cookie cutter to cut out an even amount of top and bottom cookies (with and without the heart-shaped insert). Each time you cut out cookies, form the scraps into a ball and roll out again until no dough is left.
Add the cookies to a lightly greased baking sheet or a baking sheet covered in parchment paper and bake for 10-12 minutes until the cookies are cooked through and beginning to brown. Remove from the oven and let cool on the baking tray for another 5 minutes. Then, move to a cookie cooling rack to cool to room temperature.
Once cooled, take the heart shaped top cookies and dust with an additional 1/4 cup of powdered sugar.
Top each bottom cookie with about 1 tablespoon of apple butter. If you are using smaller cookie cutters, use less apple butter. Then, sandwich the cookies together and enjoy!
Recipe created by Short Girl Tall Order for Superfresh Growers.