Skill level: Easy
The perfect fall and winter baking begins with this turnover recipe. Sweet and crunchy Autumn Glory pair with fresh blackberries and a hint of spice to create a simple and flavorful pastry. These warm autumnal flavors rest inside a flaky crust drizzled with a quick glaze. You can't go wrong!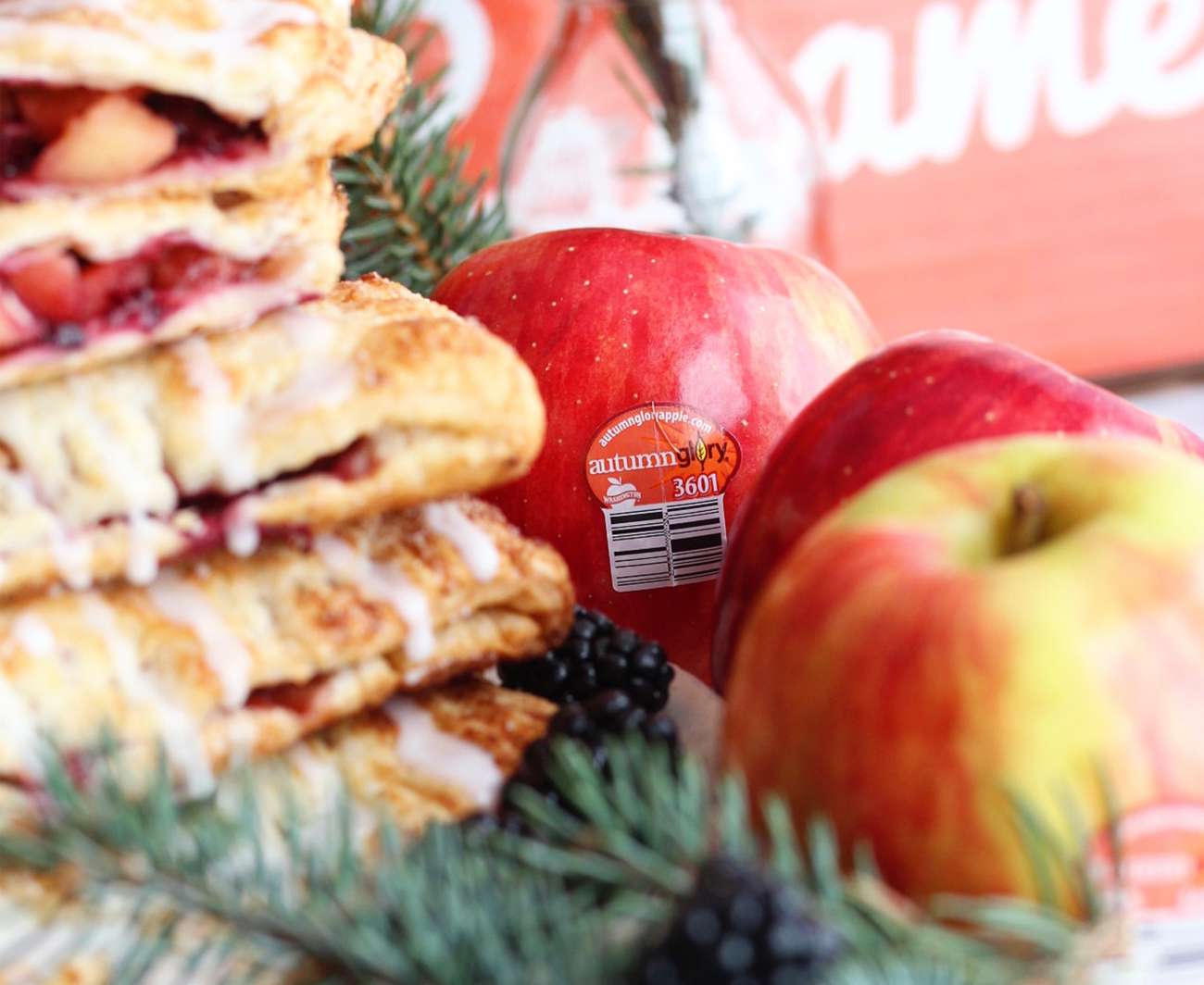 Ingredients
4 Autumn Glory apples
1 tablespoon lemon juice
½ cup light brown sugar
1 tablespoon ground cinnamon
1 teaspoon ground nutmeg
2 cups fresh blackberries
½ cup butter, melted
2 tablespoons sugar
2 sheets frozen puff pastry sheets
½ cup all-purpose flour
½ cup powdered sugar
1 teaspoon water
Directions
Defrost pastry as per package instructions and preheat oven to 425ᵒF. Line a baking tray with parchment paper.
Peel the apples and cut into ½ inch pieces, pour into a bowl and add the lemon juice, stirring to ensure each piece has been covered.
Roll out the pastry into a large rectangle and slice horizontally into 4 inch strips.
Drain the lemon juice from the apples before adding the brown sugar, cinnamon, nutmeg and blackberries, stirring gently until well blended.
Add two large spoonful of the apple blackberry mix at one end of the strip (be sure to leave a gap at the edge to seal with butter shortly.
Using a pastry brush, brush the edges of the strip with melted butter before folding the pastry over and sealing the edges with a fork. Gently poke two holes in the top of the turnovers with a sharp knife.
Brush the top of the turnover with melted butter before sprinkling with sugar.
Bake for 12-15 minutes, and mix the water and powdered sugar together.
Allow to cool before drizzling with icing.
Recipe created by Milk with No Sugar for Superfresh Growers.