Yield: 6 Apple Roses
Skill level: Medium
These Autumn Glory® Apple Roses are surprisingly easy for how intricate and beautiful they look! We partnered with Aysegul Sanford of Foolproof Living to create these festive gems! "Whether you are celebrating the holidays, trying to impress your significant other for Valentine's Day, or throwing a surprise baby shower for your best friend, these apple roses are the perfect dessert to get the job done," writes Sanford.
Each little apple roses tastes like your own individual apple pie. This recipe was created to especially highlight the natural caramel and cinnamon notes within Autumn Glory apples.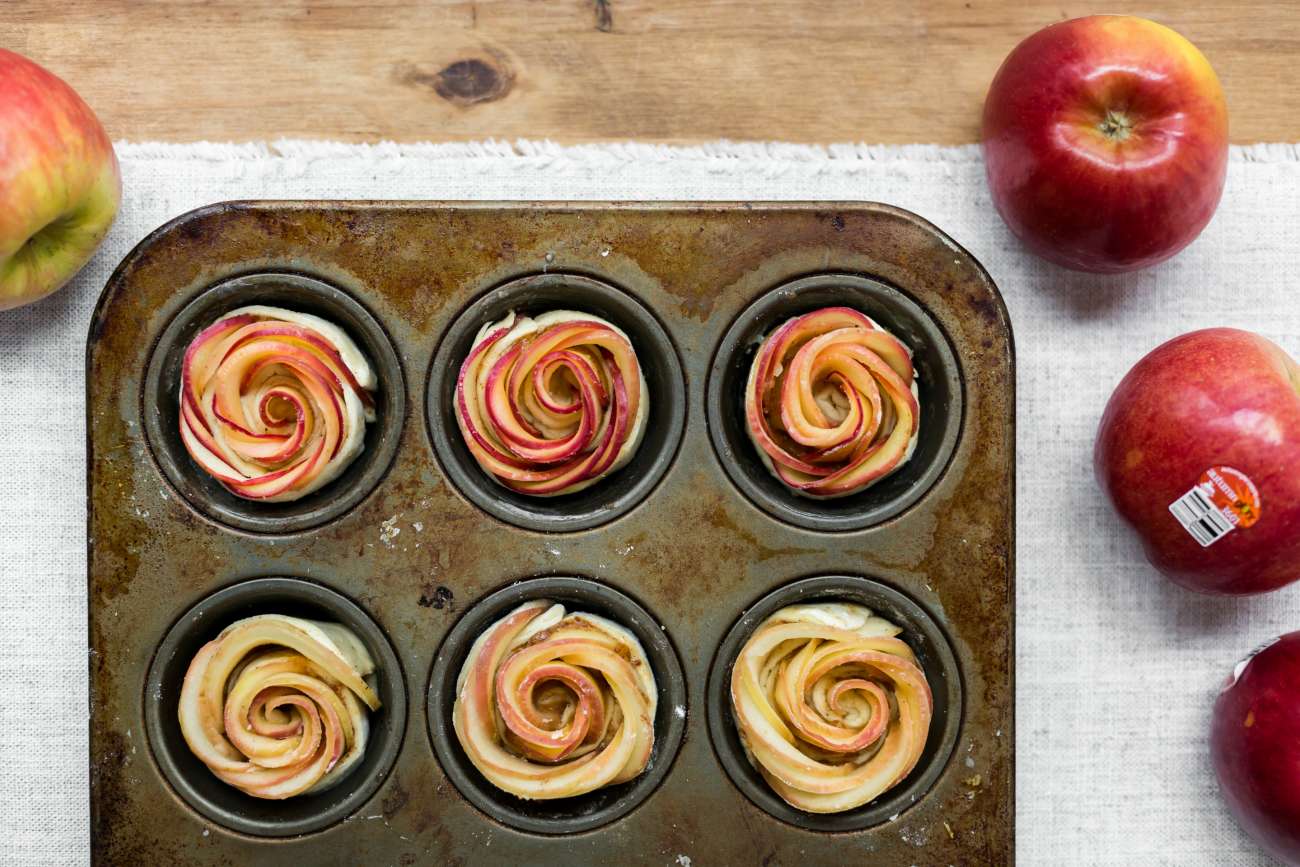 Ingredients
2-3 medium Autumn Glory Apples
3 tablespoons unsalted butter, divided, melted, and cooled
2 tablespoons lemon juice, freshly squeezed
¼ teaspoon salt
3 tablespoons apricot preserves
1 tablespoon coconut sugar
1/2 teaspoon ground cinnamon, divided
Pinch of ground nutmeg
1 (9 ½ x 9") sheet puff pastry, defrosted overnight in the fridge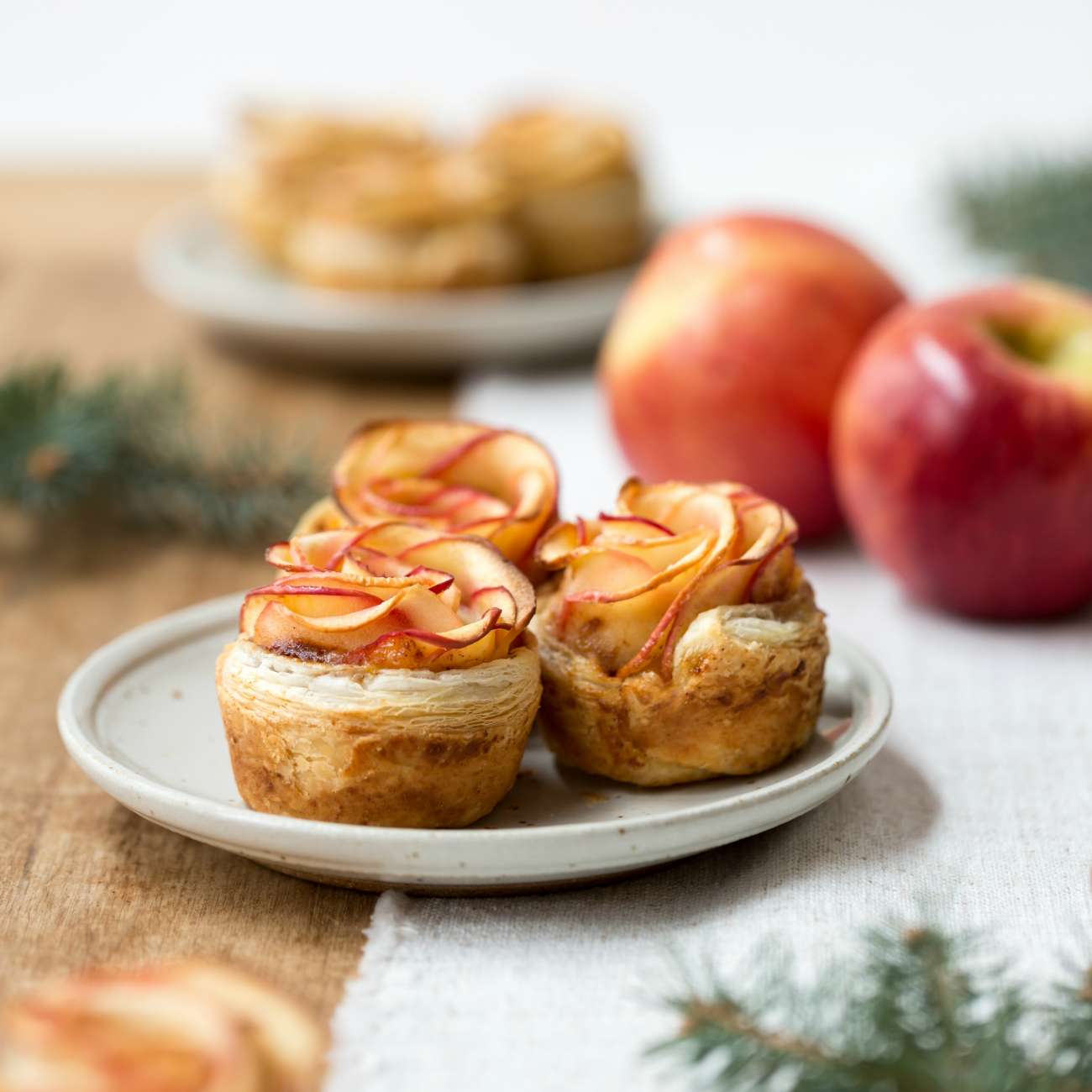 Directions
Pre-heat the oven to 375°. Line a baking sheet with parchment paper. Set aside.
Core the apples and slice them as thin as possible (ideally ⅛-inches). Using a mandolin is best, but a knife works as well. They don't have to perfect. As long as they are thin, the slices will work. You will need 60-70 slices.
Place thin apple slices, 1 tablespoon of butter, lemon juice, and salt in a bowl. Toss to coat.
Spread apples on the baking sheet in a single layer and bake until softened, about 10 minutes. They should be pliable. Set aside to cool. They should be cool enough to comfortably handle before placing on the puff pastry.
Do not turn the oven off.
Use 1 tablespoon of the butter to grease the muffin tray. Set aside.  
Mix together the coconut sugar and the remaining ½ teaspoon cinnamon, and nutmeg in a bowl. Set aside.
On a lightly floured counter, roll pastry into 12 by 10-inch rectangle with short side parallel towards yourself.
Brush the puff pastry with apricot preserves. Sprinkle it with coconut sugar-cinnamon-nutmeg mixture.
Using a pizza wheel or a knife, cut pastry lengthwise into 6 strips. Each strip should be 10 by 2-inches. * Watch the quick video above for a visual on this.*
Working one strip at a time, place 10-12 slices of apples, peel side out, overlapping each other, leaving 1 inch border of dough along the bottom. Fold the bottom inch of dough onto the apples, leaving top of apple slices exposed. Using the rest of the butter, lightly brush the bottom pastry and roll dough into a pinwheel. Place in the muffin pan apple side up.
Continue with the rest of the sheets.
Bake until golden brown for 40-45 minutes, rotating the muffin pan halfway through the baking process.
Remove the apple roses from the muffin pan on a wire rack and let them cool for 10 minutes.
Serve.
Notes
As in most puff pastry recipes, these apple roses are best on the day that they are baked.