Yield: Serves 4-6
Skill level: Moderate
This apple lentil loaf is a plant-powered alternative to a traditional meat-loaf! There is so much to love about this dish! Lentils and oats are packed with protein and fiber, plus Autumn Glory apple adds natural sweetness & so much flavor! This vegan and gluten-free recipe has an incredible texture, taste, and is a wonderful healthy, comfort food for the season!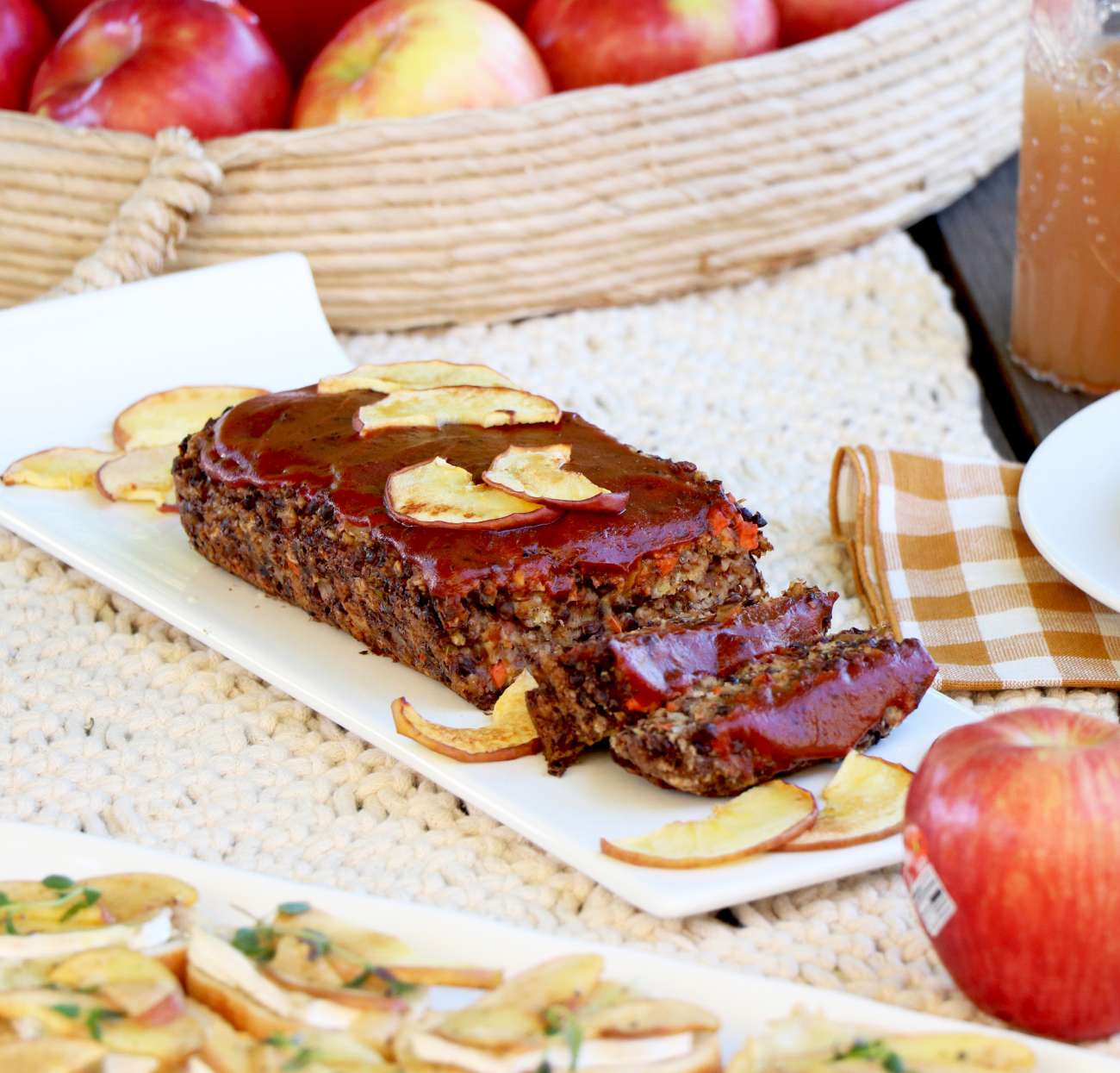 Ingredients:
3 tablespoon ground flax seeds
⅓ cup warm water
1 cup rolled oats
1 Autumn Glory® apple, grated
½ sweet onion, diced
1 stalk celery, diced
1 carrot, diced
1 (15oz) can black lentils
3 garlic cloves, minced
1 teaspoon paprika
½ teaspoon sea salt
½ teaspoon black pepper
⅓ cup ketchup or BBQ sauce
Directions:
Preheat the oven to 350°F.
In a large mixing bowl, combine ground flax and warm water and let sit for 3 minutes. This will create a thick gel-like consistency.
In a blender or food processor, add rolled oats and pulse to create a fine oat flour with a few whole oats still remaining.
Next, wash and grate the Autumn Glory apple; dice the celery and carrot.
Add the oat flour, apple, celery, carrot, lentils, garlic, paprika, salt and pepper to the mixing bowl with the flaxseed mixture and stir until fully combined.
Add mix to a greased loaf pan and bake for 45 minutes. At 30 minutes, remove from the oven and top with ketchup or BBQ sauce of choice and place back in to finish baking.
Garnish with apple slices, baked in the 350 degree oven for about 10 minutes; and then enjoy!
Recipe created by Healthy Grocery Girl for Domex Superfresh Growers®.