Skill level: Medium
Planning your romantic quarantine at-home Valentine's dinner with the kids at home? We are too, we feel you. We worked with Lunches and Littles for the ultimate romantic and also family-friendly kids meal. Get the candles out and set the table for two, plus kids.
Ingredients
1 lb fresh sea scallops
4 Autumn Glory apples
1 lemon juiced
Olive oil
2 tbsp butter, more as needed
1 tbsp light brown sugar
Salt and pepper to taste
Optional: sprouts/micro-greens for garnish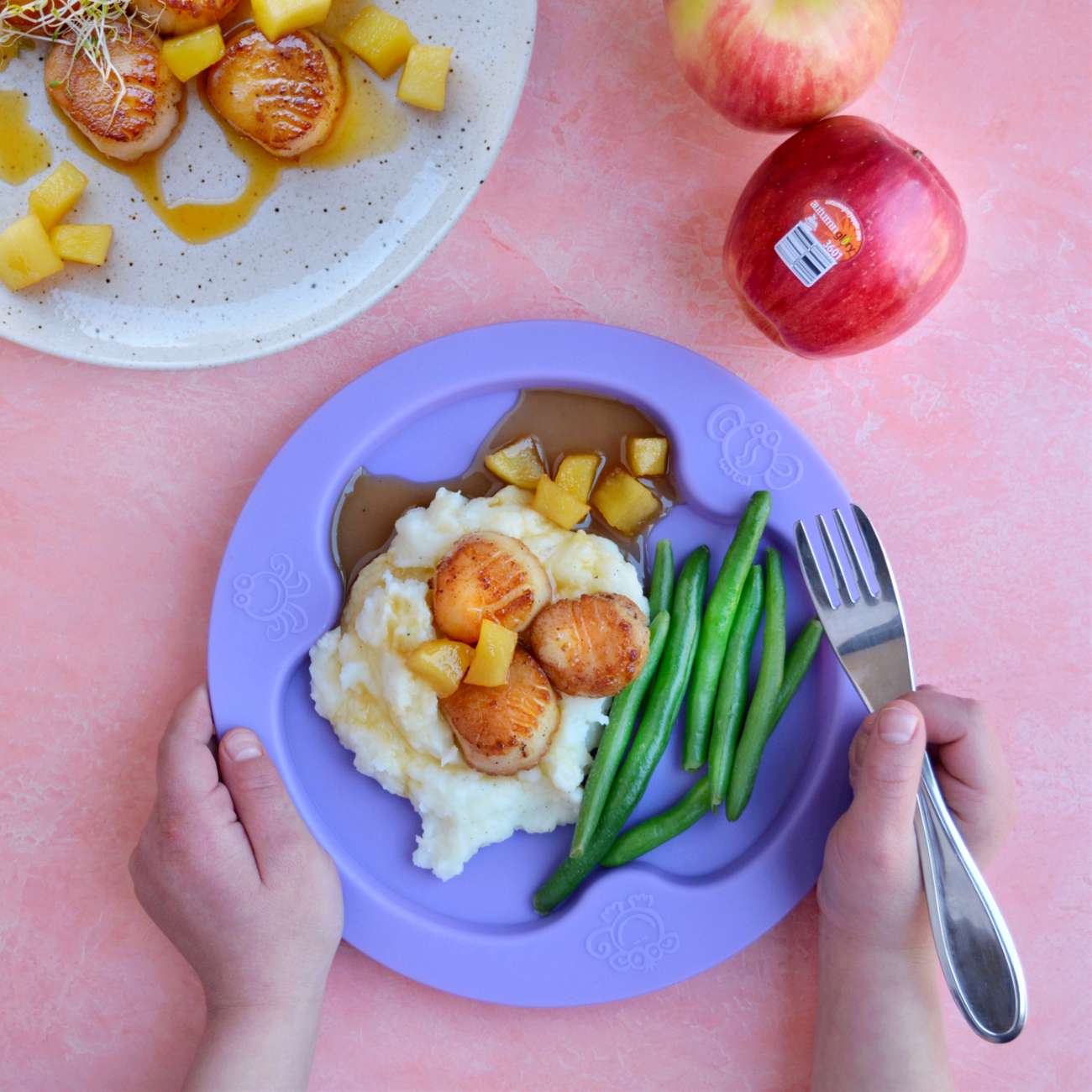 Directions
Pat scallops dry with paper towels, and remove side muscles. The side muscle is a little tag of muscle tissue on the side of scallop. You can feel it when you touch them. To remove, just pinch it with your fingers, gently pull it off and discard. Then season scallops with salt and pepper and set aside.
Next, peel and core all apples. Discard core/seeds. Then with only 2 of your cored apples: cut pieces into smaller pieces and place in a high-powered blender.
Add fresh squeezed lemon juice and ¼ cup of water to your blender. Blend/pulse until smooth. *If mixture is still thick, add more water a tablespoon at a time.
Dice remaining 2 apples: cutting into smaller, uniform pieces as shown. Set aside.
Strain blended apple liquid through a fine sieve into a medium-sized bowl. If you don't have a sieve, you could use a cheesecloth, nut milk bag, etc. Add diced apples to the mixture and set aside.
Next, heat a few drizzles of olive oil in a large pan (cast iron works the best for this) over medium heat adding scallops in batches and cooking until they get a golden brown crust, as shown. (Approx. 3 min. per side).
Once golden on both sides and cooked through, carefully transfer scallops to a large plate, using an inverted bowl over top your plate to keep scallops warm. Repeat until all scallops are cooked.
Once done, add butter to the pan, scraping up any browned bits, etc. Add apple mixture with diced apples to the pan, and brown sugar. Cook over medium heat until mixture begins to thicken up a bit. Stir often, until sauce has reached desired drizzly consistency, and apples are soft.
Remove pan from heat, then add scallops back to pan, pouring some of the apple reduction over top scallops to coat.
To serve: plate scallops, then spoon additional reduction over top and season with salt and pepper. Optional: garnish with sprouts.
Enjoy!