Warm, nutty, and full of cozy flavor! Cosmic Crisp apples offer the ideal texture and flavor for this upside-down cake recipe. Perfect for any holiday or New Year gathering, this gorgeous cake tastes just as incredible as it looks!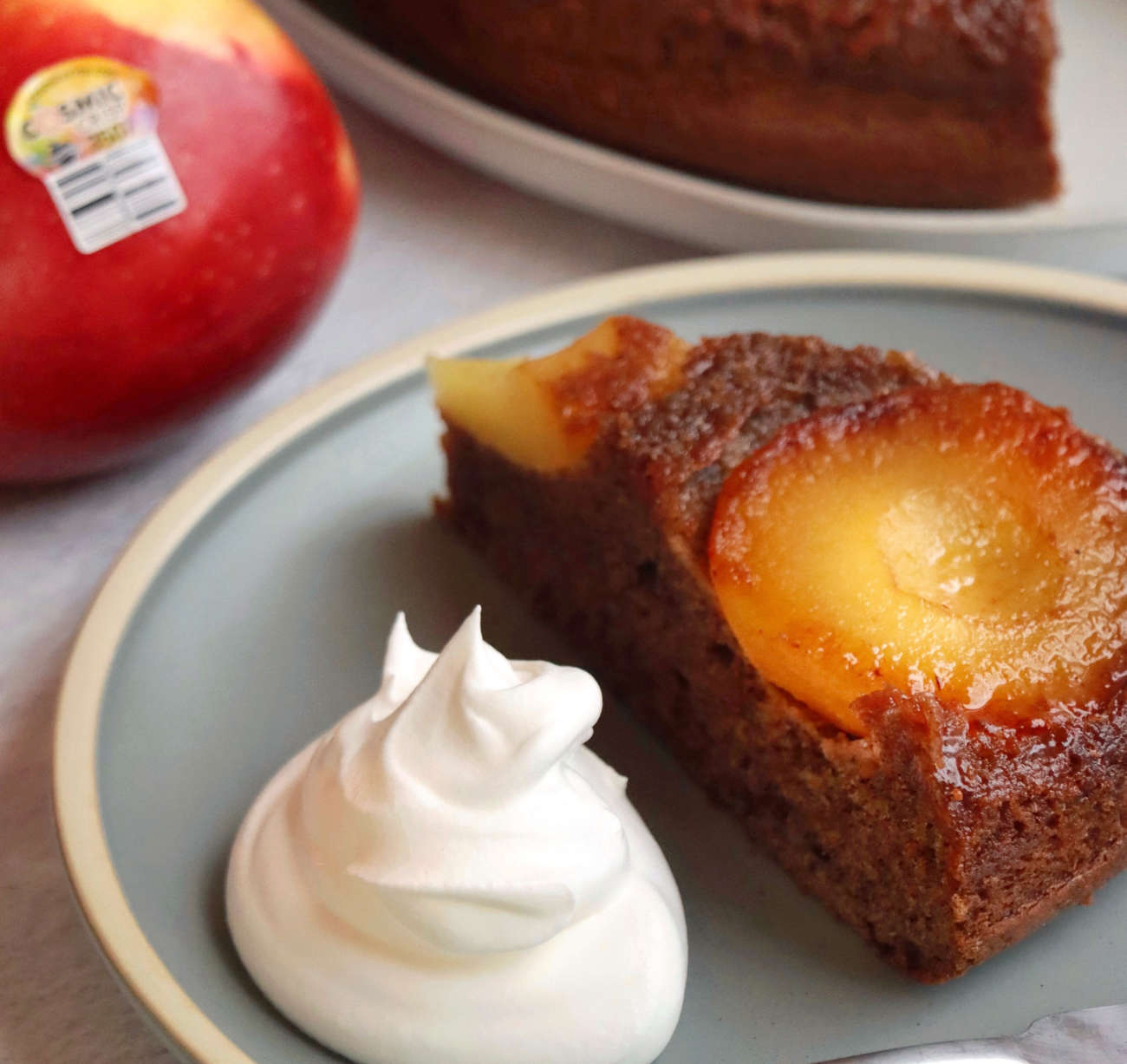 Ingredients
10 tablespoons room temperature unsalted butter, divided
4 Cosmic Crisp apples, peeled, halved, then cored as shown
1 heaping cup toasted pecans
1 cup white flour
1 teaspoon baking soda
½ teaspoon baking powder
1 teaspoon salt
1 tablespoon ground cinnamon
¼ teaspoon ground nutmeg
½ cup light brown sugar, packed
½ cup white sugar
2 eggs
1 ½ teaspoons pure vanilla extract
½ cup plain Greek yogurt
Directions
Preheat oven to 350°F
Heat 2 tablespoons of your butter in a 10 inch oven safe skillet, over low heat.
Once melted, add halved/cored apples a couple at a time (work in batches) cut side down in the butter/skillet. Cook apples for a couple minutes each until they are golden brown on the cut side. Then flip onto the peeled/rounded sides and continue to cook a few minutes until slightly softened. Carefully transfer to a plate. Repeat with all apples, then set them aside.
Remove skillet from stovetop and wipe clean. Set aside for use later.
Next, in a high-powered blender or food processor, combine pecans, flour, baking soda, baking powder, salt, cinnamon, and nutmeg. Pulse until fully combined and nuts are ground. Transfer pecan mixture to a small bowl.
Then, in your blender/food processor combine ¼ cup only of your brown sugar and white sugar, and remaining 8 tablespoons butter. Blend/process until combined/smooth.
Add eggs and vanilla and pulse again to combine.
Then, add in approximately half of the pecan mixture, as well as the yogurt. Again, combine until smooth.
Add in the remaining pecan mixture and just pulse a couple of times. Set mixture aside.
Returning to your skillet, combine remaining brown sugar with 1 tablespoon water and cook over medium heat. Stir with a rubber spatula until sugar is completely dissolved and a caramel begins to form (it will thicken and become bubbly).
Coat the bottom of the pan with the caramel by working the caramel mixture back and forth. Let it cool slightly before moving on.
Arrange your sautéed/caramelized apples cut sides down.
Transfer batter over top of the apples as evenly as possible, being sure to get batter in between the apple pieces.
Bake cake for approximately 35 minutes or until brown and inserted toothpick comes out clean.
Once done, remove from the oven and allow to cool for 15 min. Then use a butter knife to loosen cake from sides of skillet, as needed. Place large plate on top of skillet and hold there while flipping. Remove skillet once cake is released.
Serve this cake warm, and with a dollop (or two!) of whipped cream as desired.
Recipe created by Lunches + Littles for Superfresh Growers.