Yield: 4
Skill level: Easy
All the nostalgia and love of toaster strudel now in a flakey homemade pastry made with the caramel and cinnamon goodness of Autumn Glory! Topped with a sweet cream cheese drizzle to complete what will surely be your new favorite treat!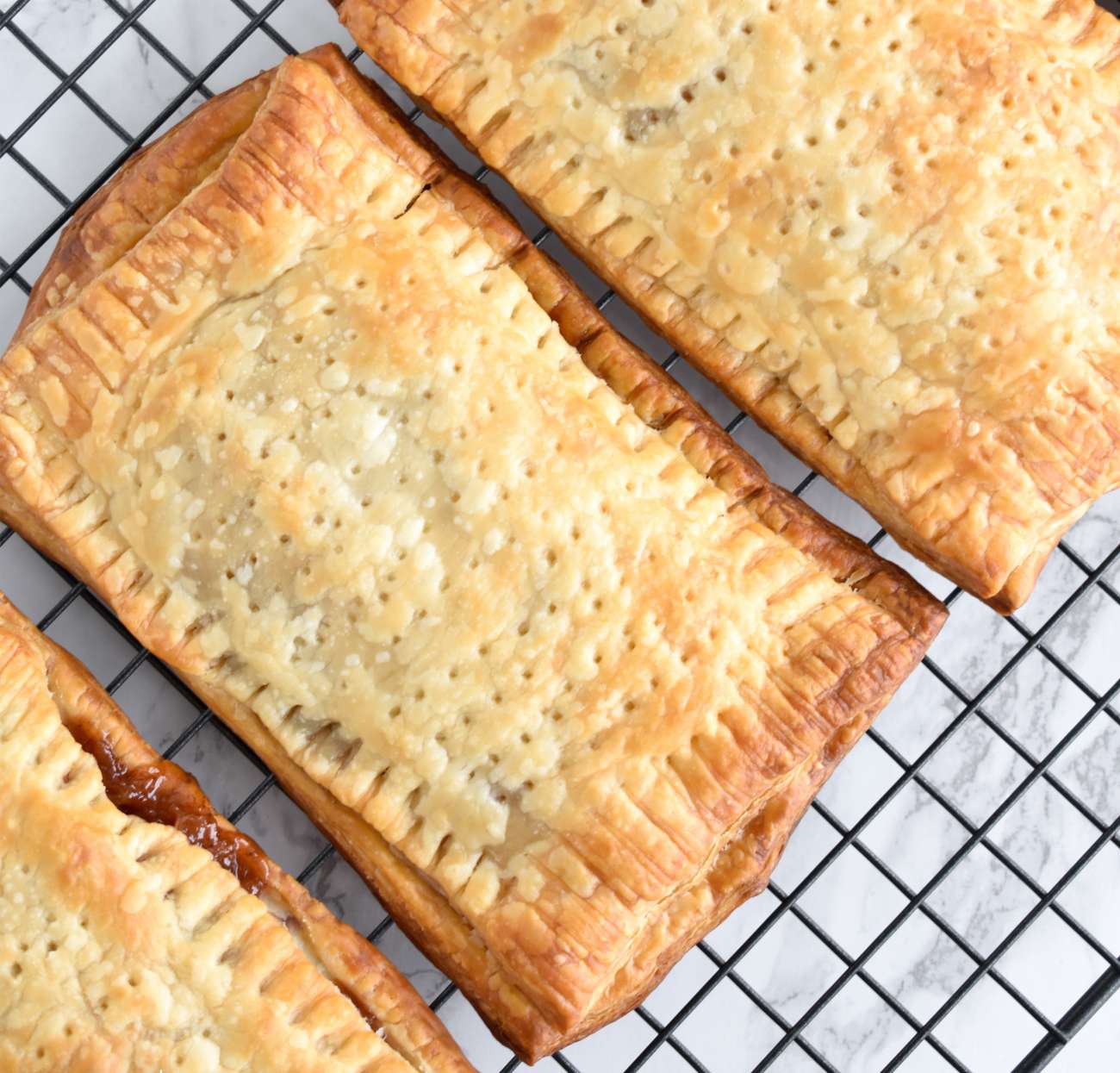 Ingredients
Strudel
2 Autumn Glory apples, peeled and cored
2 tablespoons unsalted butter, divided
¼ cup light brown sugar, packed
½ tablespoon cornstarch or all-purpose flour
Juice of ½ a lemon
½ teaspoon ground cinnamon
⅛ teaspoon ginger
Pinch of salt
1 sheet puff pastry, thawed
1 small egg, lightly beaten
Cream Cheese Drizzle
2 ounces cream cheese
⅓ - ½ cup powdered sugar (to taste)
½ teaspoon pure vanilla extract
Directions
Preheat oven to 375°F.
Grate apples against the large holes on a box grater.
In a medium saucepan, melt butter over low heat. Add grated apples and stir to combine.
Add brown sugar, cornstarch or flour, lemon juice, cinnamon, ginger and salt. Turn heat up to medium and stir constantly until the mixture is completely combined and has thickened (10 minutes or so). Remove from heat to cool.
Roll out your pastry sheet to be around 11×15″. Cut each sheet into 8 equally-sized rectangles.
On a baking sheet prepped with a non-stick silicon mat or parchment paper, place 4 of the pastry rectangles with some space between each.
Spoon a heaping tablespoon (or 2, as long as you're evenly distributing the filling you prepared) of filling into the center of each rectangle. Leave yourself about ½" space around the edges.
Brush each of the remaining 4 pastry rectangles with your egg wash, and place each wash-side down on top of the filled rectangles.
Use a fork to seal the edges, all the way around, and then prick them all over the top with the fork.
Bake for about 25 minutes, or until golden brown. Let cool on pan for 5 minutes and then transfer to a wire rack to cool completely.
While they cool, prep your icing. In a small bowl, use a hand mixer to beat cream cheese, powdered sugar and vanilla extract until cSompletely combined.
Spoon into a piping bag or plastic bag with a small corner cut off, and pipe onto each pastry. Serve immediately and enjoy the nostalgia!
Recipe created by Stress Baking for Domex Superfresh Growers®.