Yield: One 9" x 13" pie
Skill level: Medium
We recently had the pleasure of joining Erin Clarkson of Cloudy Kitchen at the FeedFeed Brooklyn studio for an Autumn Glory® apple pie workshop! Joined by 15 influencers, we each made our own Autumn Glory apple Slab Pie guided by Erin. She emphasized that every pie can easily be made unique with different lattice styles, pie stamps, and braids. Check out all the different designs below!
This pie recipe is crafted to show off the natural caramel and cinnamon notes of the Autumn Glory apple. Erin chose to make a slab pie, as "they allow for a solid crust to filling ratio- if the crust is your favourite part of a pie, I highly suggest giving a slab pie a go!" She chose to use a herringbone lattice, and suggests Serious Eats tutorial. Most, including us, chose to go for a traditional lattice, and used pie stamps to "jazz" it up!
The below recipe is from Cloudy Kitchen, check out her original post here.
Click here for a printable recipe!
Pie crust recipe from four and twenty blackbirds
Pie dough
5 cups (750g) Flour
Pinch of Salt
4 tsp (16g) sugar
4 sticks (450g) cold butter, cut into cubes
1 cup (240ml) cold water
1 cup ice
¼ cup (60ml) Apple cider vinegar
Pie Filling
1.5kg (3.3lbs) Autumn Glory apples, cored, quartered, and sliced on a microplane
Juice of 2 lemons
⅓ cup plus 2 Tbsp (70g) flour
½ cup plus 2 Tbsp (125g) raw sugar, plus extra for sprinkling
Egg wash - 1 egg whisked with 1 Tbsp water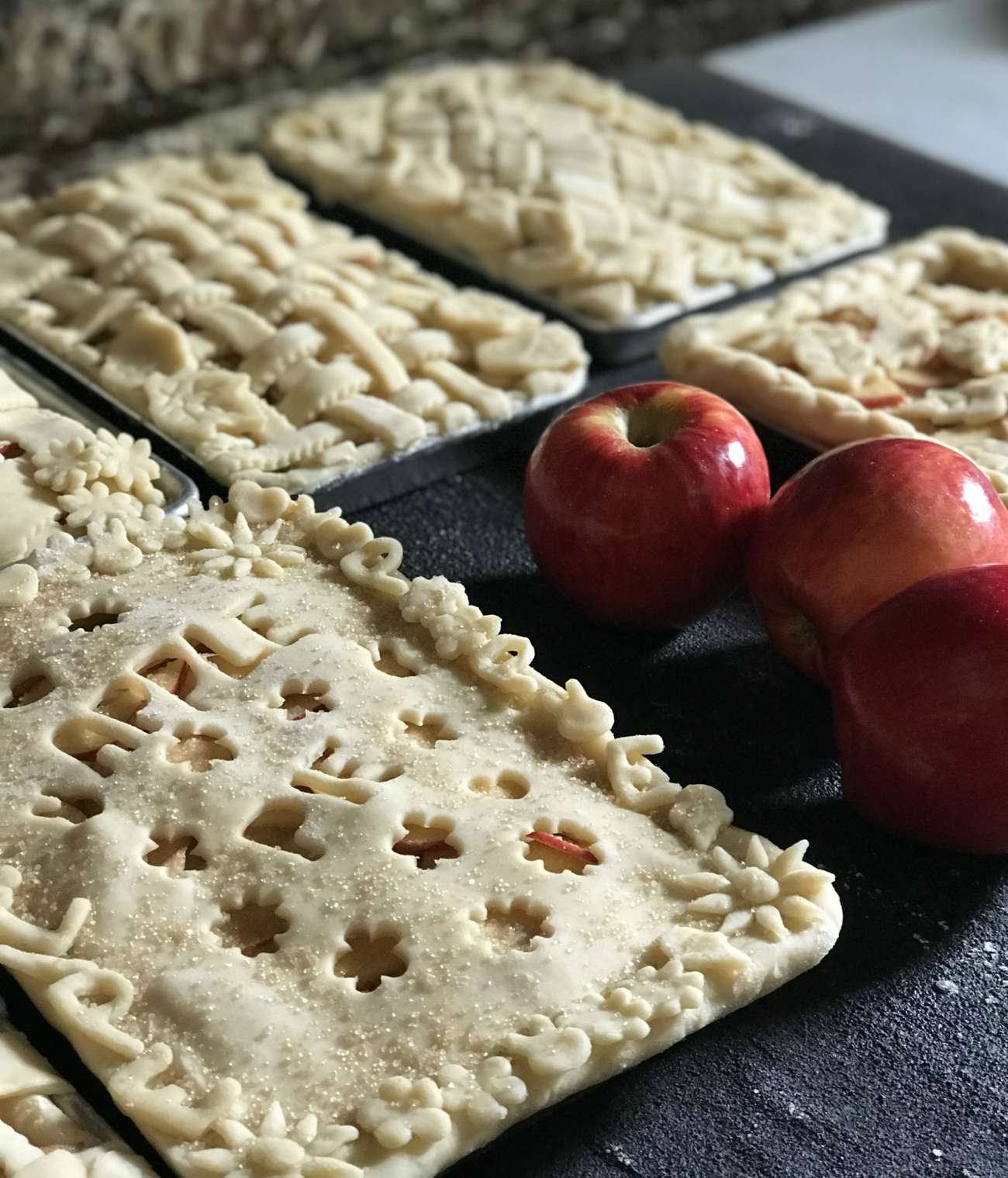 Pie Dough Directions
Erin's note: "I find it easiest to make the pie dough in two batches, to help keep the ingredients cold. You can make up the ice/water/apple cider vinegar mixture and use it for both the batches, but divide the other ingredients in two and make it one batch at a time. (2 1/2 cups flour, pinch of salt, 2 tsp sugar, 2 sticks butter)"
Place flour, sugar and salt into a large bowl. Cut butter into chunks, and add to the flour. Toss lightly to coat. Working quickly, using a pastry blender or your fingers, cut the butter into the flour mixture until there are only pea-sized chunks left. You want a few lumps of butter remaining to keep the pastry nice and tender.
Combine ice, water and cider vinegar in a bowl. Sprinkle a few tablespoons of the ice water into the flour and butter mixture, and using a stiff spatula or your hands, mix in well. Continue adding water a tablespoon at a time (usually about 8-10 tablespoons) until you have a dough that holds together well, but is not too wet. Squeeze together with your fingertips to make a homogenous dough. Shape into a rectangle, and wrap tightly in plastic wrap. Repeat with the second half of the ingredients. Place your dough rectangles in the fridge for at least a few hours, preferably overnight.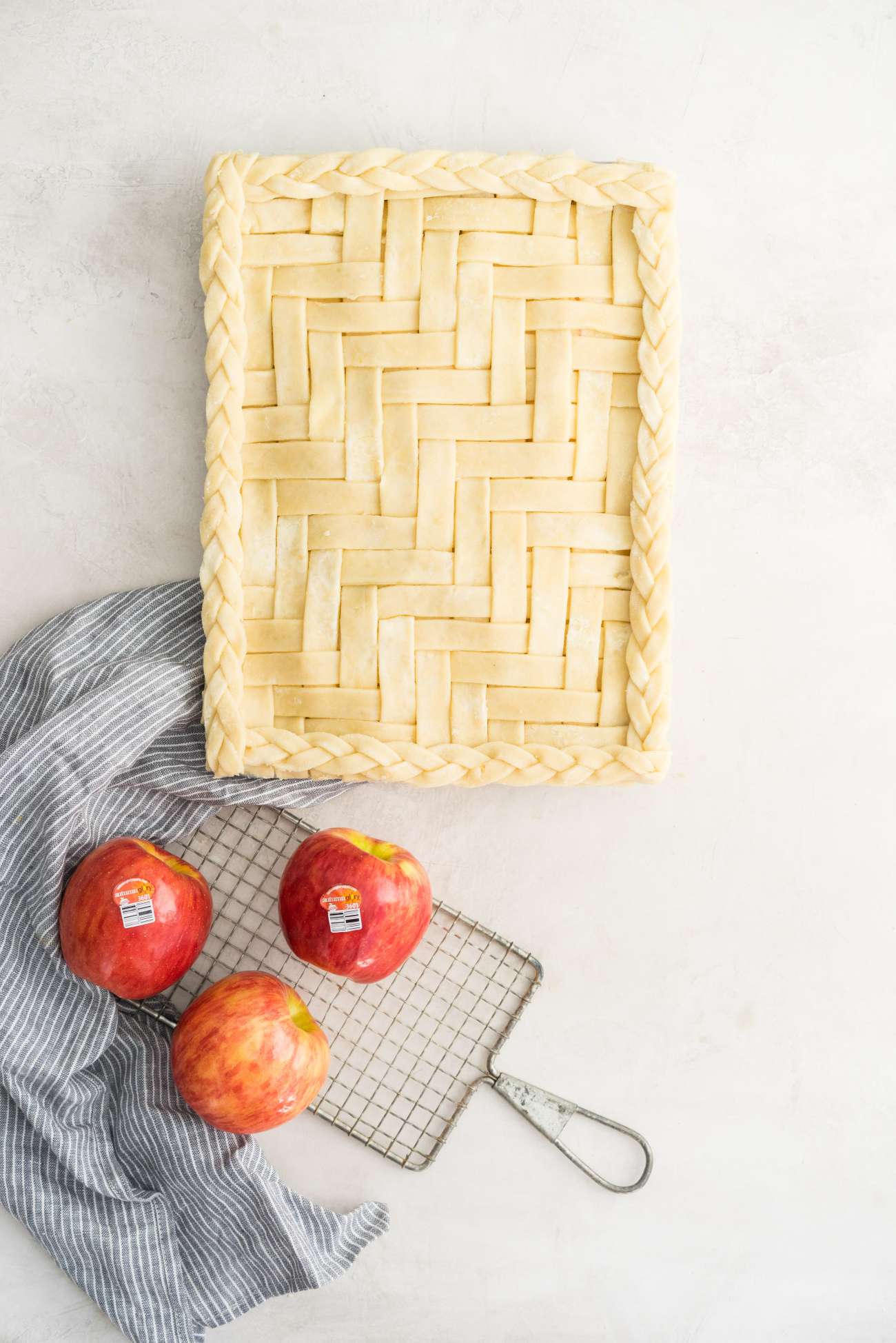 Assembly and Filling
Have a quarter sheet pan (9" x 13" baking sheet) ready.
On a lightly floured surface, roll one of the rectangles of dough into a shape slightly larger than the sheet pan. It should be approximately ⅛ inch (3mm) in thickness. Line a 9" pie dish, leaving the extra dough overhanging. Trim the dough so there is about 1 inch overlapping the edge of your dish. Fold the overlapping edge under itself, pressing down with your fingers to seal. This creates a border which helps prevent the edges of the pie from shrinking. Place in the fridge while you prepare the filling and lattice. Wrap any offcuts of dough in plastic wrap and place in the fridge until needed.
Place the lemon juice into a large bowl. Add the sliced, apple and toss well to combine. Set aside for 5 minutes. Transfer the apple into a second large bowl, leaving behind any excess liquid. Alternatively you can drain the fruit and place back in the same bowl. Add the flour and the sugar, and toss well to coat evenly. Taste and adjust the amount of sugar if needed. Transfer the filling into the prepared lined pan, packing the apples tightly and mounding slightly in the center.
Roll out the second rectangle of dough. Cut strips to use for the lattice (Erin made about 30 strips that were about 3/4" wide - She had about 12 that were just over 13", and 18 just over 9"), rolling and re-rolling if necessary. If you are making a herringbone lattice, follow this tutorial, otherwise lattice as desired. Cut around the edge of the pie so that the edges are flush with the tin. Finish with a braided border made from re-rolled scraps if you prefer, or leave the edges trimmed flush. Transfer the pie to the fridge for at least 30 minutes.
While the pie is resting in the fridge, preheat the oven to 425˚f/ 220˚c. Place a baking tray on the bottom rack of the oven. Brush the pie with egg-wash and sprinkle generously with extra raw sugar. Place on the baking tray and bake for 20 minutes, or until the pastry has set and is beginning to go golden. Reduce the temperature 375˚f / 190˚c, and bake until the pastry is deeply golden and the filling is bubbling, 45 to 50 minutes.
Remove from the oven and allow to cool. Serve warm or at room temperature.