Many words have been used to describe 2020, none more frequently than "unprecedented". It is widely thought that this moment in time will hold an asterisk (*), indicating "special circumstances". An asterisk next to record-breaking toilet paper sales would be an example! Each December, Superfresh Growers selects one outstanding member of our team as "Employee of the Year". So, it is only fitting that we add an (*) next to this year's honoree(s). Our COVID-19 response team's timely action and problem-solving skills guided us through this extraordinary year.
Our COVID-19 response team convened at the beginning of the pandemic with the mission of keeping our teams safe and implementing state and federal regulations. This team continues to work tirelessly for the benefit of our teammates, customers, and consumers. The team consists of 7 exceptional leaders who have all made company history as being part of the first ever year to have more than one Employee of the Year. These members Include Alma Arias, Farms Human Resource Manager; Aaron Arndt, Production & Operations Manager; Ben Barnes, Operations and Food Safety Manager; Chafeka Abdellatif, Human Resource Manager; Derek Tweedy, Director of Compliance & Food Safety; Erika Espinoza, Human Resource Administrator; and Leo Gonzalez, Compliance & Food Safety Manager. It is also important to note that in addition to 2020 being the first ever multi-winner year, it is also the first time an employee has won more than once! This is the 2nd consecutive year that Derek Tweedy has been named Employee of the Year and Aaron Arndt was the 2015 winner. You can read the 2019 blog piece on Derek here and the 2015 one about Aaron here.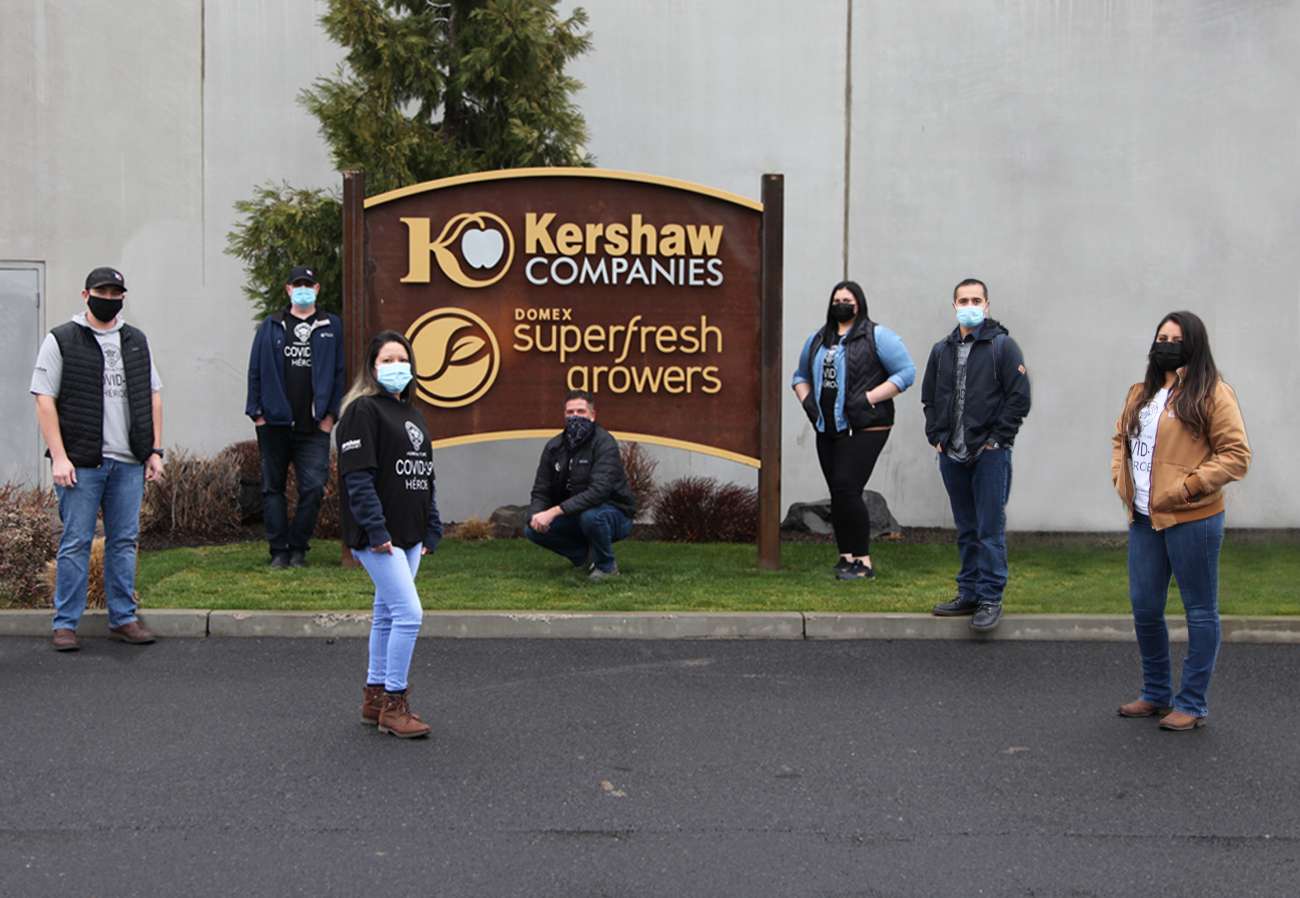 In early spring of 2020, socially- distanced meetings were implemented in order to communicate safety information to teams. The COVID-19 team recalls that as one of these meetings was being adjourned, a woman who worked on the packing line approached the microphone and expressed gratitude for everything the COVID-19 team, managers, and supervisors were doing to protect them with barriers, informational meetings, and lunches. When she finished, they clapped in celebration of the hard work being done by all to protect each other. The COVID Héroe shirts that were given to those same essential employees who continued to work throughout the pandemic were highly appreciated in her speech as well.
When asked what made this team special, Derek explained "we all have our strengths and with putting together this team, we have been able to use those strengths to complement each other. Whether it is reading and interpreting convoluted rules, understanding challenges in notification with HIPAA, training, housing, aftercare, transparency in communication, or rapport with cases in trace contact investigation this team has handled it all and handled it well". When asked about specific challenges they faced, Chafeka says "the biggest feat in the last 10 months was staying on top of our regular day to day duties with all the added work of staying active on the COVID front to keep our workforce safe".
The team has recently been renamed, the "COVID Dream Team" or the "CDT*". After analyzing how many extra hours have been put into creating a safe environment for our teams, Employee of the Year and Dream Team member Aaron Arndt had this to say to the team: "There is no other group of humble, admirable, selfless humans I would want to spend that much time with. Thank you all for the extra shoulders to cry on, thanks for all the extra brain power helping with all the critical and analytical thinking, thanks for the support".

Thank you to each and every member of the CDT* for your accomplishments in 2020 and for your continued efforts in 2021!
*There are multiple Employees of the year listed for 2020 due to the unprecedented circumstances of the COVID-19 pandemic that led to an entire team of employees going above and beyond the call of duty for the Superfresh Growers family.