Yield: 8 tacos
Skill level: Moderate
These vegan tacos are made using jackfruit and a delicious blend of spices. The perfect combo comes to life with an apple cumin salsa made with Autumn Glory apples! The juicy sweetness of Autumn Glory balances the spicy filling and pairs perfectly with the avocado cream as well. Whip these up for Meatless Monday or Taco Tuesday!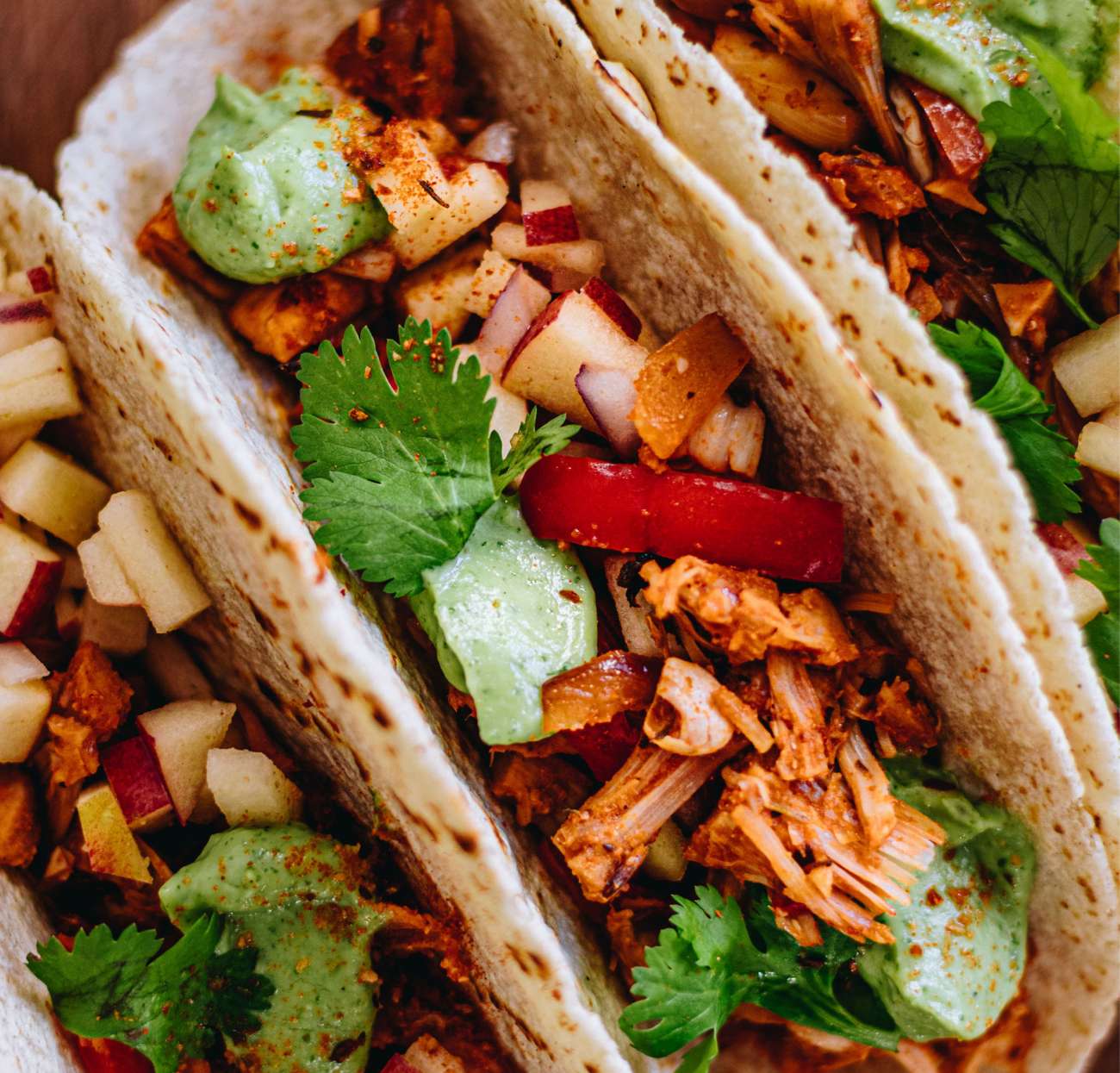 Ingredients
Apple Cumin Salsa
1 Autumn Glory apple, unpeeled, cored and finely diced
2 tablespoons lime juice
¼ cup finely diced red onion
1 teaspoon maple syrup
¼ teaspoon salt
¼ teaspoon cumin
Pinch of chili flakes
Avocado Cream
1 medium or large ripe avocado, peeled and pitted
¼ packed cup fresh coriander, plus more for garnish
¼ cup silken tofu
¼ cup lime juice
1 teaspoon garlic powder
¼ teaspoon salt
¼ teaspoon pepper
Cayenne pepper (optional)
Cajun Jackfruit
1 can jackfruit in brine, drained
1 tablespoon avocado oil
½ cup roughly chopped red onion
1 medium red bell pepper, cored and roughly chopped
2 garlic cloves, minced
¼ cup water
2 tablespoons tomato paste
2 tablespoons Cajun seasoning
1 teaspoon maple syrup
Salt (optional, depending on the saltiness of your Cajun seasoning)
8 corn tortillas
Directions
Make the salsa by adding all the salsa ingredients into a bowl. Stir to combine. Refrigerate until serving.
Prepare the avocado cream by blending all the avocado cream ingredients together in a high-speed blender, scraping the sides regularly to create a homogeneous cream. Alternatively, you can use a hand mixer. Taste the cream and adjust the seasoning if desired, adding cayenne for a little extra heat. Refrigerate until serving.
Make the Cajun jackfruit by removing the hard core of each jackfruit piece. Set aside.
Shred the soft part of the jackfruit using your fingers. Finely chop the set aside core pieces and add to the jackfruit "shreds." Set aside.
Heat a sauté pan on medium heat. Once hot, add avocado oil and red onion. Cook until translucent then add chopped red bell pepper, and minced garlic. Cook for 1 minute.
Add the shredded jackfruit along with water, tomato paste, Cajun seasoning and maple syrup. Mix until the jackfruit is well coated.
Cook until the liquid has mostly evaporated (7-10 minutes). Taste your mix and add salt, if desired. Stir and remove from the heat.
Heat up your tortilla either in the microwave for 10 seconds each or on a pan on medium heat for 30 seconds per side.
Assemble the tacos by adding some Cajun jackfruit to each tortilla, topping it with the apple cumin salsa, a few dollops of the avocado cream and some fresh coriander for garnish. Enjoy immediately.
If you have any leftovers, store each element separately in airtight containers in the fridge. Once you are ready to eat them, warm up the tortillas and the Cajun jackfruit before garnishing with the avocado cream and the apple cumin salsa.
Recipe created by Murielle Banackissa for Superfresh Growers.