Skill level: Easy
There are so many ways to enjoy Autumn Glory as a salad topping. We have enjoyed countless delicious variations of Autumn Glory salads and this one is equally (if not more) yummy! This one is special because its also paired with a vinaigrette that's made using Autumn Glory apple juice in addition to the fresh slice topping.
Click here for a printable recipe!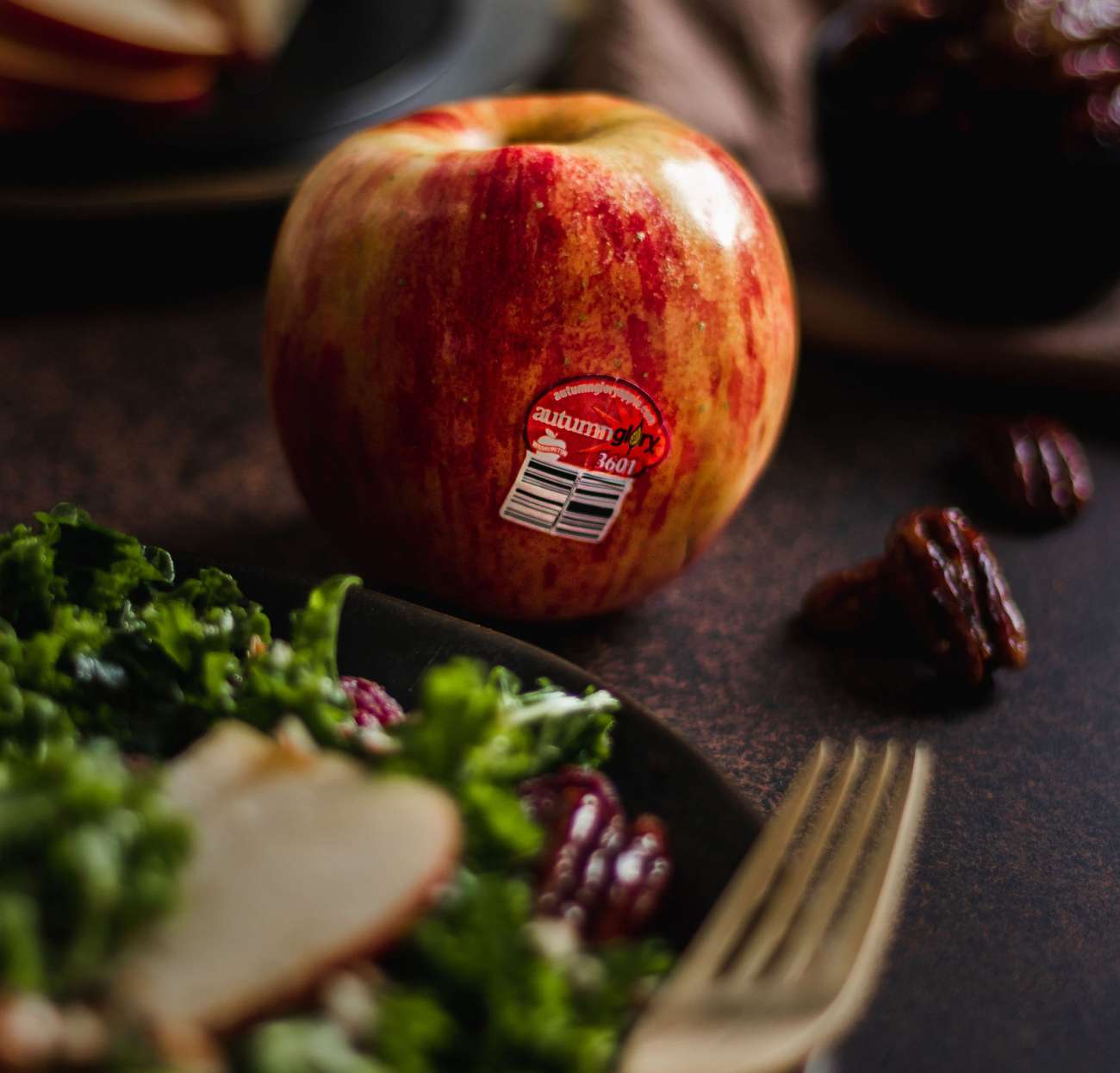 Ingredients
½ cup raw pecans
1 tablespoon syrup
Pinch of salt
4 cups curly kale, washed and chopped into bite-sized pieces
⅛ cup apple juice, made from Autumn Glory apples
1 tablespoon extra virgin olive oil
2 teaspoon dijon mustard
1 ½ teaspoon white balsamic vinegar
½ teaspoon salt
¼ teaspoon garlic powder
¼ teaspoon black pepper, plus more for garnish
1 Autumn Glory apple, sliced thinly
¼ cup dried cranberries
Directions
Candied Pecans
Preheat a pan over medium heat. Add pecans and toast until fragrant (3-5 mins).
Add maple syrup and a pinch of salt and continue cooking for one more minute stirring constantly.
Transfer on a parchment-lined plate. Let cool completely.
Salad & Dressing
Add apple juice, olive oil, dijon mustard, white balsamic vinegar, salt, garlic powder and black pepper into a small jar. Whisk to combine.
Transfer kale into a large bowl and top with 6 tablespoons of the dressing. Massage using your hand until the kale has softened.
Taste kale and add more dressing if desired.
Chop half of the pecans and keep the remaining half.
To serve, you can either divide the kale salad between plates and garnish with Autumn Glory slices, candied pecans and dried cranberries or toss all ingredients into the bowl with the kale and divide it between plates. Garnish with black pepper.
Recipe created by Murielle Banackissa for Superfresh Growers.