Yield: 4 servings
Skill level: Moderate
Spice up your weekend BBQ with this unique and tasty burger. A bison burger patty with a little extra zing, topped with a tart Granny Smith apple slice. Place it on a bed of lettuce (or use a traditional bun if you prefer) and pair it with some apple fries for the perfect complimentary combo!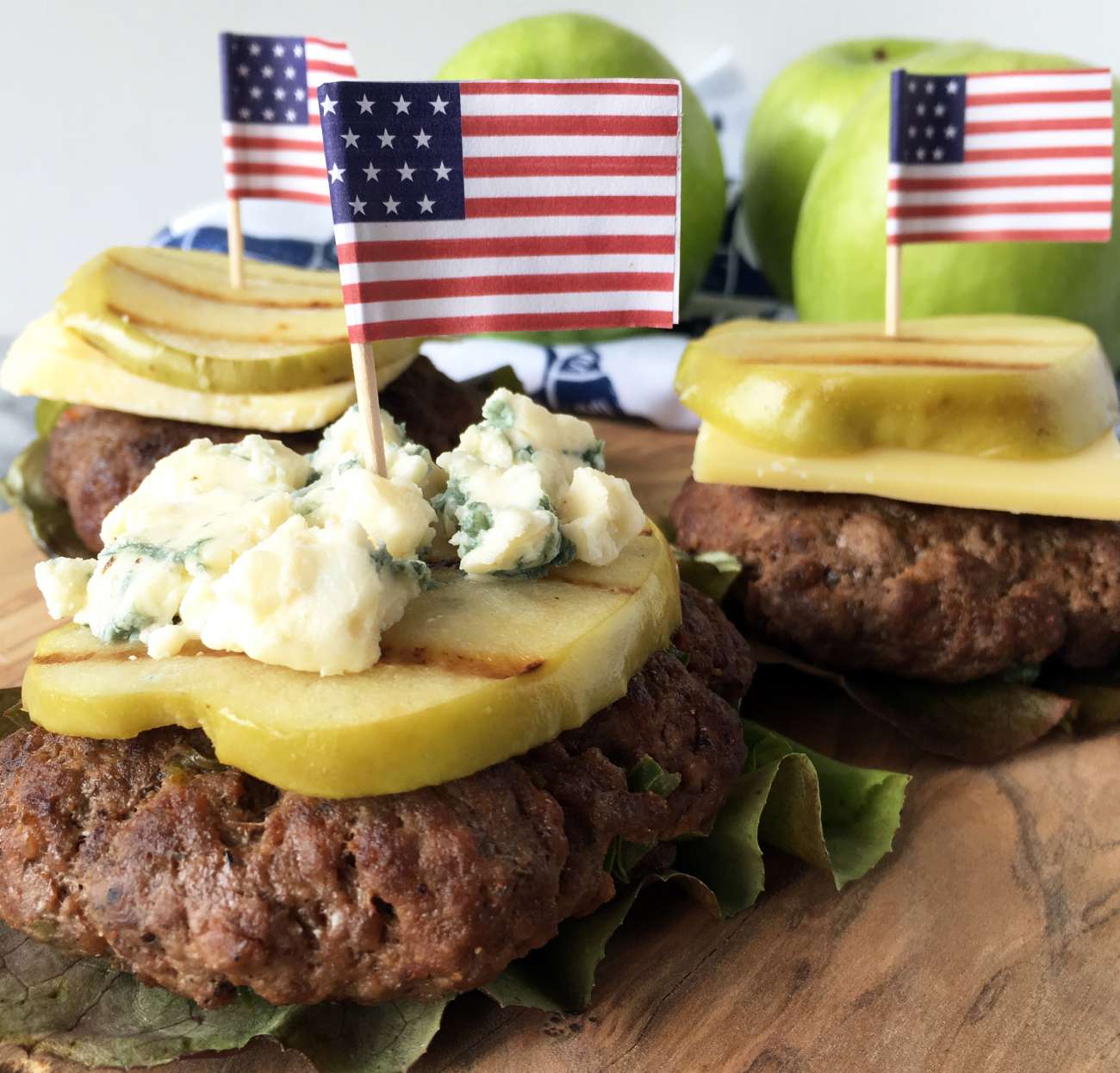 Ingredients
For the burger
1 pound ground bison
1 medium jalapeno pepper*, de-seeded and diced small
1 tablespoon garlic powder
1 teaspoon smoked paprika
1 tablespoon crushed aleppo chili
1 teaspoon kosher salt
½ large Granny Smith apple, cut into 4 thin slices
4 tablespoons blue cheese crumbles, divided
4 large leaves of lettuce
For the fries
4 Large Granny Smith apples
6 tablespoons. olive oil
2 tablespoons. fresh rosemary, chopped
2 garlic cloves, crushed
¾ tsp. black pepper
Flakey sea salt
Directions
Mix your ground bison, garlic powder, kosher salt, crushed aleppo chili pepper, smoked paprika, and jalapeno pepper together.
Once well incorporated, make 4, 4 ounce patties.
Before placing burgers on the grill, cut apple slices and soak them in cold water
Grill patties for 4-5 minutes per side, until a minimum temperature of 135ᵒF is reached, reserving a clean portion of the grill for apples to add later.
Once you are half way through grilling your burgers, and you have flipped them, brush your apple slices with oil or butter, and place on the grill
Remove burgers and apples from grill
Burger Assembly
Place 4 lettuce leaves on flat surface.
Place 1 grilled bison patty in the center of the leaf
Top each bison patty with 1 grilled apple slice.
Top each apple slice with 1 tbsp. blue cheese crumbles
Wrap around with available lettuce
For the Fries
Mix olive oil, chopped rosemary, garlic, and black pepper together in a bowl, set aside.
Cut apples into uniform wedges using a French fry cutter or by hand. Make sure that the apple slices are large enough not to fall through your grill grate.
Place cut apples slices in marinade and coat apple pieces completely.
Over medium heat, place apple wedges on the grill.
Grill for 2-3 minutes on two sides of your "fry."
Remove from grill and sprinkle with flakey sea salt.
Serve immediately
*Chef's Note: If spicy isn't your thing, sub out jalapeno pepper for ½ sweet onion, chopped.